About
If there only one word that i would describe this interesting tiny flying bug that words would be: "FUN"!....fun! fun ! fun! double and tripple fun! The "HUBSAN H111 Q4" is extremely tiny fun nano size multi-rotor/quadcopter which can be flown conveniently anytime anywhere ready to fly out of your tiny pocket ready to impress anyone who come across it. People from all walk of life from various gender, age and mentality wanted to have their hands on Q4 during lunchtime. Its bright LED lights draw bunch of curious crowds out of their caves in fascination. Flying small thing that turn heads! HUBSAN did well introducing this fun size toys enjoyable for everyone and i'm soo hooked.
The HUBSAN H111 Q4 was introduce after dominance of ESTES PROTO-X nano quad into toy drone market late 2013. By now the market is swamped with many affordable nano size toy quadcopter from various popular branding such as CHEERSON, WL-TOYS, UDI and many others from china mass production. Among the crowds which i picked for review is the Q4 by HUBSAN because it looks mirrored to the original PROTO-X. The last nano i flown was the 2014 CHEERSON CX-10 but Q4 have more pros in both attractiveness, usable life span and durability. After flying the Q4 i think its time for me to share what i think about it.

Specification
Model: Hubsan H111 Q4 Mini 2.4G 4 CH RC Quadcopter
Dimension size: 45mm x 45mm
Stabilization/gyro: 6 axis gyro stabilization system
Control sensitivity mode: 3x = Low(30%) > Mid(60%) > High(100%)
Quadcopter battery: 3.7V 100 mAh li-poly battery
Flight time: Flying Time: 5mins
Charging Time: Approx. 30mins
Frame material: Elastic plastic + PCB integrated circuit board
Night flight: Yes - LED luminance on rotor arm and body
Battery warning level: Yes - On board LED blink.
Rotor: 4x Coreless nano size brushed motor


Remote Control: 2.4Ghz (pocket size mini)
Control Distance: >100m
Basic functions: Forward, Reverse, Left, Right, Flip 360, control trimming, Low rate (30%), Medium rate (60%) and High rate (100%).
Calibration assist: Support stick and accelerometer calibration.
Headless mode: No
Transmitter battery required: 2 x 1.5V AAA battery (not included)
Age group usage: 14 and above
Handling: Indoor only. Offer selectable stick sensitivity mode user with different flight handling:
a. Beginners = Low rate (30%)
b. Intermediate = Medium rate (60%)
c. Expert/aerobatics = High rate (100%).



Package included:
1x HUBSAN H111 Q4 nano size quadcopter
1x Remote controller
1 x USB battery charger
4x Spare blades
4 x Manual sheet English + Chinese




Optional upgrade:
Propellers guard.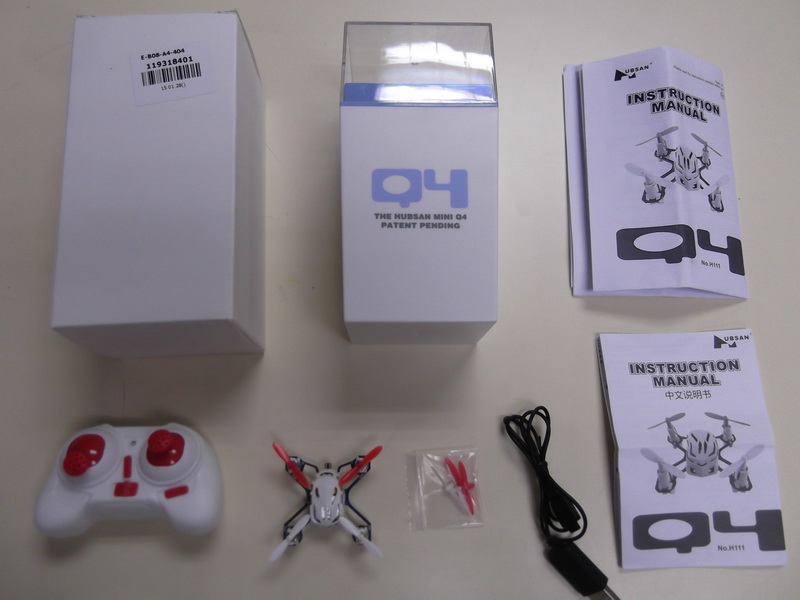 Pros:

6x axis stabilization means everyone can fly easily with less effort. It stabilized itself perfectly after minor trimming.

Extremely durable, still fly well after bad crash or dumb stick. Good for those who wanted to learn how to fly one without costly mistake.

Candy luminous LED lighting effect for better visual aid at night both upper and lower chassis.

3x rate control allow various adjustment on stick sensitivity for user with different flying skillset.

Mini size package everything fit inside the pocket, extreme portability.

Internal lipo (1s) battery can be easily remove by unplug/plug when replacement it needed

Motor can be easily replace via snapped in and minor soldering needed.

Cons:

Propellers detached after crashed however it designed intentionally to avoid stress damage....so i assume this is not CONS but more PROS. Just attach back and fly again.

Despite having durable propellers once accidentally detached on the ground its hard to find especially on carpets, hid behind cushion seat or even on your bed rugs because the light colors and size might confuse you as tiny spec of dust.

First impression and flying the Q4

It was GearBest.com sent me the Q4 but i'm not honestly interested to fly it at first because it thought it would like another CHEERSON CX-10 that Banggood.com sent me previously. CHEERSON CX-10 barely able to lift 10cent coin so my expectation on Q4 was something
similar.....but i was all wrong about it. Upon unboxing it i was impress with the packaging quality, the plastic box set looks very professional with cool logo, fonts and texture sometime you'd put your decorative trophy on the shelf....it has the same expression just like looking on APPLE iPhone/iPod products. On top was a quad nicely cased and planted to the based that can be detached by latches and the internal revealed many accessories all in one cup size cubicle that looks good on your table office. It has 'QUALITY' written all over it even before you fly it.
Both Q4 and CX-10 have same thing in common it is the same controller design, size and also the dimension size of the quad itself. Both also offer similar required accessories such as USB charger and spare propellers. But the contrast between then is that Q4 have simplified exo quad frame design with doesn't need screws to hold parts together or any heavy components that causes weight burden on flight such as full body shell and on board charging pin, Q4 board charging pin/port is part of the frame itself unlike CX-10. Plus Q4 have double more active bright LEDs lighting for improve visibility. Q4 designed to be as light as possible parts replaceable by hand, it means if the internal onboard battery need to be replaced you can simply lift up the canopy, unplug the battery and replace it by hand easily.
Q4 flew well as stable as CX-10 on normal windless indoor flight with minor trimming. Q4's LED very bright both upper and under so orientation of flight can be easily determine. The front lit bright blue while the rear lit red. The internal 6x axis gyro helps to stabilized the flight and keep it docile movement in the hands of beginner or people who first timer have their taste in flying a toy size quad. I hand over to some of my office buddies who beginners or never flown it smacked/crashed directly into a wall and high ceiling then plummet the Q4 into hard concrete floor, the propellers was detached and surprisingly not a scratch or dent. After attached back the propellers it flew like a champ until the battery level reached signaled by blinking of light on all 4 corners of the rotor. I was amazed with its durability, at such intensity it would have cracked CX-10 body shell and busted on side of the propeller blades. Q4 have very flexy and impact resistant plastic blade so you won't need to restock another set unless you drop it inside the grass or thick carpet. The kids who have their hands of Q4 really pushed it to the limits through extreme crash and bangs which i though it could have totally put the ends of Q4 but when i walk to the crash site i'm suprise to see that thin frame that holds to motor/rotor holds well and lives another day of to survive 'die hard' bashes. I'm really feel sad how they treated the Q4 that way but hey that what reviews are for. 5 days into wild urban torture in the hands of cave people the Q4 still walk away undamaged and i'm glad i have my jewels back. Muuaahhhh!! 'kiss'. The controller offer 3x type of controller sensitivity mode which cater different handling skills for various user and ease flight tension for new comer who just started flying.
On the social side HUBSAN H111 Q4 seems to attract lots of attention despite being a miniature toy grade among mature adults including the old ones and various gender who despise toys, they all get close to Q4 follow around like being hypnotized probably by LED or probably amazed by tiny things that flies. People start conversation and get to know about it, mostly try to get their hands on the controller and fly it....soon addicted and quote where i got it. I posted photos and some action at social media at Facebook and Twitter seems to get lots of hits and positive responses probably because its something small and affordable to get people interested into drone flying and able to tuck around inside the pocket. Interesting to see that women are the ones took more interest flying the Q4 probably due to 'cute' factor, on contrary you don't see the same enthusiasm the women put on bigger size such as the common DJI Phantom.
| | |
| --- | --- |
| | |
Videos/Medias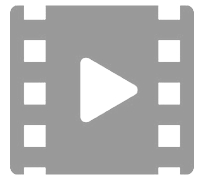 Here are sample of video of unboxing, testing and flight on HUBSAN H111 Q4 i posted on my Youtube channel and media gallery page. Will post more medias soon.






Vendor/seller

Here are list of reputable vendor/seller which i bought from and also verified by community forum discussion groups. Also i've experienced buying from these places that have good support and services:
1. Seller GearBest.com: Hubsan H111 Q4 Mini 2.4G 4 CH RC Quadcopter - Left Hand Throttle (MODE 2)
2. Seller GearBest.com: Hubsan H111 Q4 Mini 2.4G 4 CH RC Quadcopter - Right Hand Throttle (MODE 1)
Spare Parts:


Support group:

Places where you can find help and resources related to this product:
Topic: Rcgroups.com - HUBSAN H111 Q4 discussion group
Topic: MSUK-Forum -HUBSAN Q4 Nano
Topic: Quadcopterforum.com - Hubsan Q4
Manufacturer site: HUBSAN - H111 Q4
Latest Log:
(upd(updated: 1/4/2015)
I just received coupon code from www.gearbest.com which allow you to reduce the price of HUBSAN H111 Q4 from the original price. So copy the discount code for your purchase.
Discount Code:


HBQ4M
Troubleshooting and FAQ
Here are common things you need to know else if you do encounter problem with Hubsan H111 Q4...for other problems than shown below please read the manual sheet:
Unable to fly Q4 in stable mode, it would bank left/right/front/back even after extensive trimming on controller?:
Answer: You'll need to turn OFF and turn ON the switch under the Q4 quad again then immediately place it on flat surface before take off.


Summary
The The HUBSAN H111 Q4 is a keeper, awesome to have, looks great on your table sitting beside your notebook makes you look like tech geek even when you're not flying it. Looks even awesome when the colorful bright LED lights turn on make me wonder if i can turn it into night clothing accessories or decorating it on top of your girlfriends/wife hair clip or as night jewellery. Q4 is a small wonder into my pocket, great stuff to play around when i'm in the office or cool gadget to start a conversation with other people when playing around with it. Its a "socially" attractive toys to have around and gather some crowds around to get some "oohhh! ahhh!" and they will keep tug around me asking for more. Having Q4 will never make you grow too old to play around when you're bored. Regardless of age and gender the Q4 will keep you occupied and mind challenging and at the same time having a positive activity you can share with your friends and family. Despite being just a toy, its also a great and easy learning tool to you closer into real size drone flying experience such as DJI Phantom or commercial VTOL flight without burning your pocket. So keep one Q4 in your pocket to cheer your day.
Once again i would like to thanks www.GearBest.com for sponsoring us another cool gadget for everyone to enjoy and provide us with best support. Cheers.
Related topic or similarity
BeloBelow are related topic that are compatible or bare similarities with this product, you might find the topic useful for the above products