About
I didn't see that one coming but it did i got the FB90!. As mentioned from previous review article i was given two choices either the QX70 of the butt ugly FB90, of course i picked QX70 because i need something to enjoy around indoors. Then another week later another different Banggood.com
rep gave me the same choice which obviously i picked up the EACHINE FatBee FB90 since i already have the QX70 so what the heck i'll just have fun with it....i wish it was the JYU HORNET S instead but i'm sure its too pricey to giveaway for review of course. It wasn't much agony to wait for its arrival since i didn't except much enjoyment from something that was called 'FatBee'...the name was a turned off for me especially when you look at it more appealed to kids than to adult. 3 weeks later it arrived!, the EACHINE FatBee FB90 micro FPV racing drone. Unboxed it.. man i just don't have the proper words to say except its not so 'Professional' looking thing despite awkward moment when it mentioned 'micro FPV racing drone' on the box...the correct word would be "happy bee" if i were to be the marketing executive. I don't see how the word 'racing' fits the description when you look at this bubbly looking yellow striped bee like object on my hand. Its like holding that early 2000 era Walkera/Wl-toys Ladybugs all over again. If you bring this to the FPV drone racing track your competitors might give you that sympathetic looking facial expression over you checking out if you did bring some kids to tag along with you. Wise man said "never judge a book from its cover", just wait till i lug that 2s li-po on FB90 it will show its real stripe. The art deco of FB90 packaging looks different that the usual EACHINE's plain white box color, it more colored in black and yellow contrast but the accessory is well facilitated quantity of parts matched the QX95 combos unlike QX70 where it give less than that. The first impression when you look at the airframe design definitely build for indoor use because it has the same propellers size and ducted design as the QX70 except its spread wider 90mm rotor to rotor instead of 70mm. The hardware specification almost the same as the QX70 except its lugged with 2s Li-po which give twice amount of current power to FB90 and wide frame. We'll find out later if its a regular happy bee or mad bee on nitro...

Specification (as describe by vendor/manufacturer)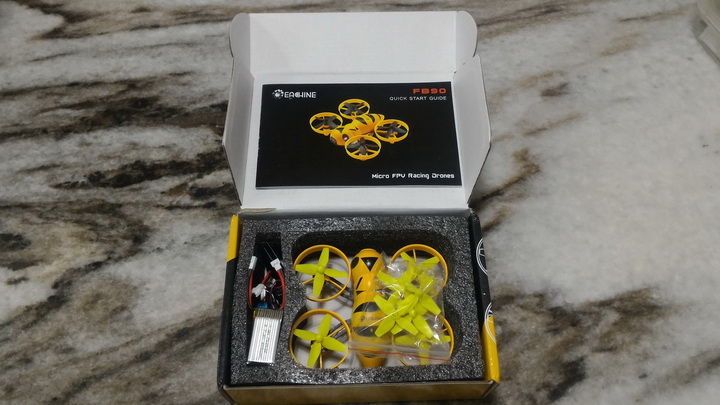 Brand: EACHINE
Model: FatBee FB90 micro FPV racing drone
Frame size: 90mm rotor to rotor
Chassis build: Flexible plastic ducted fan/bee cover + carbon fibre main chassis
Model weight without battery: 42g
Model weight with battery: 63g
Flight controller: SP RACING F3 EVO with integrated brushed ESC
Onboard receiver module: Offering FRSKY (ACCT) or FLYSKY(AFHDS) or SPEKTRUM (DSM2)
Motors: 4x 8520 Coreless brushed motor
Prop size: 40mm
Other mounted accessories: functional/programmable LED Strip
Run time: 5~6 minute
Charging time: avg. 75 minutes via USB, avg | 60 minutes on computerized charger at 0.5A safe charge rate using TURNIGY ACCUCELL 6/IBMAX B6
Control distance: 80m ~ 200m on TURNIGY 9X + FRSKY XJT Module D8 mode (FRKY ACCST protocol)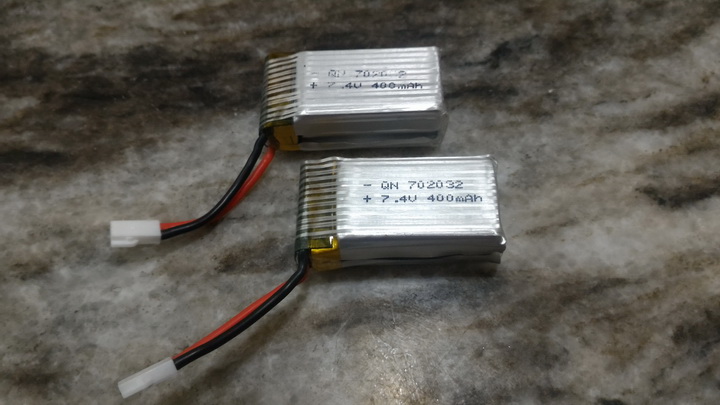 Battery details: 7.4v 400mah (2s li-po)
FPV video camera/transmitter unit: 520TVL CMOS 1/4 inch camera (NTSC/PAL switchable) integrated with 5.8Ghz 25mw 48channel + Omni antenna
Package included:
1 x FB90 micro racing drone model
1 x USB Li-Po charger
2x 7.4v 400mah 2s li-po battery pack
1x Complete set of spare propellers
2x 8520 spare motors CW/CCW with plugs
1x Propellers remover tool
1x Manual book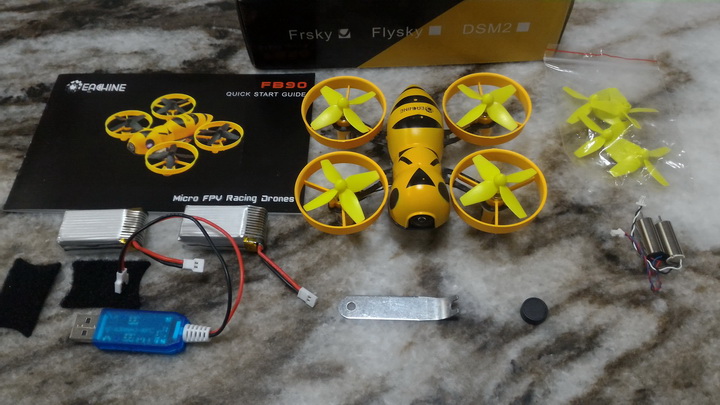 Pros:

Really small size and well protected props via surrounding ducts to protect props from grinding along the walls and obstacles.

Both perfect for indoor and outdoor capable safe flight because of prop guarded ducted frame.

Very powerful thrust and lifting power because its running on 2S Li-po battery unlike standard 1s Li-po on most micro size quad.

Bind and Fly, less soft setup required to do on CLEANFLIGHT program. Easy!

Looks good like race ready pro racer when top Bee like covered removed exposing some internals and carbon fiber racer type main frame.

Cons:

Loose motor mounting, the motor will slide up and down causes props to grind the base of the ducts. Permanently secured using a dab of hot glue under the motor or via any means ASAP.

Props always grinded with inner ducts making screeching sound but will deteriorate to minimal after dozen of flight as the blades are well worn-out to proper length overtime.

Propellers will flew off from the motor shaft during mid flight, solution is to burn/heat solder with a bit of soldering lead on the motor shaft until the metal shaft turn into burned color with slight melting gooey from soldered lead, then seconds later put the propeller back on.

Extremely noisy when flying indoor.

Doesn't have great video range because FPV camera comes with stock omni antenna facing backward almost laying flat against the flight controller board. Can be easily fixed with DIY, self solder/upgrade using 4 lobe clover leaf antenna.

Build, flight performance and review.
Lets face it, when you see this FB90 for the first time i'm sure much micro FPV drone racing enthusiast will lost hope on humanity. Its a Bee...Fat Bee..the words may appeal to younger 7 year old kids especially for the looks but not for us old guys and pro alike. It makes you feel like buying a toy
grade drone. If EACHINE design the body shell to make it look more aerodynamic, modern looking drone like MJX X600 style i'm sure it will attract some Pro FPV drone user alike. The good news is it will look Pro without the Bee body shell, when removed exposing the inner guts it revealed nice carbon chassis interior similar like true bred micro racer. Just like the QX70 and QX95 the FB90 flight controller setup is straight forward; just bind with the radio, configure the "Receiver" >> Stick mode channel setup in the "CLEANFLIGHT" program and enable the AUX1 switch (CH5 = Gear switch on my TURNIGY 9X) to enable the ARM/DIS-ARMED + ANGLE mode flight and that's it. Its ready to fly! No PID tuning or mind bending soft setup required.
Surprise! Surprise! ..after plug in the supplied 2s Li-po battery the FB90 shines like the sun!...it has thrust, power and it screams!....it scream so hard the props flew off! Its a good news and also comes with another bad news too. Its has the will power to fly but some parts on the FB90 couldn't handle such power as the stock 4 blade propellers would eject by itself on all four because of massive torque spin on the motor, this are common issues all FB90 owners....some would give up on it. The best remedy to solve the problem was to heat up the tip of the motor shaft with a solder dab around lightly with soldering lead until the motor shaft turn into
gooey dark molten colored lead, then let it cool down to warm temperature and then fit back the original stock propellers..done! all fixed nice and tight!. Yay!. Another similar issues like its previous ducted model are the motors slides up and down during flight required immediate fix. The fixes are extremely easy, just wrap around a small strip of electric tape around the motor mounting where the sliver canned motor body exposed below the duct and overlapping plastic chassis and that's it..the FB90 is now ready for some uninterrupted action. In terms of durability the support beam that holds the ducts more likely to break if you're into hard crashed so be careful not to, if you do you still can glue it back or spare parts are abundant individually and its still cheaper to buy for a piece of plastic. Although both QX70 and the FB90 have exactly the same duct size the material used to mold the duct are different, QX70 are made from slightly durable elastic plastic which can tolerate normal crashes or mild fall from the air on concrete while FB90 ducts are made from slightly rigid plastic like an egg shell so more likely to crack or broke at the support beam at intersection where it connect to the inner duct if it fall from the air and into concrete floor. Other parts on FB90 other than duct more likely to survive the crashes such as the main carbon fiber frame.
Let's talk about how it perform indoor flight, the FB90 seems to solve much of the performance problem commonly encounter on QX70 since both derived from same prop and ducted design. The FB90 flew stable, linear and doesn't bob or sag by its own weight when moving forward. Solid performer when yaw cornering around tight corner in the room. Most notable was its has huge amount of lifting/thrust power required less than half throttle to maintain altitude average 40% throttle stick to keep it hovering around than 60% on QX70. The FB90 also is a true perfect 'safe' indoor racer thanks to its well guarded prop via ducted style from grinding/shredding around its surrounding especiall bumping on fleshy living being. The flight time was around 5~6 minutes on fully charged battery. On the low blow side the antenna on FPV camera is Omni type so when it flies behind walls or obstacles the signal begins to fade and deteriorate because its not polarizing very well in obstructed environment. A quick easy replacement using improve 4 lobe clover leaf antenna does the job...i pull it out from damaged QX95 FPV camera's antenna. FB90 actually is the most noisiest loud micro in my collection, twice sharp loud humming sound from the prop inside the duct than what QX70 makes because it runs on high RPM thanks to 2S Li-po power. So if you're planning to fly indoor be sure not to annoy anyone along the path, its not an ideal micro drone to charm around people. FYI my KING KONG Q100 twice less noisy than FB90.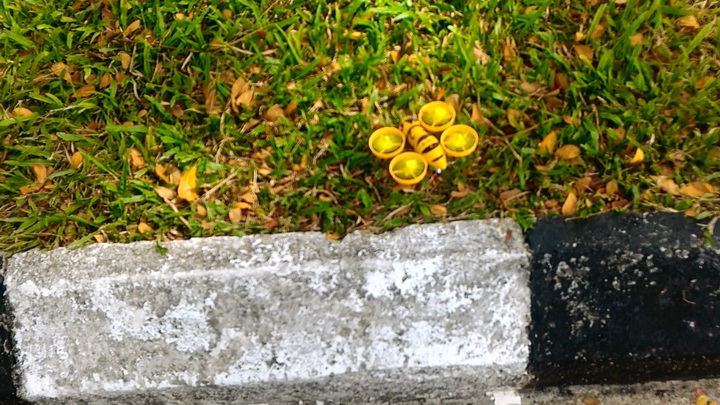 On outdoor the FB90 shines! and fast enough to enjoy the thrills of speed around the obstacles as presented in video i made below the page. 2s Li-po power seems to give a great amount of thrust outdoor even in slightly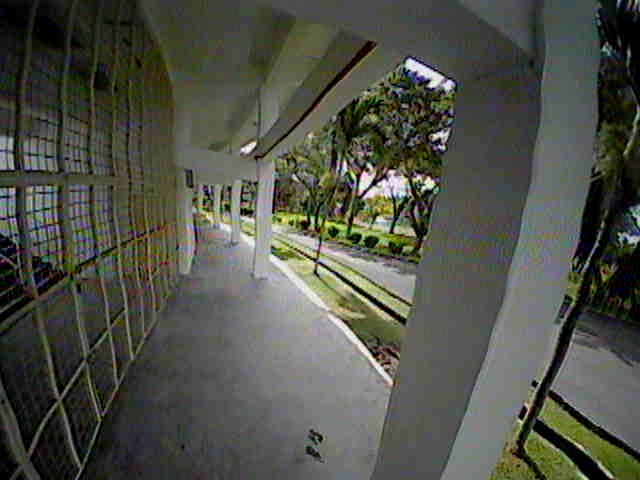 windy breeze condition under trees and out in the parking lot. It doesn't bob much nor stall unlike QX70 and it turns/yaw nicely like a racer. Flight time also un-affected by its surroundings condition giving off 5~6 minutes tops. Its faster than QX70 but not as fast as the EACHINE QX95 or my recent KING KONG Q100....but fast enough to be all-in-one capable micro FPV drone. If it does crash on to the ground or among foliage of dead leaves or grasses its easy to spot in few meters because its big yellow bubbly looking body caught my attention first, less time to track it down. Another cons is that its easily succumbs to vibration emitted from the duct towards the plastic body cover then spread to the camera lens by contact, best to check and dampens the vibration before flight to avoid visually annoying vibration during flight. Overall there no flaw when flying around the park size environment, just make sure to do the 4 lobe antenna modification before flying around obstacles and trees. About the spare parts availability and compatibility so far no problem acquired it in both local and international (online) market since FB90 using generic type parts such as 8.5x20mm coreless motors used by many micro racers to date. Without using ducted frame it can also fit in other generic lower than 55mm prop size for serious racing.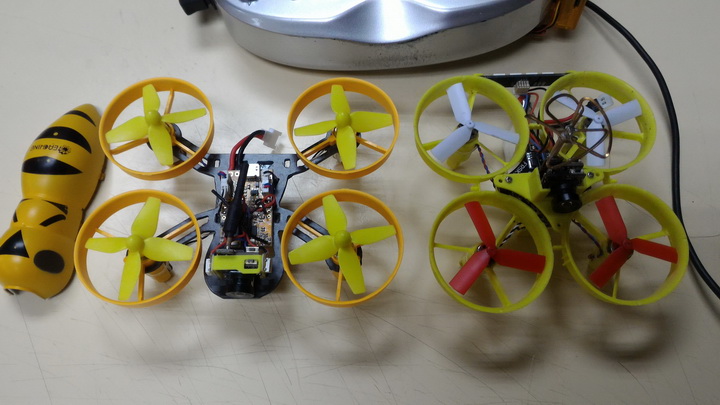 Videos/Medias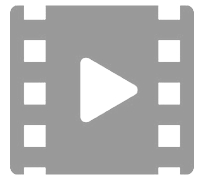 Here are sample of video of i posted on my Youtube channel contain test review on EACHINE FatBee FB90 micro FPV racing drone.

Vendor/seller
Here are list of reputable vendor/seller which i bought from and also verified by community forum discussion groups. Also i've experienced buying from these places that have good support and services:

Seller Banggood.com: Eachine Fatbee FB90 90mm Micro FPV LED Racing Quadcopter BNF Based On F3 Flight Controller
Seller Banggood.com: Eachine Fatbee FB90 90mm Micro FPV LED Racing Quadcopter with Eachine i6 Transmitter RTF
Spare parts:


Support group:

Places where you can find help and resources related to this product:
Topic: Rcgroups.com forum - Eachine Fatbee FB90 90mm Micro FPV Racing Quadcopter F3 FC
Clean flight software for tuning FB90: http://cleanflight.com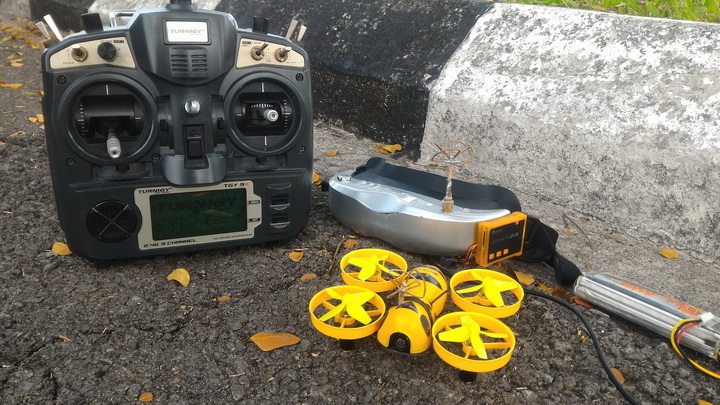 Summary
After spending days playing around FB90 in and out of the building i must say it was a blast to fly and ideally its a great "All-In-one" safe fly micro FPV racer with minor fixes/mod to make it worthy to keep inside the pocket. FB90 performance and fun sits between QX70 and QX95 range its a great fast indoor flyer and also moderately fun to fly outdoor without much worry hitting any living object...its like another QX70 on nitro boost but slightly larger in size. If you've bought the FB90 and wanted to convert it into full fledge performance FPV circuit racer its can be easily done by removing the bodyshell and leaving it naked as it is with just the carbon fiber chassis and the duct remains. While others wanted to move on to higher level or not happy on FB90 setup can easily upgrade from FB90 to QX95 easily by buying new frame, props and rubber motor damper/holder and reused back the same electronics and hardware. So regardless you wanted to stay original or move on the FB90 can go both ways so its not like you ended wasting your investment since its can be anything other than itself with minor mods and soldering works. Btw if did convert it FB90 to QX95 on 2S Li-po power you'll leave your competitors eating dusts, lol.