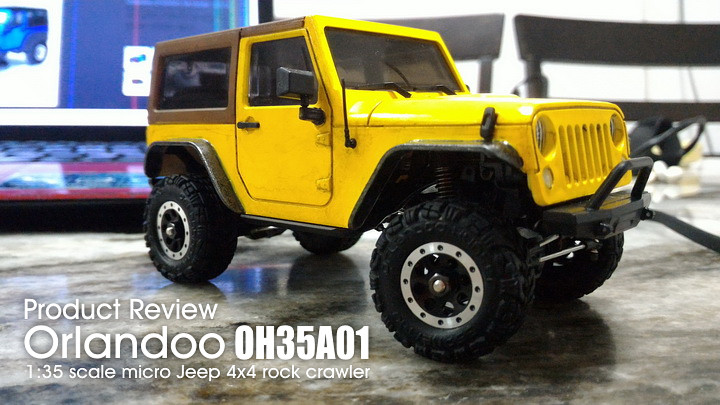 About
Last year which is last month ago i decided to reward myself with something special before Christmas. I never had a Christmas present from anyone or myself for over 30 years neither at young age....oh wait the only Christmas present i do receive and remember is when i was only 5
years old and that it...that was from my aunt....never anything from my own family. Christmas for Asian people like us who raised by tiger mom, is all about going to church and eating cakes...giving and exchanging is waste of resources and not part of family tradition which makes my childhood sucks hard. We do have beautiful expensive overpriced Christmas tree but lots of empty boxes of decorative gift down the tree. So with all that i lost in the past i should have my own present this year Christmas 2016. So with budget $100 dollars in my hand i was doing some thinking what to do about it especially being hardcore modeler .... thinking.... thinking... thinking... thinking... thinking... thinking... thinking... thinking... thinking... thinking... thinking... thinking... thinking... thinking... thinking... thinking... thinking... and thinking what to buy for myself. Okay Orlandoo OH35P01 it is!..cause i've been drooling over the screen for almost a year now for micro 4x4, my YOKOMO NanoQlo getting 'expired' over this. Why did i wanted to get into micro so small a 1:35 scale almost not existence when let it stand side by side with its 1:10 brother? Had to admit once was Kyosho Mini-Z and previous owner of micro will always be a micro fan boy. 2 weeks later it arrived on my door step! Sad it was a slow boat from China delivery by my standard but Yay!..at least it arrive before i tore my hair off. My first Christmas present...what a crappy child hood i had. Hope this micro Jeep will cheer me up in the next 48 hours later.....Almost.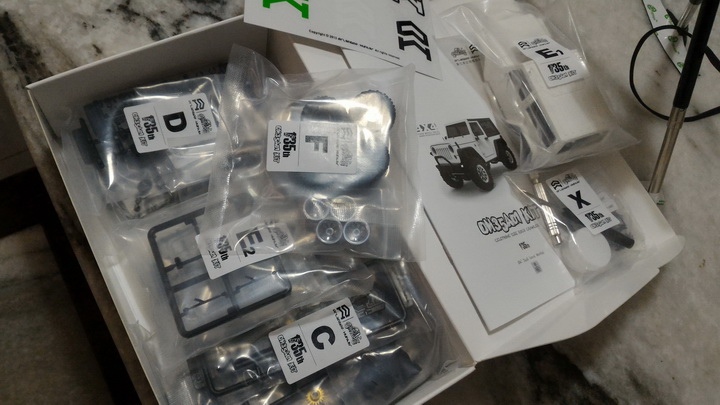 Specification (as describe by vendor/manufacturer)
Brand: Orlandoo
Model: OH35P01
Chassis size and builds: 1/35 scale rail type chassis
Chassis build: Plastic + metal
Drivetrains: 4WD
Drive Motor: micro/nano size brushed motor
Steering servo: nano 1.7~2.2g servo
ESC: Brushed ESC + Integrated electronics board BEC and light control
Radio controller requirement: 3 channel 2.4ghz radio
Play time: 30~40 minutes (Depending on throttle management)
Speed (km/h): Slow crawling
Battery details: 6.0v 400mah (2s Nimh cylinders cell)
Package included:

1x Orlandoo OH35A01 Kit
1x Grease pack
1x Tools
1x Manual book.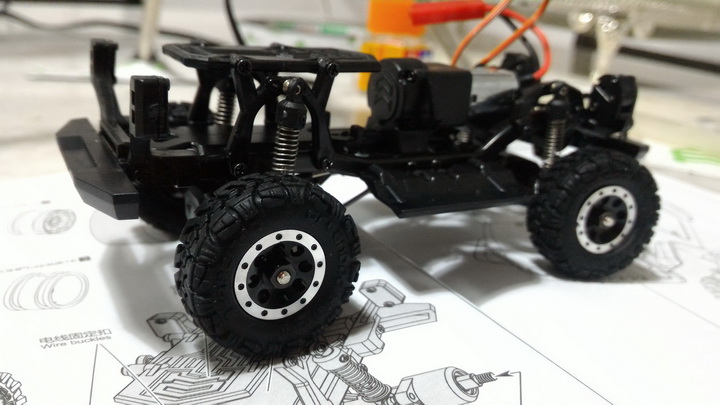 Pros:

Smallest and scale looking commercial 4x4 crawler on the market.

Optional alloy/metal upgrades such as axle, drive shaft and etc.

Very long runtime on supplied stock NIMH battery. Average runtime of 20~35 minutes.

Cons:

Very difficult to built due to lots of extremely tiny almost microscopic kit parts which is a bit hard to hold on your finger. Ideal for those experience building plastic kits models with good patience in building it.

Microsopic soldering skills and paint works are required.

Small decorative plastics parts on Jeep body such as side mirror are fragile, will break if the model tip over on its sides.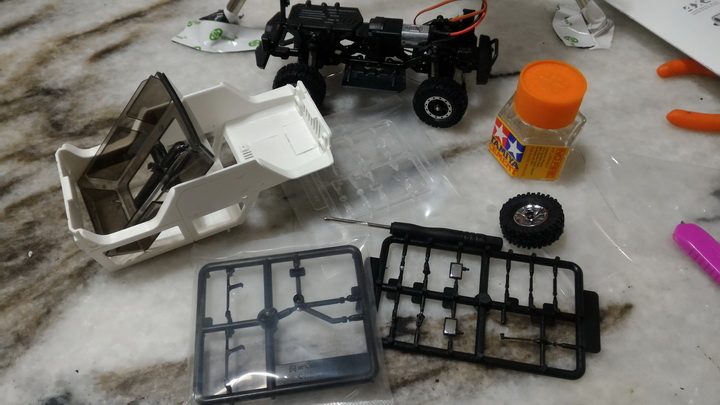 Quality, performance and builds.
The most pain in the ass after getting this package was to build them...sounds easy at first but i haven't looked what's coming when i buy this thing. The kit doesn't come with electronics nor battery so i bought it separately such as; the ESC unit, brushed motor with integrated
gear unit, 2.2g servo, 7.2v 300mah NIMH battery and 4ch radio receiver which matches my RADIO LINK RC4G unit. Of course i also bought myself optional upgrade; an allow wheels for extra *bling and phat tyre. The other thing needed during assembly are basic small Philips screw driver and some paints of your choice. Its a Jeep, its micro scale, super scaler, its a crawler and physically it looks awesome but time to face the fact building this tiny thing is 5x harder than assemble 1:10 scale TAMIYA kit. Its not about the parts count but its all bout trying to assemble this tiny grain size parts into each other with micro precision assembly can be a bit frustrating especially on assembling the drivetrain parts. Its hard to describe how hard it was but imagine trying to put a thin lining threads onto needle eyelets and repeat it by dozen fold....that's hard....mentally painfully..metal torture..that what you're going to face when getting this Jeep kit. The kit made out from same plastic quality you'd get from scale plastic model kit only the the two rail chassis are
made of metal. Since its plastic its wise not to over screw it since the thread hole can easily shred to loose especially when you're trying to screw in those tiny ball linkages. It took me almost 12 hours to complete the build which include some hand assembly mostly using screw driver to bolt the chassis together, soldering on the electronics and painting the Jeep bodyshell using airbrushing + compressor. Once completed you can pat yourself for successfully building most marvelous micro size creation in R/C world. You can now enjoy pondering about those details in and out especially those 4x4 mechanism under carriage. On the plus side having scale looks it also has front LED head lights and also rear brake/reverse light too which makes it more realism when driving. LED are mounted specially on plastic brackets and also include extra lower bracket/space for extra light mods if needed. Light switches are controlled via 3CH on radio controller by default.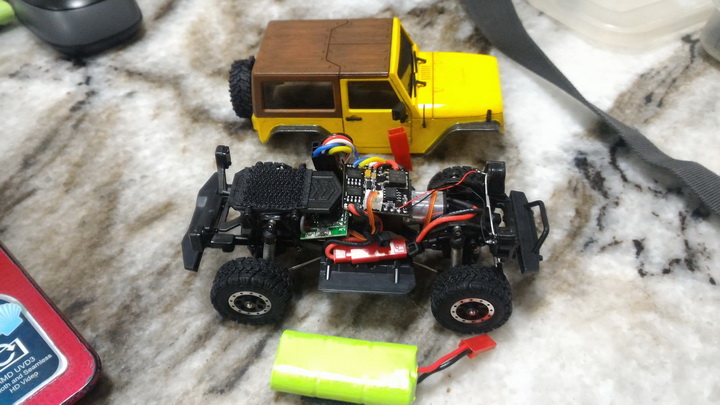 This Jeep is a fun size to bring around where ever i go, there always a place to enjoy crawling around me; it can be on my table, desktop, boxes, bedroom, on pillow, under the pillow, sofa, newspaper rolls, kitchen or any place you can imagine. Where once what looks like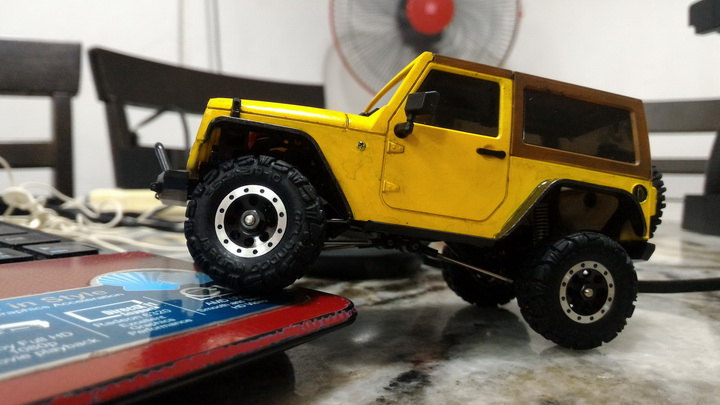 untidy table is a vast hills, valleys, muddy swamp and jungle where this Jeep come along rolling in action getting all those traction climbing obstacles and stuff much like you'd see in 4x4 Jamboree. Let's your imagination grows and drifted into manly world of extreme off-roading just in front of your tiny work space. It drive nicely and precision-ly slow enough to keep notice where the wheels need to climb or enough to see where you need to grip around the obstacles. The servo build for this Jeep has enough torque to move around the gap/grooves. I wouldn't called it as a serious rock crawling capability but more of real life 4x4 trail driving performer since it can only scale over only small obstacle or gripping minor size ledge limited by the amount of suspension/axle articulation when the tire roll over the bumpy surface. Hence the Jeep can only scale over the 1:35 scale size of real life terrain and obstacle...so the jeep drive over terrains as realistic but not in exaggerated manner like as seen of AX-10 type mega flex axle.. Anything over what its capable of will either stuck eg: when climb over the pencil, eraser, lunch box or topple over on it side damaging its side mirror. So just drive the Jeep like real thing.
As far as durability goes the Jeep kit isn't as durable as its bigger 1:10 counterpart because some tiny details such as decorative antenna and side mirror can easily break if its toppled on its side. To keep it stable from rolling on its side during crawling it best to keep the chassis
build and component layout as low CG (Center Gravity) as you could by keeping the most heaviest component place most lowest part of the chassis. For example the supplied NIMH battery i put it the base of rear chassis instead of originally standing on its tall side or top deck. Keeping the weight as light as possible by removing the receiver plastic case, unnecessary plugs, connectors and also cutting/trim down long wires or cable helps a lot to improve the Jeep weight and climbing power. Since i'm running on 7.2v Nimh 300mah battery the run time gives me about average 20~35 minutes worth drive time depends how you trigger the throttle and keep the driving as scale as possible. After almost over a month driving on my work table, kitchen, living room and at the office so far i have broke anything critical on the drivetrains, gear box or parts on the chassis but i do broke very often on decorative body parts which is the side mirror where the Jeep topple itself on the side...quick super glue does the job. Well it was fun being imaginative with this Jeep, as for me the OH35A01 is a great collector item especially to compliment my existing 1:10 scaler Jeep Rubicon that was put on Vaterra Twin Hammer aka K949 platform side by side..brother and little brotha!.
Videos/Medias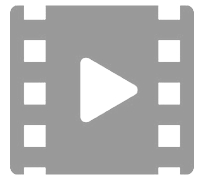 Here are sample of video of i posted on my Youtube channel contain test review on Orlandoo OH35A01 Jeep.
Vendor/seller

Here are list of reputable vendor/seller which i bought from and also verified by community forum discussion groups. Also i've experienced buying from these places that have good support and services:
Spare/upgrade parts:


Support group:

Places where you can find help and resources related to this product:
Topic: Rcgroups.com - New Orlandoo 1/35 OH35A01 Micro Crawler Hunter Kit
Topic: Rcgroups.com - Orlandoo OH35A01 Kit Hunter 1/35 DIY Jeep Rubicon Micro Crawler
Topic: Rctech.net - 1/35 scale Orlandoo OH35A01 Jeep crawler build
Summary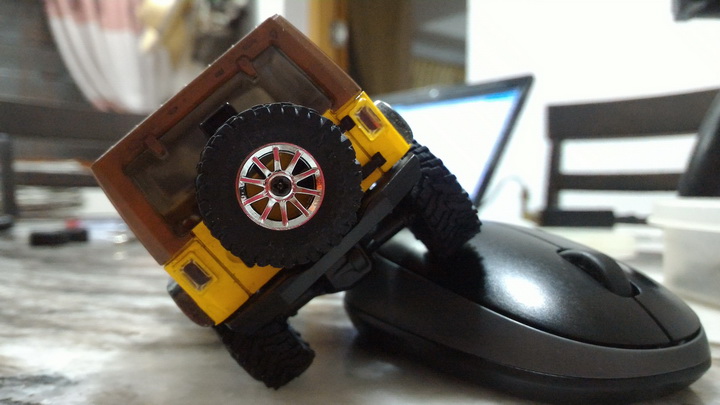 If you're really a hardcore R/C modeler who are into nice looking scale 4x4 truck seeking something small enough to enjoy smaller confined space and less commitment to have fun outdoor then the Orlandoo OH35P01. Small enough to fit inside a match box, small enough to have a time slot to enjoy your lunch time fun R/c driving in the office, small enough to be imaginative on top piles of books or messy table without having to plan ahead what to do in the next 5 of 40 minutes idle on your chair. The details and 4x4 mechanism will keep you mesmerizing and awe to look at.

If you're not good with micro build and keen on to start 4x4 enthusiasm but on the budget my advice to start with bigger and manageable size such as at 1:10 scaler since its more durable and easy to assemble plus you're more likely to find local buddy with same enthusiasm as you to start a social activity.
Bigger scale trucks have more spare parts and some compatibles one in the market than micro scale such as Orlandoo OH35P01 at the time of writings. For me having many big scale 4x4 trucks make it sound more plausible to have a smaller scale such as the 1:35 scale because at certain time i do not have much commitment to spend time to play outdoor, lack of group gatherings, weather factor, limited space and being portable enough to enjoy R/C at any places without sacrificing time and other daily task being an adult in busy world of career duty.
So if i'm out travelling for work and itching to enjoy R/C at workplace or dinner table this Orlandoo OH35P01 fits the bills. Not only it fun size to have around but also looks attractive enough to become decorative model on my work table. As mentioned before if you love 4x4 and being highly imaginative over the desktop this micro jeep is for you.