About
Finally! the last pieces of puzzle to complete array of my ORLANDOO micro crawler
collection for this year 2018 at last have been accomplised! The just recently released 3rd generation 1:32 scale ORLANDOO OH32A02 PAJERO micro 4x4 crawler debut few months ago is now in my hands thanks to seasonal clearance sale 30% discount hidden from internet search engine, lol....or maybe that website that selling it or the sleazy webmaster doesn't want customer to discover it easily unless took few sweaty clicks to find it..hahaha!.. so lucky me i saved my pocket again just after previous purchase of OH35P01 F150 at half priced too. So behold i have a complete empire of micro crawler!!!! muhahahahaha!!!
I'm quite surprise after much western style truck replica introduced into lines of Orlandoo models the company decided to release its 3rd model based on Japanese brand Mitsubishi Pajero replica and declare it at 1:32 scale which i thought it should look larger but after completed the assembly it looks smaller than the 2nd generation the OH35A01 Jeep but putting both side by side with the OH35P01 F150 the Pajero looks even out of scale but at fast glance no body would notice much differences at all. In terms of replica appearance with actual real life old Mitsubishi Pajero the OH32A02 had more crispy details than the F150 and had more realistic looks both its body shell and tyres...the tyres are narrow yet rightfully scaled size to its original replica.
The packaging design styling, decoration and size are similar to OH35A01 Jeep box and so as the contents with the parts bags, parts counts, tools and etc...so not much differences between them in terms of quantity, quality and presentation...all was good. I'll tell you more details below so read on.

Specification (as describe by vendor/manufacturer)
Brand: Orlandoo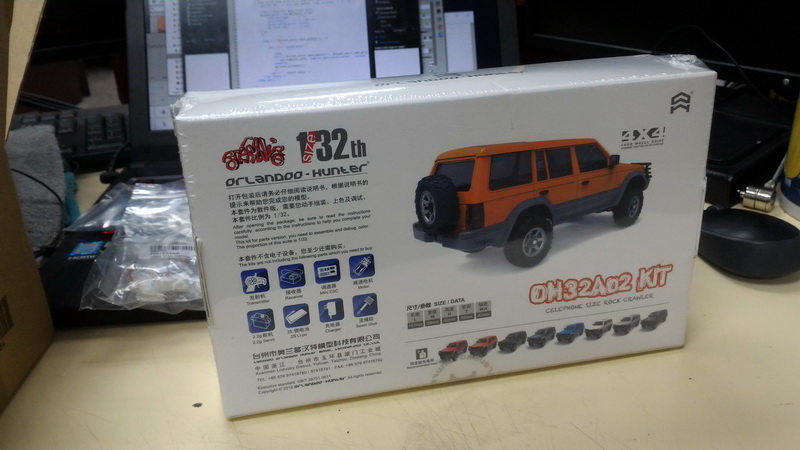 Model: OH32A02 (Mitsubishi Pajero body replica)
Chassis size and builds: 1/32 scale rail type chassis
Chassis build: Metal + Plastic
Drivetrains: 4WD
Drive Motor: micro/nano size brushed motor 120 rpm
Steering servo: nano 2.2g servo
ESC: Brushed ESC + Integrated electronics board BEC and light control
Radio controller requirement: 3 channel 2.4ghz radio
Radio channel assignment: CH1=Steering, CH2=Throttle, CH3=LED light
Play time: 20~35 minutes (Depending on throttle management)
Speed (km/h): Slow crawling
Battery details: 6.0v 400mah (2s Nimh cylinders cell)
Package included:

1x Orlandoo OH32A01 Kit
1x Grease pack
1x Tools
1x Manual book.
Pros:

Smallest and scale looking commercial 4x4 crawler on the market.

Optional alloy/metal upgrades such as drive shaft, metal upgrades, scale 4x4 decoration accessories and etc.

Very long runtime on 6.0v 400mah NIMH battery. Average runtime of 20~35 minutes.

Lightweight rail type chassis.

Cons:

Very difficult to built due to lots of extremely tiny almost microscopic kit parts which is a bit hard to hold on your finger. Ideal for those experience building plastic kits models with good patience in building it.

Microsopic soldering skills and paint works are required.

Narrow tire width, which means less ground contact for efficient grip. For serious crawling it needed wider tyre like the ones used by OH35P01 and OH35A01.

Long rear chassis length starting from rear wheel center hub towards the rear end more likely to scrap the ground when the truck climbing or rear suspension squat will make the rear bumper hit the ground.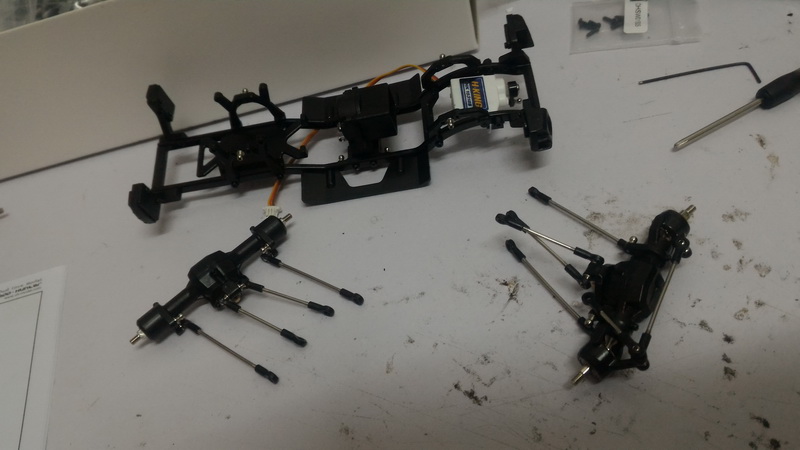 Quality, performance and builds.
First and fore most if you haven't read my previous article review about my first Orlandoo ownership the OH35A01 JEEP you should read all about it at this link first (here) before continue reading
further because i wouldn't repeat the same statement since both the OH35A01 and OH32A02 have the same build, same base chassis, electronics and all its structural parts that makes up the whole model except that the outer appearance are different such as bodyshell, wheels, tyres and Pajero's extra rear chassis length. But if you want me to summaries in few words the OH32A02 parts quality and builds as good as OH35A01 and not as shady as its old predecessor the OH35P01 that makes you work twice harder on the assembly. Yes good news, you don't have to drills some holes for the ball links unlike my previous rant on OH35P01 so overall the build was easy with all the tools provided inside the box just make sure your finger and thumbs are small and agile enough to handle micro fine parts and you're good to go. Despite OH35A01 and OH32A02 share the same parts unfortunately you can't swap around the body shell among each other because the base chassis length on both models are different in length more notably the Pajero rear end length from rear center wheel to rear end bumper is pretty long.
Unlike previous two Orlandoo models that comes with plain blank white plastic body shell the Pajero's body shell comes in grey color very close to Pajero signature color except its not in metallic finishing. I didn't spray the body fully because only applied brown acrylic color on the mid section of the panel to replicate actual Pajero old styling and it was good enough to save some time and effort for the paint job.
Like the OH35A01 the OH32A02 Pajero can still use upgrade parts including metal option parts from OH35P01 and OH35A01 models such as shocks damper, drive shafts, gearbox parts, drivetrains parts, electronics, battery, wheels, tyres and compatibles however only the parts such as body shells and shell mounting parts are unusable. Compatibility using the aftermarket optional shiny metal upgrade front and real axle that originally made for OH35P01 F150 still questionable, none reported by any Orlandoo owners if it could be use for later models such as OH35A01 and OH32A02 yet to be disclosed until someone makes a move on that $79 worth of 'bling' upgrade combo...thats a lot of money for timble size parts drivetrains, yikes!
Driving and crawling performance is pretty much similar to how OH35A01 performed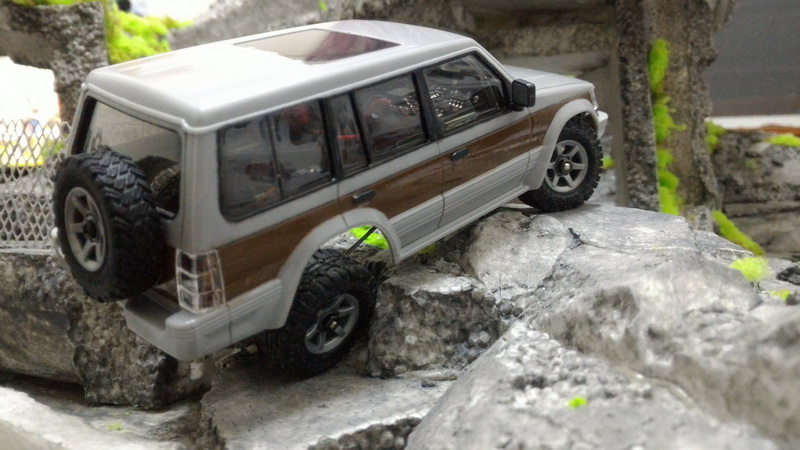 since both came from the same chassis design from axle, suspension, gearbox, steering to rail chassis structure running on normal desktop surface, however when going for serious crawling over challenging obstacles on my home made DIY Rubble Wasteland crawling track the Pajero did have some minor issue having its rear end of the bumper keep scrapping the ground as it try to climb at steep angle especially if the rear suspension squatting too low. On OH35A01 Jeep there hardly any rear bumper scraping the ground when climbing because of short length rear bumper end. There's no solution to solve the Pajero rear bumper scrapping on the ground problem unless if you decided to put a new body shell of scale truck through extensive moddings like Jeep, Suzuki Jimny, Toyota RAV4 or others that have shorter rear tail bumper to rear wheel hub and trim the rear tail rail chassis shorter needed to solve the problem. The second issues yet minor is Pajero's stock narrow width tyre seems not effective for serious crawling, it has small surface traction and may slip about during climbing. This can be easily solve by using wider rubber tyre that used by OH35A01 and OH35P01 or buy other after market Orlandoo tyres. The video presented below as attached in this article from my youtube channel features my Orlandoo PH32A02 in action using wider tyres which i took from OH35A01, the results was an excellent
climber and max traction on all sides. Once all issues resolved the Pajero crawling performance is as equal as Jeep in all aspect except that minor rear butt scrapping. Currently like on all Orlandoo models i'm using stock (standard) 120rpm torque brushed geared motor to power the drivetrains that was recommended by manufacturer (or comes with electronics combo kit), it give good crawling speed, torque power and enough 'climb sprint' to lunge over taller obstacles. In terms of scale appearance or should i say photogenic potential the PAJERO looks much better than the F150 had sharp and edgy in details like the Jeep especially the light bucket which shows nice contrast of lightings when driving in the dark around the track. For being a 'shelf queen' the stock wheels and original stock narrow tires do looks good despite lack of traction and i do notice among all my Orlandoo models only the Pajero with its stock wheelsets can actually sunked its wheel partially hidden under the wheel wells fender which makes it looks very cool 'slammed' looks during axle articulation in action...that's a big thumbs up. The Pajero kit comes with optional attachment of front K-bar or grilled bumper which i don't prefer to put on yet. Upon research shortly after the release of Orlandoo Pajero variant online store started to sale lots of scale decos and aluminum body kit accessories for OH32A02.
Videos/Medias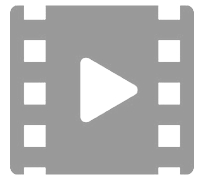 Here are sample of video of i posted on my Youtube channel contain test review on Orlandoo OH32A02 PAJERO.
Vendor/seller

Here are list of reputable vendor/seller which i bought from and also verified by community forum discussion groups. Also i've experienced buying from these places that have good support and services:
Spare/upgrade parts:


Support group:
Places where you can find help and resources related to this product:
Topic (Orlandoo collection on track): Rccrawler.com - DIY scale rock crawler track made from foams
Topic (Orlandoo collection on track): Rcuniverse.com - DIY Foamy rock crawler track
Topic (Shared topic with OH35A01): Rctech.net - 1/35 scale Orlandoo OH35A01 Jeep crawler build
My related review:
Product review: The Orlandoo OH35A01 Jeep
Product review: The Orlandoo OH35P01 F150
Summary
If you wanted to know in which position i would rate this model in term of build quality, scale appearance, fun and crawling performance among three lines of Orlandoo 4x4 crawler i would put the OH32A02 PAJERO in second position, whereby as the OH35A01 JEEP at first and the OH35P01 F150 at last spot. If the PAJERO rear buttock length made shorter it would make it easier to climb and not scraping around the ground while the truck made rear squat at high nose pitch during climbing, then it would taken equal spot with the JEEP in unhindered crawling ability. There's not much major performance issues and build if you intended to get the OH32A02 PAJERO as your first micro crawler but my advice is you should buy extra pair of wide knobby tyres to go with it for improve climbing and traction power instead of narrow stock tyres. Then later if you're wanted the whole collection of Orlandoo your next will be the Jeep and the last would be the F150 to save you some pain in the butt if you've read my previous article about it. Hope your micro crawler enthusiasm grows. ;)