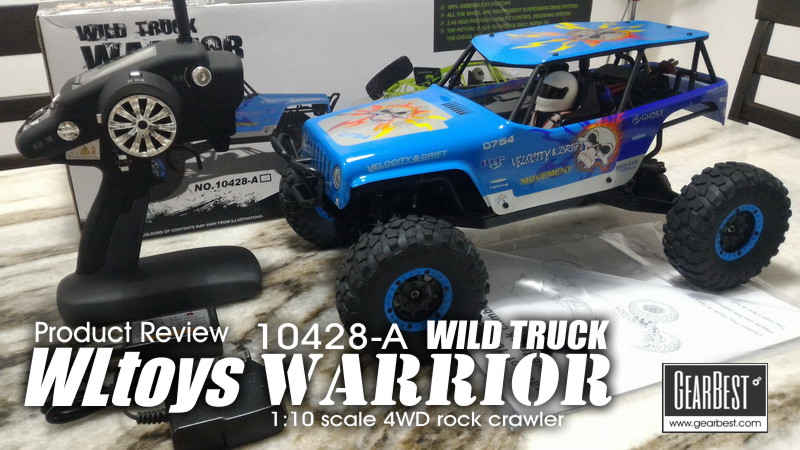 About
Let's list down those famous big names in R/C rock crawling/scaling scene: AXIAL, GMADE, VATERRA and RC 4WD..forgive me if i didn't recall other brands,
maybe their marketing strategy were bad. How bout TAMIYA and KYOSHO..not quite when it comes to rock worthy trucks but the one i mention earlier makes a big bang in the community of serious rock climbing and scale looking R/C trucks! So what do they all have the same thing in common?..yes they are all expensive could fetch about USD$250, USD$300 and above for a decent 1/10 scale plastic made rock crawler or a rock racer in RTR package while some only comes in just kit without electronics for Pro level choice. How about HSP Racing brand...yeah they do make affordable ones but their old trademark crawler AX-10 clone chassis looks too retarded to show off to the 1/10 scale crawler community..fugly. Let's face it, now is 2016 its the era where more and more R/C truck fans are now digging in more into scale looking trucks something like a TACOMA, CHEVY, 80's RANGE ROVER, old LAND CRUISER, JEEP or atleast what looked like tube chassis, jeep like bodies, fog lights, rear spare tyres, winches, beaded rims, realistic axle with suspension movement and anything closer to real life trucking going over the boulders. People don't like retarded body shell on nice piece of 4x4 chassis, people wants trucks that looks rugged like in real life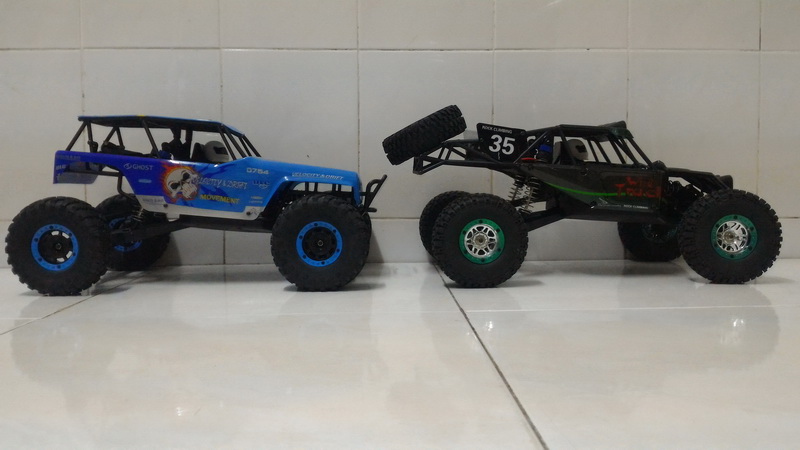 scale over terrains slowly grippin tyres and skillfully maneuver over obstacles just like the ones you see on 42 hours off-roading on TV.
Ok let's get back to so call " I want a AXIAL but i don't have much money" topic. As you all know the our favorite super saver brand the "WL-Toys" came out an affordable solution that allows everyone to jump into the 4x4 rock scaling hobby, so they release their new 1/10 scale very tempting looing rock crawling truck: The WL-TOYS - 10428A WILD TRUCK WARRIOR for only USD$135.39 (as in Aug 2016) at Gearbest.com store (http://www.gearbest.com/rc-cars/pp_373795.html?lkid=10005163). But it came out with annoying powder blue color and mock up sponsors decal on its panel.(*I'll respray back to proper color it after the review,lol). Now here's the best part, the chassis on this truck was actually and exactly the same design as the famous VATERRA TWIN HAMMER platform. Cloned or re-badge chassis who cares this is a major plus for me since we're able to re-use parts and hop-up parts directly from VATERRA TWIN HAMMER's, nice move WL-Toys! Thumbs up!. Something tells me both WL-Toys and VATERRA did some agreement to allow this thing to happen but who cares we're just a happy end customer, let's those company solve their own problem if dispute arises. FYI few month ago WL-TOYS did release exact copy of VATERRA TWIN HAMMER under WL-Toys badge, the model named labeled
as "K949" sold under $180 then drops below $150 but it didn't last too long and was removed from the shopping directory. Then few month later it was released again by WL-Toys at hobbyking.com with model labeled as "A333" with no differences from its previous predecessor. Once again after few months later it was then again removed from the inventory for no reason. Lucky me i manage to put it into the shopping cart for $139 and had it shipped tp my doorstep in 3 days before they pull their products off the shelf again. What remains the fate of WL-Toys K949 and A333 was unknown but the same platform was released again now known as "10428A WILD TRUCK WARRIOR" with different topping. Instead of sand rail like tube body like the chocolate beige color K949/A333 aka VATERRA VATERRA TWIN HAMMER styling they replace it with what looks like blue colored AXIAL WRAITH POISON like top jeep body which again make it more cool and appealing to overall budget conscious rock crawler enthusiast. Without any question i pick one immediately and now i own 2x 1/10 scale VATERRA TWIN HAMMER platform. Oh wait..i think now i have 3x..if you remember my past review on FY03 Feiyue that one was 1/12 scale of the exact VATERRA TWIN HAMMER design. They just shrink that little guy a bit, lol.

Specification (as describe by vendor/manufacturer)
- Brand: WL-Toys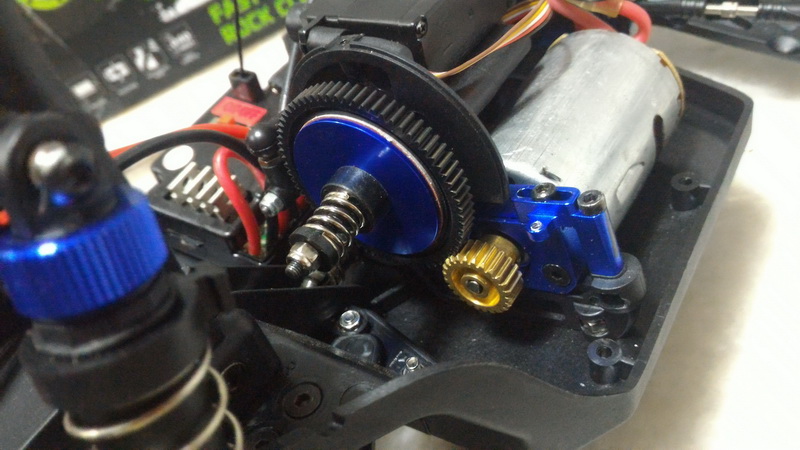 - Model: Wild Truck Warrior 10428A
- Previous variant: WL-toys K949 / A333
- Model chassis type: Rock crawler/rock racer
- Model original chassis from: VATERRA TWIN HAMMER
- Body shell: Jeep like with tubed frame + Lexan plastic panel
- Suspension front: Independent
- Suspension back: Articulated straight axle drive
- Charging time: 4 hours
- Action time: About 20 minutes
- Frequency: 2.4GHz
- Motor: 540 Brushed motor
- Top speed: 30km/h
- Wheelbase: 286mm
- Wheel size: 1.9 (SCX-10 like wheel fitting compatible)
- Transmission ratio: 1:18.7 / 1:33 ( 2x speed gearbox )
- Drivetrain: 4WD
- Battery for truck: 7.4V 2200mAh Li-Po battery ( Included )
- Battery for transmitter: 4 x 1.5V AA battery ( Not included )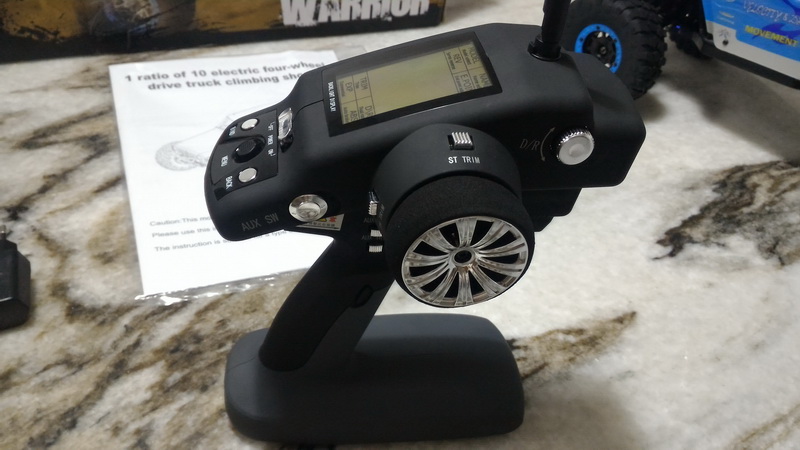 - State of Assembly: RTR



Package included:

1 x 1/10 scale WL-Toys Wild Warrior 10428A truck model
1 x Radio transmitter
1 x Balance charger
1 x 7.4V 2200mah 2s Li-Po battery
1 x Wheel hex tool
1 x English User Manual book
Pros:

Lots of throttle torque and climbing both on both gear modes.

Sturdy chassis and very elastic

Very active suspension with high amount of rear articulation/flex to crawl over obstacles.

Huge amount of under carriage clearance to clear various obstacles when compare with other 1/10 scale 4WD models.

Stock radio can travel more than 100m >>, untill barely seen from line of sight

Electronics are water "splash" proof, some youtube user shown it as fully waterproof (on K949/A333 of same family variant).

Chassis design are derived from the famous VATERRA TWIN HAMMERS model which means parts are compatible and uipgrade hop-up easily obtain in the market.

The radio controller/transmitter almost clone like design from FUTABA, looks elegant and professional with no shame showing off to the public or R/C events. Big digital display and ergonomic in design.

Cons:

Stock tyre are slippery, too flat knobs and lost quite some traction. Recommended to upgrade the tyre to more soft and rubbery grip knob/treads. Find 1.9 size compatible tyres from PROLINE or AXIAL SCX-10 scale tyre set.

Suspension shocks are coil driven, no oil damper to rebound the suspension travel. Might not give ample performance to those who wants crock crawling perfection.

ON/OFF switch located far inside and under the body shell. You'll need to tight squeeze your finger to dig and flick the switches around.

Quality, builds and driving performance.
The WL-TOYS - 10428A WILD TRUCK WARRIOR is build for rock crawling and also rock racing it means it has bad ass speed especially torque power speeding on extremely rough terrain track especially when going up hill and down hill, a terrain something of a 4WD race buggy or truggy wouldn't able to survive and will get stuck in. The combination of rear axle and front independent suspension arm make this truck a great vehicle to weave around the
rocky trails fast and smooth. During some test drive around the terrains especially rock climbing this truck have huge amount of undercarriage clearance to clean off every climbing smoothly. Suspension system articulated nicely all over the terrains like 8 legged spider crawls all over the rocks like a silk but the front stock shocks need to upgrade as it doesn't rebound/extended the suspension travel nicely after few bumps. The first 5 minutes of crawling the stock 1.9 size tyre performed very well but after few runs when the rubber knobs started accumulated some sticky sands over the knobby surface it started to lose some traction and no longer able to crawler efficiently unlike the original tyre knobs from K959 or A333 model (VATERRA TWIN HAMMER stock tyre). So both of these parts: the front shocks and the 4x tyres needed some upgrades if you wanted some driving perfection all terrain superiority, small sum of $$ just to keep up with the standard. Stock chassis and the top tube rollcage Jeep like body (AXIAL WRAITH style) held well during roll, tumble and crashes down the hills which is good and not bents or dents. Few days playing outdoor with this truck i didn't have any technical problem nor difficulty handling the truck, plus haven't damaged, loose or break anything yet since i drive "scale speed". Speed bashing? No problem. speeding on rough grasses, sands, mud and stuff was exhilarating as you can feel that massive torque pulling those wheel around, not racing fast nor wheelie but very torquey! Any obstacles like ruts, rocks, branches, ant hills bumps or concrete curbs the truck massive articulate rear axle with long suspension struts and front independent suspension took it like a boss having a big morning breakfast...what a happy truck!
About the stock battery runtime at 2200mah 2s; normal 'scale' driving around rocky hills would took me average around 30 minutes to drain off up to 7.2v per-session. That's a huge amount of playtime under the sun. A normal high speed off-roading (controlled 50%~80% throttle) would took me around 15 minutes to drain off the pack at 7.2v. Not only the speed are proportionally controlled but also the truck comes with all terrain switchable gear box that offer two driving modes: High toque >> Neutral (Gear disengage/Free) >> Low torque. This allow you to decided which gear works best for high peed on the tarmac/flat land or going up climbing hills or over huge rocks. So that means it have two servo onboard where one controlled the gear box and another control the steering. Both servo doesn't have equal size. Steering servo remain at standard 1/10 scale size or replacement compatible with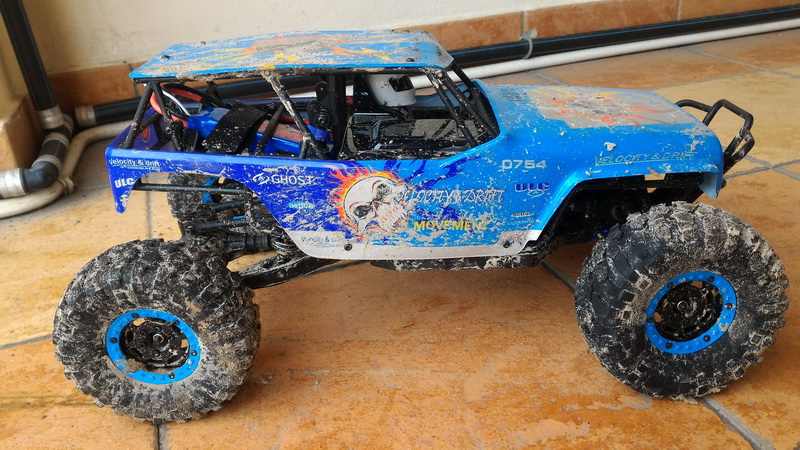 FUTABA S1001 servo size but the gearbox servo have anonymous sizing which is smaller than the steering ones. Both servo however doesn't have its own independent PCB electronics which all depended on the main onboard integrated receiver and ESC all-in-one box just like you might expect from cheap affordable build from WL-Toys. It means if you wanted to replace either one of the electronics either ESC, receiver or servo the you'll need to replace them as whole..which sounds extremely costly. But hey you're buying a VATERRA chassis not electronics. You might expect the integrated electronics were bad on this truck but hold on those judgment, after some of my personal outdoor test and bashes it seems overall the stock electronics seems to do the job well done without any problem, it still survive with a splashes of muds and water into it and i even just pour on the tap water boldly clean the interior disregards protecting the innards....waterproof? Yes..i think so but i haven't drove it inside the river yet but someone on Youtube did it on K949, maybe you should look up to it. Cleaning the truck after hard session of muddy and dirty driving is easier to take care of. I usually took a water spray hose, just spray the water on all corner of the truck with brush on my other hand to clear some dirt off from the chassis. Then just leave it under the sun for few hours for it to dry. All i knew the electronics seems to be able to handle splashes of water from inside and have no problem being wet as if everything on the PCB board was coated with layer of water proofing coating to protect the electronics.
The supplied 3CH radio controller was a stunning looking piece of gadget not something you might find in an RTR box that come with knobby dial controlled. Its nice to hold, big LCD, shiny chrome button, ergonomic design, looks like Pro level controller and most importantly if you show up among the general crowds (the normal public) its a wow factor and make you looks like a pro racer. Coincidentally the controller looks almost like FUTABA 4** generation radio controller if viewed from afar, others might accidentally viewed as mistaken identity crisis. A FUTABA controller with FLYSKY guts?.....well stop doubting at least out of box its fully digital. Another big surprise is that stock radio have huge range! I did try to drive line of sight and drive the truck to most furthers distance until it becomes so tiny to see where its going, more likely it travelled passes over between 80~100m straight line. That's is just too much range to drive around the track, so this radio is good and handful range for conversion to FPV driving (*soon).
| | |
| --- | --- |
| | |
| | |
Videos/Medias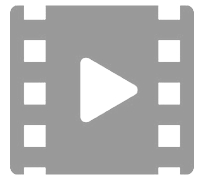 Here are sample of video of i posted on my Youtube channel contain test review on WLtoys 10428A Wild Truck Warrior
Vendor/seller

Here are list of reputable vendor/seller which i bought from and also verified by community forum discussion groups. Also i've experienced buying from these places that have good support and services:


Support group:

Places where you can find help and resources related to this product:
Topic : Rcgroups forum - WLtoys 10428A the clone of the axial wraith poison
Topic: Rcgroups forum (K949) - Amazing WLtoys K949 Climbing RC Off-road Car
Topic: Rcgroups forum (A333) - Another rock racer - WLToys A333 at Hobbyking
Summary
If you don't want burn a hole in the pocket to R/C scale model rock crawling or trail driving scene then this is the truck to have. Cloned from famous chassis type the VATERRA TWIN HAMMERS there's no problem getting extra spare parts and hop-ups plus its a platform you can easily do some mods and
grow with it. Plus you got a topping of an AXIAL WRAITH POISON looks a like body so you have the best of both world in a box. Stock electronics are good if you're doing scale speed driving but a Brushless motor upgrade is a bit overkill, Brushless upgrade on rock crawling?..you're not doing it right for the Scaler club out there. Nice looking FUTABA look alike radio does have handful amount of range so no upgrade needed even you're going down to simple setup FPV route. You may need to upgrade the shocks to something with oil filled with extra rebound and a good set of 1.9 true rock crawling tires maybe from brands like AXIAL SCX-10 or PROLINE. Overall the truck is a good start for budget minded hobbyist, by paying half the price you can start join those nice rock trailing activity immediately out of the box (don't forget to charge the battery) with huge crowds of crawler enthusiast both outdoor activities and online forum discussion. Btw if you watch the unboxing video and some part of the gallery you might notice those box art contain two type of models which is the presently 10428A and the ontrasting fluorescent yellow color looking tubed truck what looks like the return of K949/A333 variant....hmmm maybe those cheapo TWIN HAMMER will be back again in ..in ugly yellow.