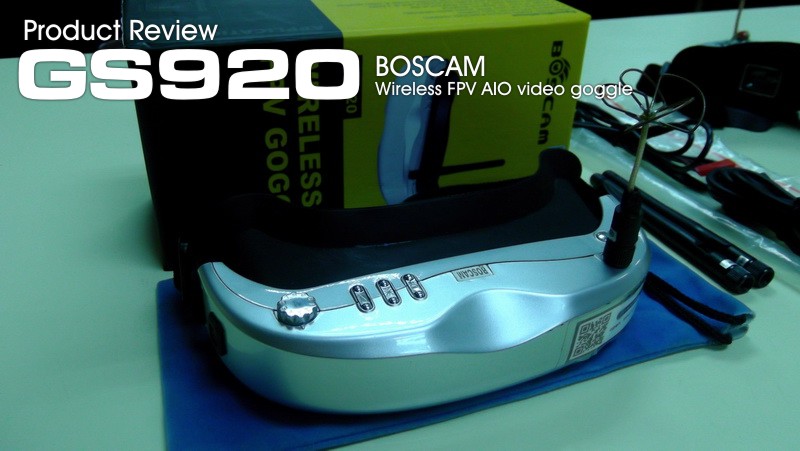 About
Its time to give this FPV video goggle a fair review after been using fo
r more than 3 years for hard core flights. This is BOSCAM GS920 Wireless FPV AIO video goggle. In 2012 this model is top notch FPV goggle rival to FATSHARK lines of video goggle. Fetched almost $400/- 3 years ago this
equipment satisfied any FPV flier that demand both full FPV flight experience which boast internal dual 2.4ghz and 5.8ghz video transmitter, 922K pixel color display, excellent FOV and head tracking capability. Today its just around $249.99 since its an old models and now comes with many competitive models especially from FATSHARK, SKYZONE, WALKERA, HUBSAN and generic copy from Ebay. Back then there were not much choice of serious FPV goggle for me to choose online, so it had to be either the BOSCAM GS920 or FATSHARK variant (BASE/AVIATOR). I picked GS920 because its superiority over FATSHARK and had to invest the best FPV hardware for long term period which i targeted should lasts me more than 5~7 years of flight abuse....i had to say today till today it was all worth it. Glad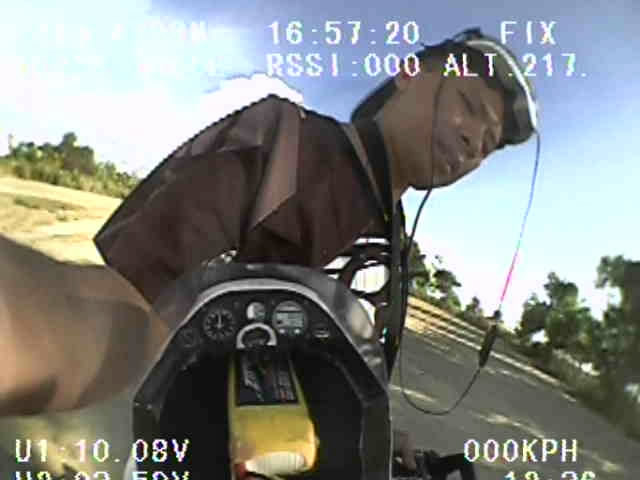 didn't spend double for half quality products.

The first impression when i wear GS920 it is very comfy and my eye can 'breath' easily inside the big rubber cup. My second set of goggle from FATSHARK, the RCV922 AVIATOR of the same year felt very uncomfortable and very pinchy due to thin layer sponge cup around my eyes. Years ago FATSHARK didn't surpasses much on eye cup design but it wins on big 46 degree FOV department in comparison against GS920 with only 32 degree FOV. However the FOV ratings doesn't matter much as our human eyes biologically can automatically adjust its internal iris lens muscle to focus its viewing to bigger FPV view after expose our eyes inside the goggle for at least 15 minutes, do take note of this important factor for first time user. At RGB 922K colors, dual video frequency, user friendly buttons and GUI, head tracker, variable voltage support (2s~3s) and lastly able to wear reading eye glasses for near sighted user the GS920 wins the heart of enthusiast FPV flier.

Specification

Display resolution: VGA 640x480 RGB, 922k pixel color display
Field of view: 32º diagonal
Virtual image size: 48 inches diagonal at 2m / 80 inches in close angle.
Wireless receiver frequency: 2.4G Hz 8-channel,5.8GHZ 8-channel
Video sensitivity range on 5.8ghz mode (VTX 200mw module pair with CL/SPW antenna): 1.5km~2km
Video sensitivity range on 2.4ghz mode (VTX 200mw module pair with CL/SPW antenna): 2km~3km
Head tracking capability: 2 axis pan and tilt built-in gyro
User Interface: Dial and push button. Include in goggle user interface screen for config/setup
Antenna connector: RP- SMA
Input/output port: Futaba head tracking port with JR compatible extended auxiliary connector, video in and out port. RP-SMA port for antenna, external power port.
P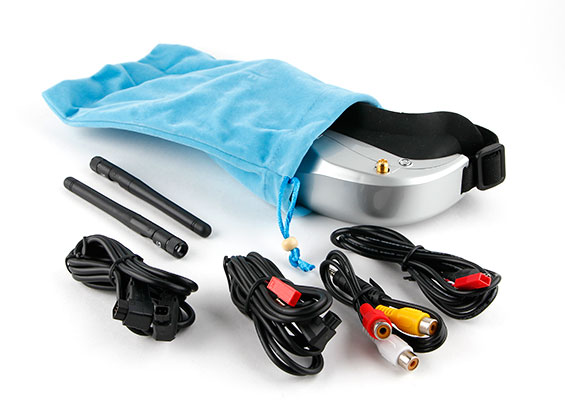 ower supply: 8-13V, 300mA (support power from full charged 2s and 3s lipo only).
Weight: 490gram
Case color: Silver case and black rubber eye cup (original), Silver case and grey rubber eye cup (old model), Black casing and black rubber eye cup (FoxtechFPV.com version)
Channels
2.4G : 2414,2432,2450,2468,2370,2390,2490,2510MHZ
5.8G : 5705,5865,5665,5645,5885,5905,5925,5945MHZ
R/C Device Compatible with FPV System.
Futaba: FF-7, FF-8, FF-9,T9Z, T12MZ and T14MZ
JR compatibles: JR radios, Turnigy 9X(TGY9X), Turnigy 9XR/Pro, FrSky Taranis, Flysky 9X(TH9X)
Package included:
1 x Boscam GS920 video glasses
2 x Head tracker cable Futaba/Jr
2 x Antenna 5.8ghz/2.4ghz
1 x Shade (Rubber eye cup: able to fit small narrow reading glass).
1 x AV cable

Download BOSCAM GS920 AIO goggle PDF manual here
Pros:

The only existing video goggle that support dual frequency 5.8ghz and 2.4ghz built in receiver by late 2014 and onwards. 2.4ghz much preferred for excellent video frequency penetration.

The only model that able to fit in user reading size eye glasses because the GS920 (also include GS922) have big horizontal rectangular hollow void that able to fit any narrow rectangular type eye glasses.

No PID lens adjustment needed. "One vision fits all".

"Speed dial" to immediately switch to different channel and access setup menu. Similar speed dial you can find on Pro camera sort of...that's good feature.

Graphical User interface (GUI) inside the present when need to setup various goggle parameter such as head tracking feature, channel assignment, switching 5.8ghz to 2.4ghz, colors, mode and etc.

5.8ghz receiver sensitivity up to 2km on 200mw VTX module with paired CL/SPW antenna.

2.4ghz receiver sensitivity up to 3km on 200mw VTX module with paired CL/SPW antenna.

Cons:

Internal video receiver have only 8 channel. To extend or upgrade video receiving capability the GS920 able to connect to external video receiver of user choice via "video input port" below left side of the goggle. The reason was 8 channel was pretty much standard at the time of manufacturing (Year 2012~).

Compact build, internally contain cluttering wires and have no room for error during disassembly and assembly if repair needed.

Internal "Cold soldered" wires usually on random manufacturing batches. Mostly obvious disconnected power problem when plug into goggle right side Futaba port.

Heat tracker gyro drifting problem due to old tech gyro sensor. (GS920 was build in the days where "flybar" heli was popular, so the gyro was using ancient piece of technology).
What are the best reason GS920 is a best FPV goggle and how it could withstand rival models in current 2014?
In 2014 it should consider as good budget goggle under USD$250 with all the vital feature of serious FPV usage when actually it was USD$400 in the past years.
Still have better good picture quality at 922k for analog wireless video standard.
Big rubber eye cup design still able to accommodate narrow rectangular eye glasses for short sighted user.
No PID adjustment needed.
Dual band video receiver. (2.4ghz/5.8ghz). 2.4ghz = better penetration and range.
Able to use external video receiver, output video signal to secondary external video display.
Able to use common R/C power supply ranging from 8~13v (2s~3s lipo).
In goggle GUI display for easy setup.
Today latest video FPV goggle feature comes with build in 32ch 5.8Ghz, diversified receiver, HD, internal DVR, 3D and other bells and whistle which you don't need much in real world. Much of these are "hyped" feature are for marketing strategy to attract attention of buyer. For you info real time analog video doesn't run in HD since FPV technology still derived from 4:3 aspect ratio 640x480 or best 800x600 pixel on 520~600TVL image quality. Most HD only can done by external secondary independent HD recording from 720p~4K. The only most important common feature you need in any FPV video goggle to extend the life and usefulness are as mentioned below:
Video input port. (So you can upgrade any obsolete video frequency model externally)
Head-tracking port. (Operating HT on plane or gimbal on multirotors)
Good rubber eye cup. (So you don't feel the pain all day).
First time user tips about FOV (Field Of View)
If you first time into buying an FPV goggle you will notice lots of FOV ratings mention inside the goggle specification. The bigger the degree value of FOV (Field Of View) the bigger the screen size you'll be
looking at inside the goggle. Its just like sitting in the Cinema in front one of the screen. The closer you seat in front of the screen the bigger view you'll get and the further back you seated at the back row the smaller screen you get. Similar principal applied to video goggle too, pretty much this value was vital key point when buying an FPV goggle. However if the resolution of the screen is low (low DPI) sitting in front with big FPV is pretty much useless (pixelated issues) and seating far at the back does the trick to minimized to problem. Ok assume you found a good quality video goggle with all those rich LCD/OLED screen resolution and bunch of Yadaa..yadaaa..then suddenly the FOV value was quite discouraging..low FOV? Don't be disheartening by such specification, despite high priced but low FOV there seems to be proper reason for it. Did you remember about how our eye's lens can automatically focus to give biologically bigger FOV as mentioned during my first discussion?
Here's some step to get your eye's used to various FOV size in the goggle:
Turn on your FPV goggle and wear it on your eyes. Make sure no lights getting inside your vision.
Stare at the small screen for about at least 15 minutes. The internal mechanism of our biological eyes is trying to adjust its your FOV vision and correcting your eye's iris lens muscle so that it could accommodate your whole vision into that goggle particular FPV screen.
Slowly after minutes pass by you will realised your vision automatically shifted forward as if you're sitting very close to the front seat of the big silver screen inside the Cinema.
Hooray! finally your eyes get used to smaller FOV as if it looks bigger FOV thanks to human body adjustable feature.
Videos/Medias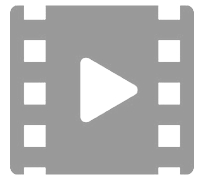 Here are sample of live FPV view recorded on DVR which also at the same time viewed via GS920 goggle. DVR recording is slightly 30% degraded when compare against real view from the goggle itself so do consider some fact when making judgment on the clips:

Reliability and viewing quality
I like the color quality in GS920, for the money its sharp enough to identify incoming electric pole, dangling wire over head, bird passes by, road, tree foliage and other small this on the ground when using between 520TVL CMOS to 600TVL CCD camera for live video on both plane and multi-rotor. Had no problem showing frame rate between 30~120fps. After more than 3 years of almost daily usage the color quality and pixel didn't not degrade by time and still going strong. Unfortunately the head tracking feature that use to control both tilt and pan servo for camera operation are slightly drifted around and didn't lock at required position which is common issues in GS920 model. Rival company the FATSHARK highlighted its product feature with improved head tracking gyro which won approval among FPV pilots. The only faulty occur on my first unit of GS920 because it was mishandled by external impact and dropped to the ground surface. Another issues include antenna problem and cold soldering issues as described in "CONS" column above the page. Most of the failure feature can be remedy with external fix and modular upgrade such as external video receiver and high grade heat tracking external gyro. The common fact is on any FPV video goggle internal video receiver and gyro will never last long and someday needed to be replaced soon.
The good news is these if the GS920 is well handled without any mishap the video receiver on 5.8Ghz mode could received video signal from 200mw 5.8Ghz transmitted module up to 1.5~2km radius provided both antenna paired with Clover Leaf and SPW. On 2.4Ghz that would be around 3km.
However the GS920 goggle still have more PROS to go and i can see myself another 5 year of good use ahead.
Reputable vendor/seller

Here are list of reputable vendor/seller which i bought from and also verified by community forum discussion groups. Also i've experienced buying from these places that have good support and services:
1. Seller Banggood: Banggood.com BOSCAM GS920
2. Seller Hobby King: Hobby King.com BOSCAM GS920

Support group

Places where you can find help and resources related to this product:
Topic: Full BOSCAM/Foxtech AIO Glasses Review
Topic: Boscam GS920 with T8FG headtracking
Topic: BOSCAM GS920 AIO FPV Goggles and FrSky Taranis X9D
Topic: Boscam/aio goggles problem
Upgrade version: (BOSCAM GS922 FPV 5.8Ghz 32CH AIO goggle with DVR)
Somewhere mid 2014 BOSCAM releases a new upgraded version of this goggle: The "GS922". I don't have much info and experience using this product but it cost at whooping $399 at the end year of 2014. Probably aim to complete against rival manufacturer's product namely high end SKYZONE and FATSHARK line of FPV goggle. I don't want to talk much about something that i don't have in my hand right now but you can view the details of GS922 goggle here.
Latest: BOSCAM GS922 FPV 5.8Ghz 32CH AIO goggle with DVR
Troubleshooting and FAQ
My advice "if it doesn't broken don't fix it". Seriously don't try to dismantle this video goggle to quench your curiosity because everything that stuff inside the shell is ultra cramp and compacted
!. Not all electronics parts such properly seated on its place holder, bunch of dangling flimsy wire pinch each other in tight space and lots of cold soldering point too. Well below are few cautionary advices, warning, trouble shootings and FAQ hints you should know when talking care of these goggle.
How to i unscrew the goggle?:
Answer: Usually the screw located hidden behind the rubber eye cup. The rubber eye cup is snapped lock/latched into the case via rubber snap pins, you'll need to pull slowly and take a peek between the opening gap to make sure the rubber pin is safely pulled detached out from the casing else it will tore apart and you'll have problem assembling it back. After successfully removed you will notice all the required screw disassembly located on the outer perimeter of the lenses frame.


Don't screw in the antenna hard on RP-SMA connector :
Because: Inside the goggle casing just below the RPSMA connector attachment there is a flat receiver board module that latches to other piece of PCB board hang by thin fragile cold soldering legs (pins). If you turn/screw the antenna hard the RP-SMA port torque twist will pull along with the internal board causes some random number of pin snapped out from the main PCB circuit board. The end result causes your video receiving sensitivity reduce to shorter range because of loose connection inside the internal board. I made my mistake on 1st unit of GS920 only realized when i released my range was cut to 900m instead of normal 1.5km range on 5.8ghz channel mode, only after wiggle and apply pressure around the antenna i get my original 1.5km back. Upon dismantling the goggle for fix i fail to trace the culprit because its too complicated to see which soldering point causes the problem due to crampy and compact factory assembly.
Solution: I ended up using external RC305 5.8ghz video receiver via connected to the goggle video input port. Gave me good clean improved 4km range on DIY Clover leaf antenna and 7km on high Dbi patch antenna. If you do have a new GS920 i recommend not to apply to much pressure during the antenna screw and most importantly after screw in for use just permanently leave the antenna on the goggle forever because any screw in and out may worn out the RP-SMA connector performance and degrade radio sensitivity. Read some wikipedia here about SMA and RP-SMA.


Snapped video ribbon upon installation, no video:
Causes: If you're disassemble and reassemble back the goggle it is highly 90% you're ended up pinching few of the video thin flimsy ribbon cables that connected to the dual lcd eye piece hardware. The ribbons routing inside the casing are very complicated and may get tangle with the casing "crew-in" plastic snap in pole which might get pinched by accident during assembly.
Solution: Unfortunately if you tore apart any of the ribbon cable you don't get any after market GS920 spare parts or support online. You best bet is to get a similar flimsy ribbon cable that you can find inside a CD-ROM, Table Scanner, DVD player or alternative ribbon from camera hardware store and cut according to the amount on input/output pin required to slot into the socket connector. I tore some ribbons after get crushed during the assembly and fabricated one from thrown away DVD-ROM ribbon cables.


No power when plug on FUTABA video goggle port (Right square port):
Causes: More likely happens when you plug and unplug the Futaba connector more frequently on every FPV flight for storage purposes. Due to manufacturer's "cold soldering" on few wires behind the Futaba female connector inside the casing the wire might detached from soldering point after frequent amount of pull and plug twitching effect on the port side during pin insertion.
Solution: You have two ways to fix the problem. If your warranty still valid after purchase you can send back for refund or replacement. Else if void or expired you can dismantle and manually re-solder the loose wire near the right side of the goggle where the Futaba female plug located.


Head tracking 'drifting' problem:
Causes: There are two probably two causes which confirm from my usage: (1 ) Dropped or and harsh external impact accident to the goggle may damage the gyro internal sensor, you still can use it but it will be very counter annoyance with random unwanted pan movement. (2) You don't give enough time for the goggle to initiate "leveling startup/boot-up", since the GS920 was build during the era of flybar heli where gyro sensor was much primitive back then any power-up with internal gyro require user to leave the goggle untouched for 30 second on flat surface before pickup and using it.
Solution: If you're in condition (1) as stated above then there's nothing you can do about it, usually any drift happens randomly. However if you put the goggle on the flat surface, power it up and leave it unmoved for 30 second before you pick it up then the problem can be "minimized" due to primitive gyro initiation which attributes to common old heli gyro back in 2012.
Cool thing to do:
Ok there few cool thing to do with this video goggle when you're not FPV. However some listed can be unique and offensive. Here some check list.
Hook to your PC game
All you need to HDMI to analog AV converted to send the video signal into the goggle. Cool stuff for your PS3/4, XBOX 360/ONE and PC's Oh if you have those R/C simulator 2~6ch USB dongle you can plug into the goggle Head tracker trainer port and play first person shooter with head movement capability @ Oculus Rift.
Run around sniffing others CCTV frequency.
You all know GS920 is the only model that have 2.4Ghz wireless video receiver supported. Today china made CCTV wireless video frequency are abundant in use around the neighborhood, town and commercial center. GS920 2.4ghz are derived from these frequency and compatible enough to sniff around leaked wireless 2.4ghz around the air. So wear the goggle and watch the show......(Being ethical FPV pilot you should not do that, lol).


Night vision google.
GS920 goggle have video input port. So go buy a CCTV night vision camera with bunch of IR LEDs. Then hooked up to in the GS920 video input port. Then whammo!!!! you're Sam Fisher! Good luck on your mission.
Summary
At the time of writing my GS920 goggle already in its 4th year and run thousand cycle of FPV flights, haven't lost its viewing quality, still strong and most of 'Cons' mentioned prevented on my second acquired unit which is still in pristine condition without any problem, so i could start caution and care handling it By current standard the goggle considered to be best affordable ($249.99) and contain all rounder FPV essential for serious user on the go. With bunch of auxiliary port all around the GS920 body any obsolete feature and existing function i could easily do replacement upgrade its via plug-in external linked hardware such as external video receiver module (900mhz/1.2/1.3/2.4/5.8ghz) and external head tracker module (Compatible MIG FatShark head tracker or XGY-1000). Even if i grew old and needed to wear my eye glasses the big eye cup could accommodate enough space to use it on my face without removing my glasses, another plus for short sighted user.
Overall i don't see my self looking for another replacement on GS920, i knew it will be operating happily for another 3~5 years. This is my best FPV hardware investment i ever had.