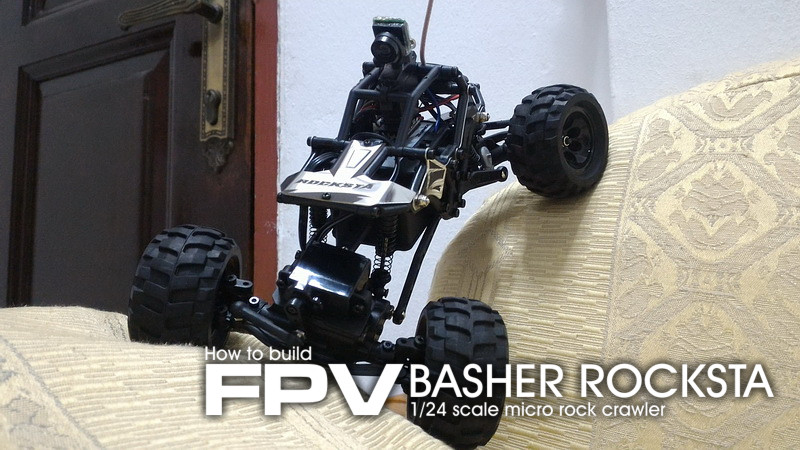 About
Hey again welcome back to another session for "How to build" stuff. Recently i just posted my latest youtube video about simple FPV project to convert my micro palm size rock crawler: Hobby King - BASHER ROCKSTA 4WD/4WS truck. This little thing can crawl almost anything on its path almost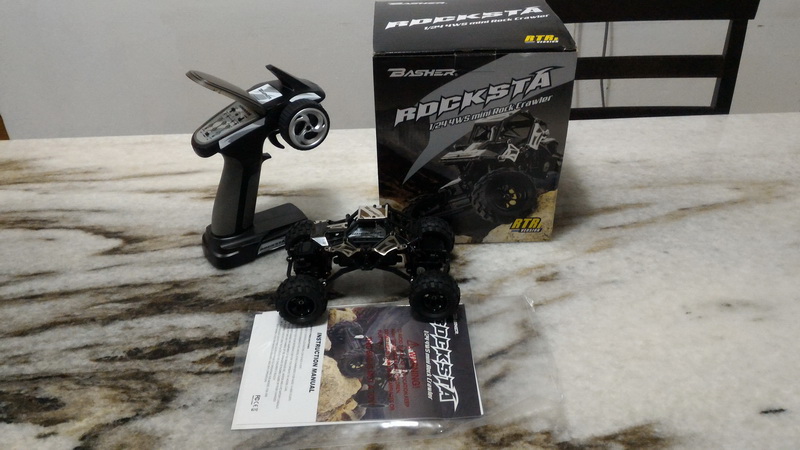 unstoppable and great platform to roam indoors and for the adventurous minds...and yes adding FPV mods for live wireless video for immersive driving added some plus side to your R/C life. I'm sure you've already knew or seen many of my FPV projects in the past but mostly for airborne models like planes and multirotors which is quite complicated for newbies to understand how things works especially even after years building article about it....too much tech to swallow eh?. If you've been following me for quite sometime i've also build other simple but cool FPV style ground models for immersive cockpit driving and bunch of other yet not documented build because i'm too lazy to speak out. Due to monsoon season i got some good news!, my mood for ground models like trucks and car is back in action during this wet tropical year!...not a good year to fly i guess....if you've been watching along my channel. So today i decided to give some tip and schematics on how i works on converting this 4 wheeled models into FPV with simple parts builds. Trust me its super simple. Unfortunately you'll need to work out some soldering skills....don't have any?..go learn it from Youtube. Yes this setup can be applied to any other model like cars, trucks, semi, tractor or even boat...or embedded in your sister's teddy bear/barbie doll.
Before we proceed on how to build lets talk about this cool truck which i recently bought: BASHER ROCKSTA. Its 4x4, 4WD and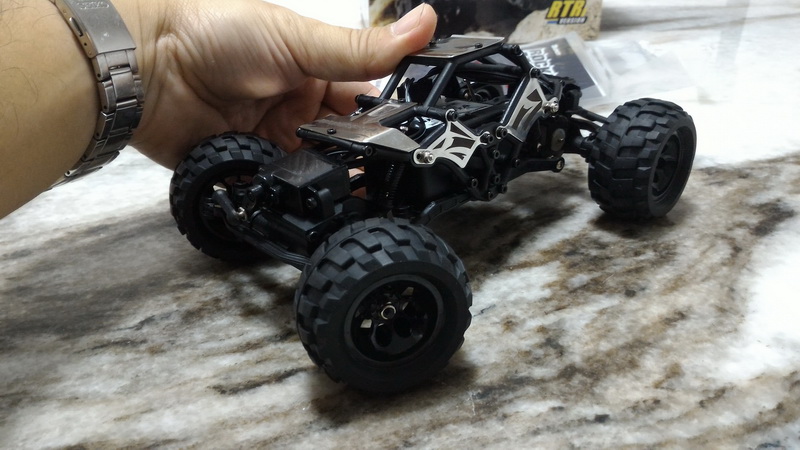 4WS (4 wheel steering), its a cool truck only you can find at Hobby king. Relatively cheap i suppose for USD$70 it can drive tight corners, 2 wheel steering on both ends, very grippy stock tyres, serious crawling axle with MOA (Motor On Axle), cool shiny panels, tube frames and all blacky themes a good models to do some ambitious mods such as FPV. Battery compartment unfortunately limits your ability to add higher capacity pack, best pack i could fit was 2s 700mah 25c but on the plus side you can run more than 25 minutes crawling around with FPV equipment lug in....FYI i didn't know how long it took to drain everything because by the time i was done with it the voltage was at 7.6v after in 25 minutes runtime. Another thing what i like about the ROCKSTA is the throttle control and the speed it move from the start does not jerk like "G-force" at the startup like on normal throttle on any other R/C vehicle model...it move slowly and controllable which is great for precision rock crawling style driving.....more like worm gear equipped drivetrain. Not getting it...just imagine an animal...a Sloth. Good! but if you want speed and adrenaline move out from here and look at my FY03 off-roader build/videos.


Model specification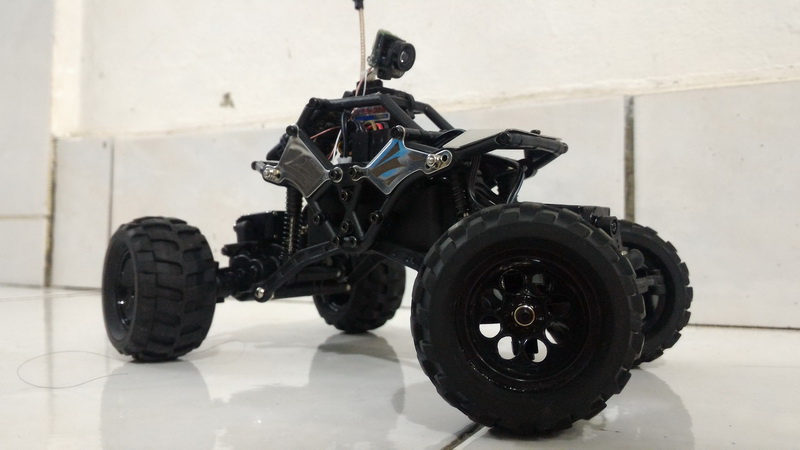 Model type: Rock crawler
Branding/Manufacturer: BASHER form HobbyKing.com
Model name variant: ROCKSTA
Material build: High impact plastic + metal panels
Length: 405mm
Drivetrain: 4WD - 2x motors (Motor on Axle)
Steering: 2WS (2 wheel steering/2x servo)
Radio system: 2.4ghz 3x Channel
Onboard Electronics: Integrated board = Radio receiver + ESC
Battery: 2s li-po 350mah~700mah 15~25c (JST plug)
Max battery dimension size fitting (WxLxH): 24mm x 47mm x 16mm
My DIY FPV specification
This is the most simple down to earth setup, most simple of the simple in FPV world and you can't argue it and definitely cheaper that buying your NIKE shoes for all the parts mentioned below... Well that depends which country you live in because where i live our currency value sucks. So below are the actual exact hardware i used on my ROCKSTA. Don't worry if my parts seems crappy for you i'll list down some alternative parts after the "Summary" heading below the page.


FPV parts required (*Check parts list/shopping list below the page)
Camera: Nano size 520TVL CMOS camera
Video transmitter: 5.8ghz 200mw
Servo: Nano/micro size 3g Servo
UBEC power module: 5v/1~3A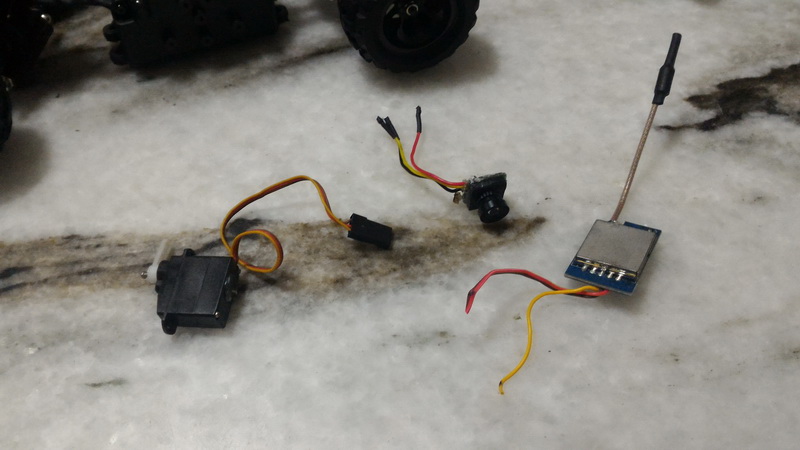 Did you read the specs above?, simple isn't it?. You just need out of the box ready to run R/C truck/car, an micro/nano size FPV camera, 5.8ghz video transmitter, micro servo (optional for camera panning capability) and a micro UBEC module (that small thing that supply 5V power to the camera operation). Basically you just need to connect all those wires via soldering. Most common wires you might encounter usually the Positive terminal wire (+) which is usually red in color, Negative terminal wire (-) usually black in color and Video signal wire (Vin/Vout) which is usually either white or yellow in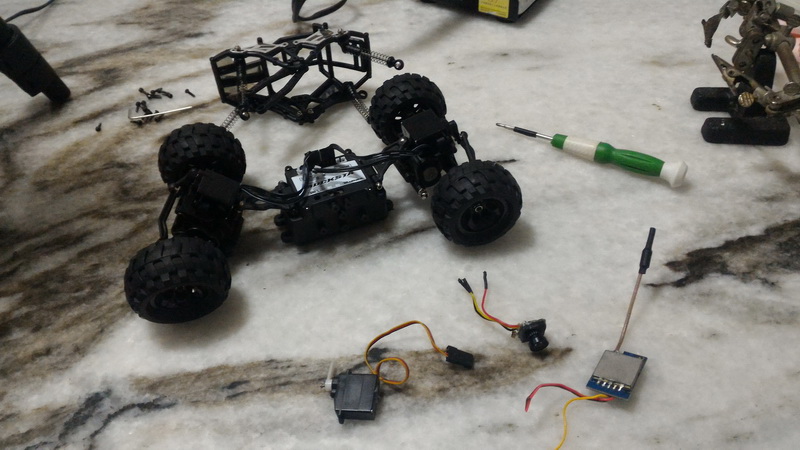 color, this is the most Noobest wiring details 101 facts for you. Now connect all those wires according to what shown on below schematics drawing i made. Btw you'll need some soldering skills...if you don't have that skills there bunch of Youtube video you can learn how to, come on people hit the Search button!.


Building
Just follow the above schematics and you'll be doing ok along the way. First of all..if you wanted to follow my standard of building FPV you'll need to man up and learn how to solder because those bulky pins, plugs, thick wires and overcrowded things needed to be removed/cut and direct soldering to reduce weight to have clean setup. One more thing, the camera i use comes with extra microphone wire (white), i removed it because its an unnecessary feature for me but that depends on individual preferences either you wanted to hear audible audio on FPV or not. Also the camera thick wires have been replaced with thin hair line and flexible wires which allow the camera to pan smoothly unobstructed when move around by the pan servo, these type of wires can be found on small wired computer mouse peripheral such as wired LOGITECH optical mouse. Find any unused mouse device and cut the wires, and the rest you know what to do. Good luck on the build.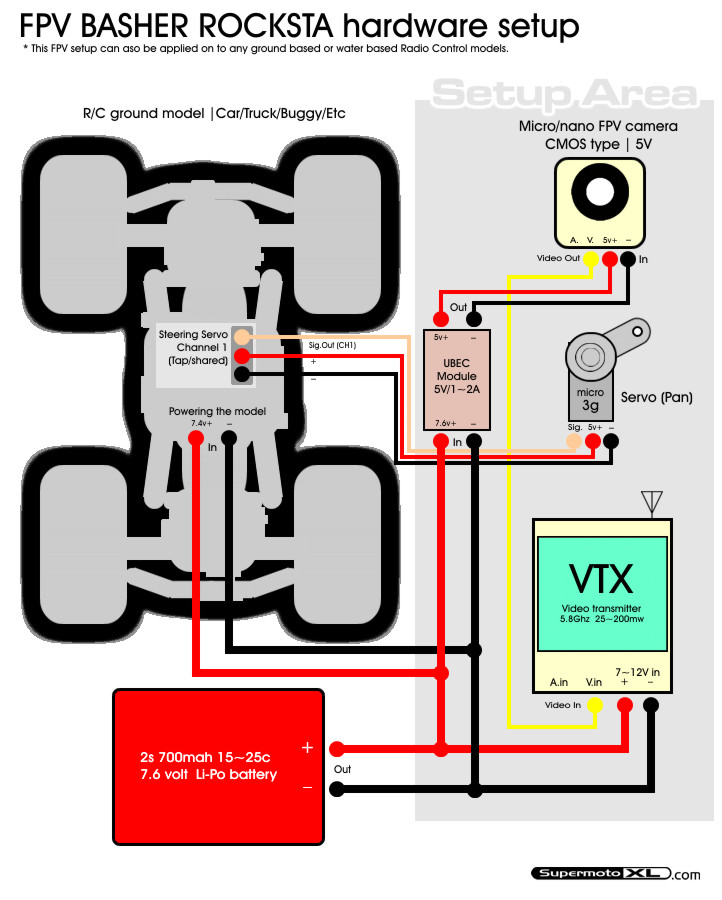 Tips and checklist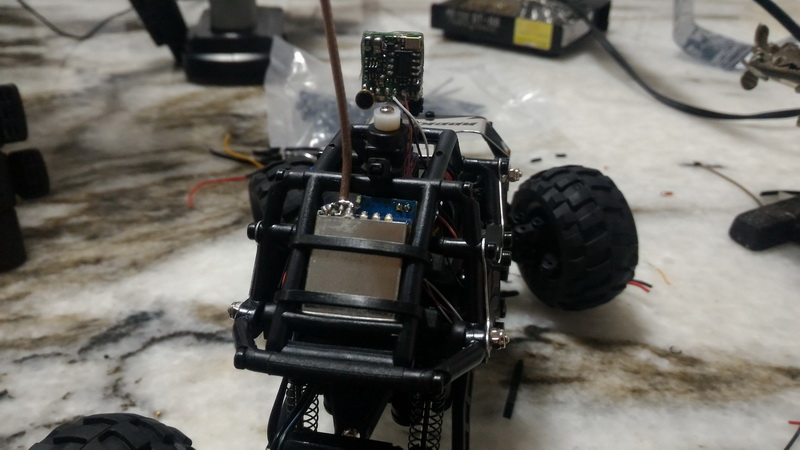 *Video transmitter power:-
Ideally if you wanted to drive inside your house, room, bathroom and etc its best to stick around at 25mw power on your video transmitter regardless what brand or model you use so that the video signal or frequency bubble range only confined just within inside your house. 200mw power is also good for quality video transmission but for privacy reason you don't want your video signal leak to outside your house broadcast freely around your neighborhood who can live feed seeing what you're doing inside your house or in your own room. People say 5.8Ghz video sucks when try to penetrate between/behind/among walls but as shown in the video below you can't see me around when i'm FPV driving because i'm on the other side of the room with door slightly shut, it means the video signal does penetrate if your video receiver equipped with proper 4 lobe mushroom (CL) antenna. So if you want privacy stick to lower MW value (miliWatt power) before someone wikileak your live feed, lol.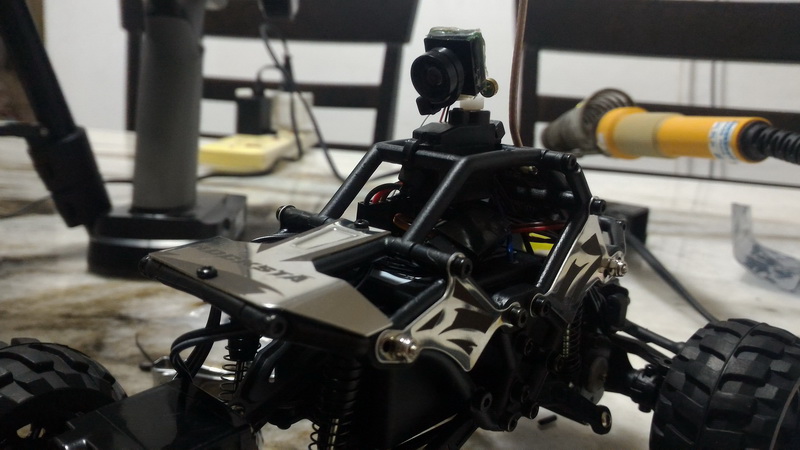 *Pan servo ~ optional:-
As mentioned in the parts list the servo is used only for camera panning and connected to steering channel servo (CH1), Its an optional feature and not much of necessity or requirement to have if you don't need or not have enough servo to add-on. But having pan servo for camera give you instant perspective around your surrounding as you turn around or stop to see what around you. I give you extra immersive driving experience or real driving feeling into FPV. But if you don't need it you can keep your camera facing to the front statically... but that sucks right unless you like simple stuff.
*Do i need UBEC?:-
As stated before UBEC is necessary to step down high voltage battery down to 5V required to power fundamental FPV equipment such as FPV camera, the camera i listed operated at 5V (some bigger models supply 6V) but the models feed from 7.6V battery nominal so step down is required. In fact modern electric driven R/C model already have 5V feed from receiver pin or servo connection pin (+/-) on electronic boards which you can feed/tap from it. But the problem is depends on how much Amperage of current can it supply after some juices have be divided to several operating parts such as servos, receiver, lights and etc. Default standard on electric model supply around 1~3Amps. An indication of low amperage can be seen as ripple in the FPV video screen once the model trigger few amounts of throttle of movement like a bit interruption or tv static on the screen. By having a standalone UBEC module that give out extra 5V/1~3A to power FPV equipment give extra stability and smoothness on the video feed.
Summary
Well there you go a small package of ground crawling FPV models that bring timeless enjoyment anytime anywhere not bound to any current law, trends or restriction from the Big Brother yet affordable to build and usable by any people of various building and driving skills. If you're on FPVing BASHER ROCKSTA like the above good work, but if you're planning to use the same setup on other models car/trucks or boat thumbs up for the extra effort. I have to admit despite building and playing around with my both FPV/UAV aircraft sometimes we need to settle down with simple thing back the on ground and enjoy different perspective of FPV experience driving around at ground level, it can be intimidating yet curiosity can spark interest and adventurous way of exploring things around us. If you wanted to expand some creativity and extra realism in FPV why not try adding scale cockpit details like steering wheel, driver, passenger, dashboards, gauges/meters and position the camera at exact driver's POV (Point of View) aka helmet cam to simulate realistic driving...and yeah i did that one a lot so, you can browse my Youtube channel archives for realistic FPV driving reference. Soon you'll be ditching racing video games and go outdoors...you're into healthy life style soon being under the sun.
Extra note, if you setup on small 1/24 ROCKSTA BASHER as above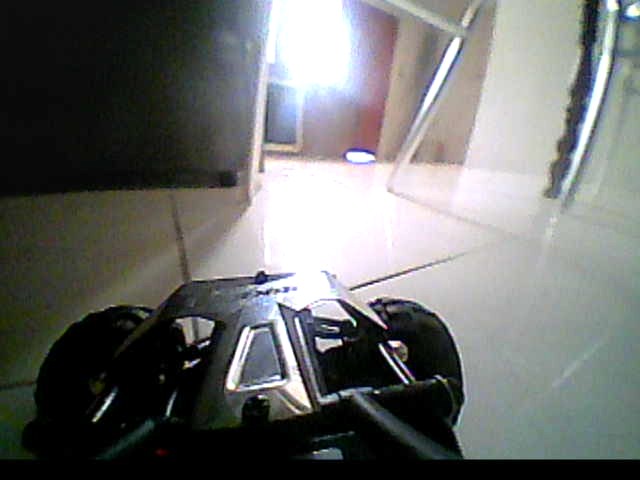 it can be as usefull as:
Surveying drain pipes, roof, exploring outdoor or any narrow places.

Exploring the haunted attic, basement or or inside haunted houses.

Checking out your pets, bug hunting (strapped with aerosol can) or being super spy.

And lastly checking out your neighbors....in stealth mode. (Try it at your own risk, i didn't encourage you to do that.)
Alright guys and gals, have fun with your cheap affordable DIY FPV models. If you wanted to push FPV ambition to high level just go to my FPV section here, you'll be surfing the rainbow soon. If you need info or details just contact me or go to our dedicated builder forum as listed below. Btw i'll be building FPV War Tanks and ....with BB's so stay tuned.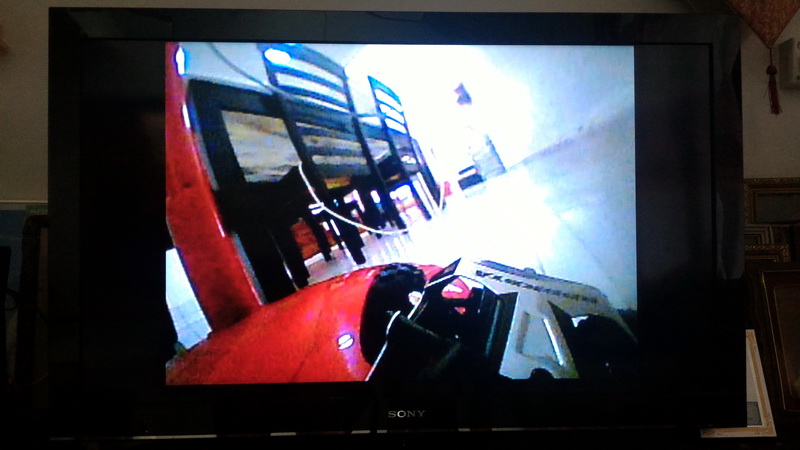 Videos/Medias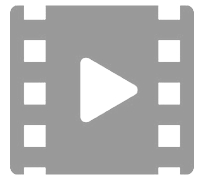 Here are some of my video and gallery related to the above topics:
Here i've listed some raw material, hardware and stuff where you can start building you own simple and cheap FPV platform. The list contain the above hardware and also include some compatible ones which you can pickup what suits best for your need and your budget.
** Take note the one with marked (*) is the default 'exact' hardware i use on my version 2 build/setup while the non ones are just compatibles.
Platform (it can be other ground models its your call):
Micro/nano size Servo:
Micro/nano size FPV Camera (CMOS):
Voltage step down/UBEC output 5V:
Video transmitter:
Video receiver/FPV LCD/FPV video goggle:
Building threads/Referral
If you don't know where to begin with i recommend you to start reading some guides, wikis and building tips from popular on-line resources as listed below. You might find me wondering around some popular R/C and FPV forum below.