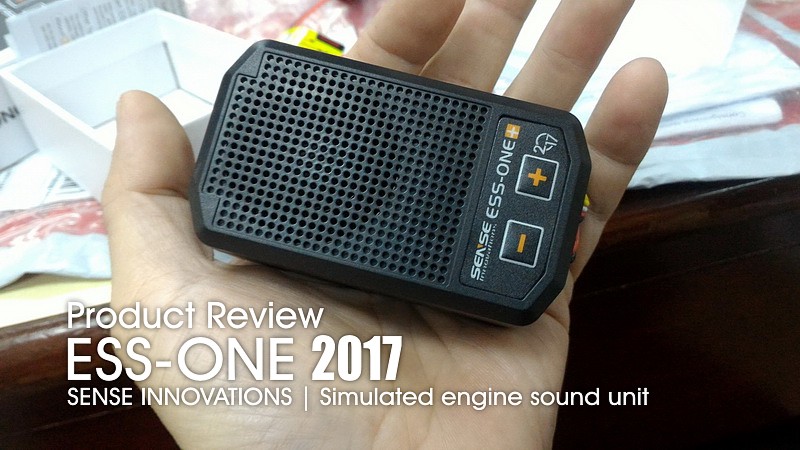 About
For years i've been doing some ground based FPV adventures driving from cockpit view behind steering wheels to get some thrill driving like a real automobiles at the same time enjoying my FPV planes jumping around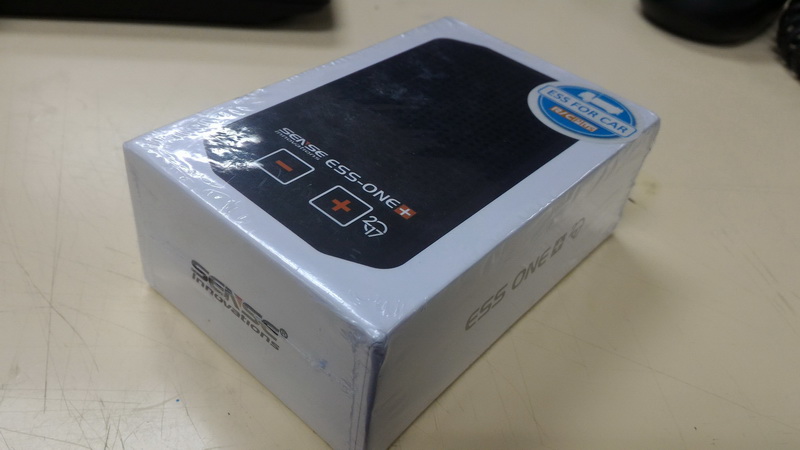 the clouds. Driving FPV from driver POV roaming around the ground, avoiding obstacles at high speed and burning some rubber have its own unique niche of fun compare to flying a multirotor or winged based. I've guess you've see a lot of my ground FPV adventures starting with FJ Cruiser, FY03 and further on, but after reviewing the video i felt my ground FPV project was missing those 'Umpphh!!' for not being realisti enough. Although it has all the requirement of scale FPV driving such as workable steering, pan-able driver POV camera, cockpit dashboard, side passanger and etc however most prominently it was lacking the roar of realistic engine sound under the hood of course you can't do much with an electric motor powered model neither nitro nor petrol engine couldn't help either. Previously driving my FPV trucks is like watching a silent movie...that's not right, its suppose to be a macho angry V8/V12 off-road truck not a TOYOTA PRIUS or TESLA. So i decided to shop around for sound hardware module to simulate engine sound for all my ground FPV models online and found the best candidate; its the SENSE INNOVATIONS ESS-ONE (2017) Engine Sound Simulator.
ESS-ONE sound module have been around since 2014 to cater group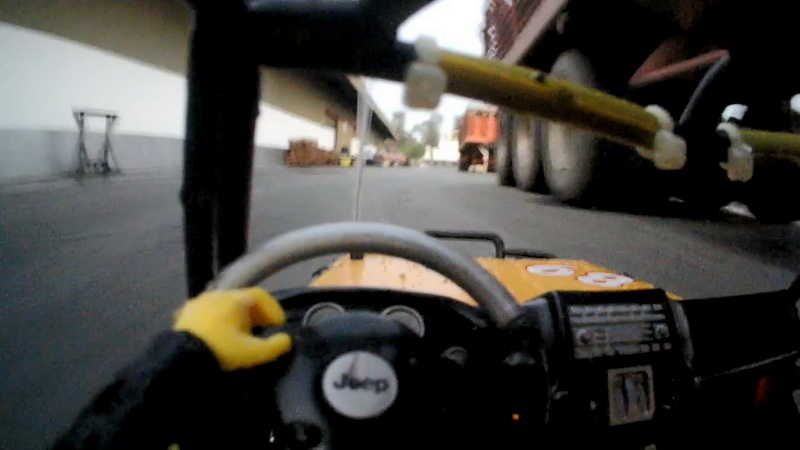 of R/C enthusiast in scale and realism by adding realistic engine sound to their R/C model however the product didn't gain much popularity because community felt it was unnecessary add-on, ground FPV back then was still at infancy and scale POV cockpit driving isn't in yet. I did stumble upon this unit long ago but didn't pay much close attention nor any interest since my i'm not all in yet for ground scaler and more to flying models, only in 2016 i began to realized how much fun driving FPV inside the scale truck cockpit was just as fun and adventurous as flying inside the cockpit of a plane.
Sense Innovation came out with various variant of sound module unit from the earliest model of ESS-ONE since 2014 to recent ESS-DUAL (dual speaker) where as the unit i bought are of latest variant which accompany by a tag '2017' indicating its latest upgrade from early version of ESS-ONE in term of cosmetic looks/design, PCB and firmware upgrade despite being almost the same form factor in size as the early unit. When i slapped in ESS-ONE on to my FPV truck my whole reality and driving experience inside the cockpit changed dramatically and got more than i bargained for.

Specification (as describe by vendor/manufacturer)
Brand: Sense Innovations
Model: ESS-ONE + 2017 Engine Sound Simulator
Power supply range: 5v ~ 26v
Speaker Impedance: 4Ohms
Output power under 4Ohms: 20W/12V (on 3s li-po battery)
Number of controllable audio channel slot: 2x (CH2 Throttle + CH# Auxiliary)
Size dimension (Length x Width x Height): 80mm x 46mm x 26mm
Casing: Hard plastic
Feature highlights:
Uses advance DNS/DCR algorithm to produce engine sound.
Support 2x AUX channel to control sound output; CH2 for Engine sound throttle/turbo/rev shift and CH# auxiliary slot for controlling Horn or additional sound.
Support software updates and function upgrades.
GUI setup via PC for download, installing sounds from online store and also to tweak/customized the sound parameters.
Able to store two model sound model profile which can be easily activated by a button press.
Package included:

1x Sense One - ESS-ONE 2017
1x Manual book
1x 3 pin 'Y' cables for receiver slot
1x DEAN power connector with ferrite magnet power cable
1x S-LINK USB programming dongle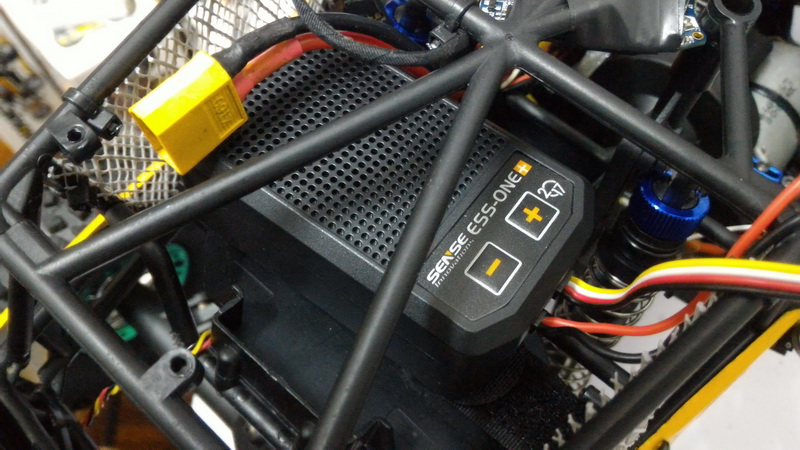 Pros:

Most realistic engine sound output currently in the R/C market. Really boost the mood to drive an FPV car/buggy/truck.

Wide library of free sound sample readily available for download and upload to max 2x model profile.

Each profile can load 4x functional sound: Engine, Turbo, Braking and Auxiliary sound such as horn, siren and etc. Individual sound can be tweaked further.

Engine rev shifting point easily adjustable and customized to various characteristic.

Support high voltage up to 26V

Very loud sound can be heard 100m away depending on input voltage source.

Fits easily on any bigger R/C models from 1:10, 1:8 scale and above.

Cons:

The price expensive, maybe no competitive rival in the market.

Very bulky unit for mini size models scale 1:12, 1:14 or smaller. If fitting needed then have to de-case the plastic case and speaker out because the main PCB unit are smaller.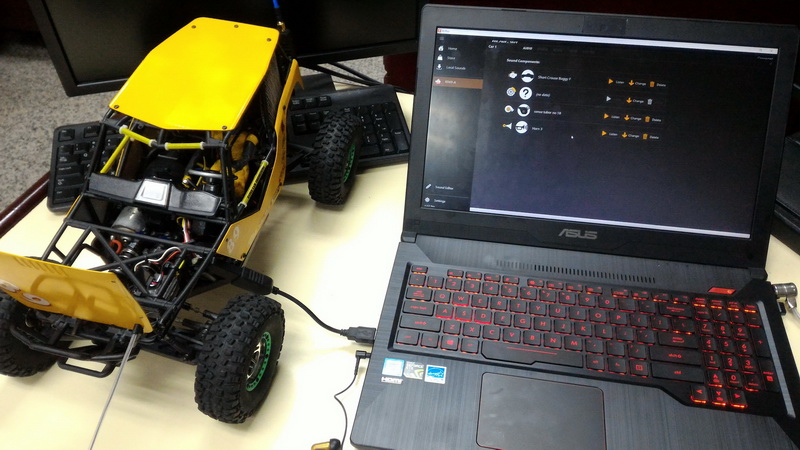 Quality, performance and builds.
First impression the ESS-ONE (2017) unit was quite small, palm size to be exact ideal to be fitted inside at least minimum at 1:10 scale size R/C models, i did try fit into 1:12 Feiyue FY03 truck mode but barely enough space to hide inside the chassis unless the ESS-ONE unit are to be dismantle out from the plastic case which revealed smaller bits consist of smaller thumb length thin PCB and small speaker. So if the plastic case removed more likely it will able to fit into any 1:12 up to 1:14 scale models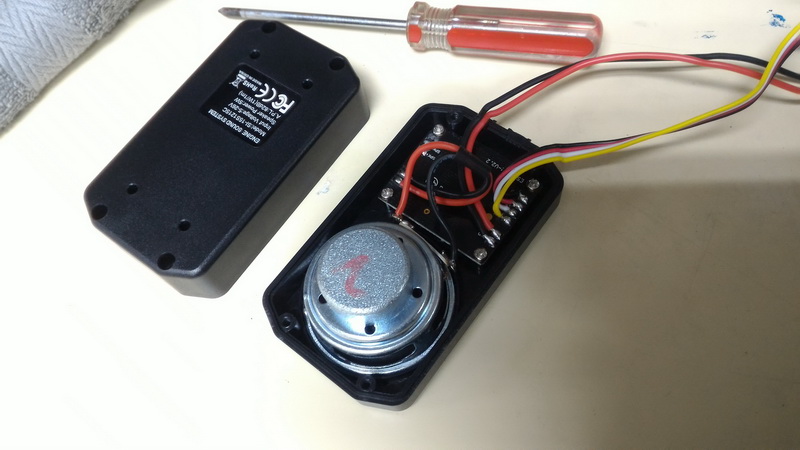 but it will lost audible loudness of engine sounds because the plastic case itself helps to amplify echoing sound which is why the case have much space inside for the sound to bounce around. My first ESS-ONE (2017) unit was installed on FPV converted 10428A @ K949 (Vaterra Twin Hammer clone) off-road truck placed in mid section of the truck chassis a perfect fit within its caged frame powered on 2s li-po (7.4v) battery pack the same pack used to power the model and FPV equipment onboard. A few month later a second unit of ESS-ONE (2017) was installed on my FPV converted WL-Toys K949 fitted at far back of the caged main frame powered the same way as the first ESS-ONE installation except this recent build doesn't used supplied ferrite magnet ring around its power cable for the unit just to keep the circuit simplified and clean. Both build tested and run excellently well through its outdoor FPV bashes without any issues and they were all loud and tempting for engine junkies.
Surprisingly ESS-ONE unit is easy to configure both hardware installation and software setup on the computer, just plug in, do calibration and that its. Sound setup was pretty straight forward, just download and install the software from Sense Innovation website and then you can select library of free sound file from their inventory store and load it to your sound profile.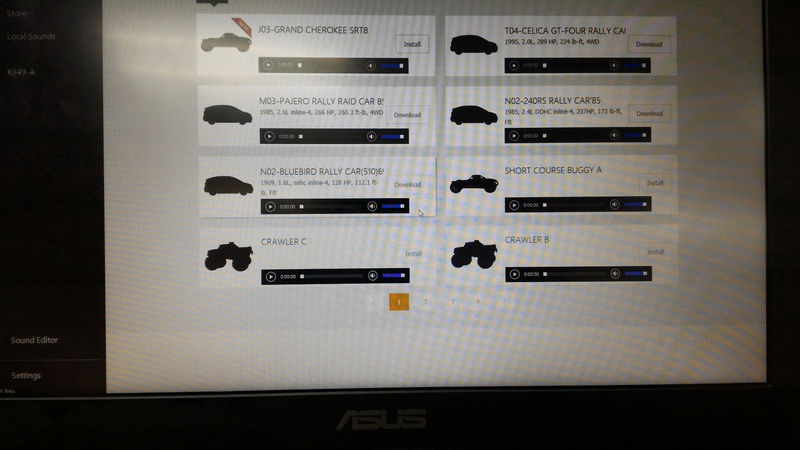 ESS-ONE can hold 4x sound file slot where 3x sound controlled by throttle channel (CH2) and 1x controlled by auxiliary channel (CH#). Below are summary of slots of sound allocated: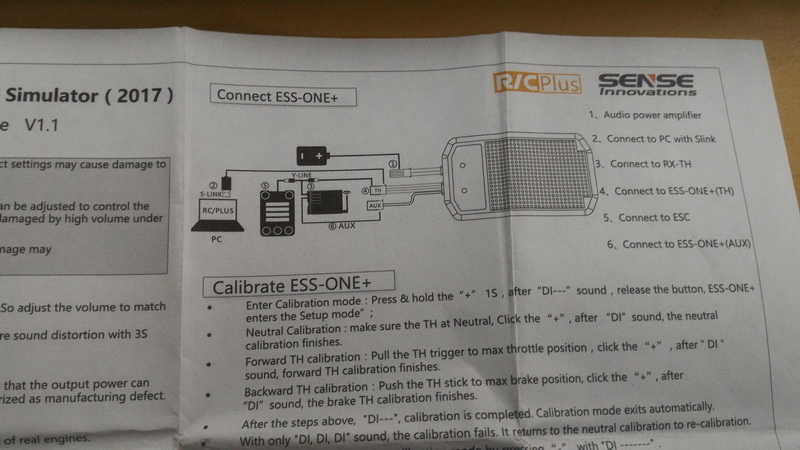 For all above sound slot listed the user can also edit and upload their own supplied custom sound file (*.wav) other than provided by the Sense Innovation online download store as long the file format is on *.WAV format. Firmware upgrade also can be easily done with a simple click too if needed provided with live internet connection.
When it comes to performance the ESS-ONE truly delivers, this thing is really loud if you max out the volume level and it gets louder proportional to the size of voltage power that feed into the sound unit but manufacturer advised recommended to use max limit at 4s li-po (14.8v limit) before that sound started to crackle out. If the unit sound setup are pushed to highest volume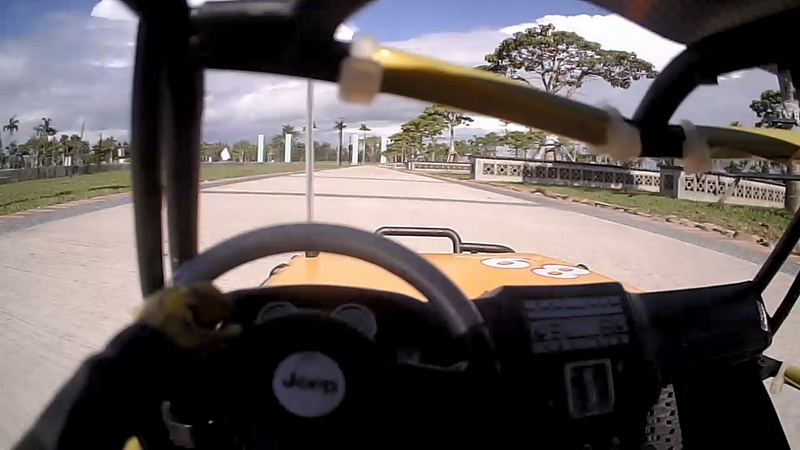 on 2S lipo (7.4V feed) the sound can be heard approximately between 90~120m distance when i tested at local park and at windy marina beach side. So this thing is really loud and screaming all the way on 2s li-po not recommended to drive around quiet neighborhood at 6.00am in the morning and the horns are way freaking loud too good enough to scare some pesky dogs, stalking kids or unwanted car-napper lol. It term of engine sound revving realism its almost as real as you can get. The engine sound rev accompanied by sound of simulated gear shift until it sounds like over revving at top end of its rpm just like real automobile engine does. If i'm not satisfied with the rev timing and gear shifting i could easily do some tweak or tuning by connecting the ESS-ONE unit to my computer via S-LINK USB link. During real test drive outdoor the ESS-ONE perform flawlessly giving almost realistic engine sound impression without any hickup or glitch, it really give me an impression feeling that i drove a real automobile. For each throttle punch of acceleration it really delivery my expectation how an engine would rev and when the turbo will hit the boost......Vvrrrraaaaaaaammmmmmmm!!!!!! Booooooosshhhh!!! Vrrrrrraaaaaaaaammmmmm!! Vrraaaaammmmm!!!....yes! that it! that's how it should feel in real motorized monster! It feels good! The engine rev really synchronized with the amount of throttle i trigger or how rapid my throttle response i applied. Perfect! The sound really addictive as if i forgot i was driving an FPV or R/C model. In my video however i didn't enable the sound of braking which simulate sound of disc brake screeching because i felt not applicable for my truck else sounded awkward so i disabled it. The only sound i enabled for my ESS-ONE unit was the engine, turbo and horn. .....hmmm maybe i could replace disc brake sound with exhaust backfire sound effect *.Wav file.
I do realized that the auxiliary sound such as loud horn do help me a lot to locate and detect my missing truck if its where about are unknown by listening to the direction of audible loud horn by pressing on my auxiliary CH4 button on my controller, else it could be use to ward off animals, nasty kids and unwanted people who try to snatch your models off the ground so its good to have this ESS-ONE for security reason especially if your drive far beyond line of sight. Another cool factor having this unit is its definitely a head turner among public, curious joe or motor junkie as soon as they heard this mini dragster passes by like "WT* was that!", i had lots of positive encounter with curious public came over to see what's up with my ground FPV models and wanted to learn how stuff work which give great deal of social magnet when i drive around with it so this is a plus side.

*Setup tips:
To keep the engine sound synchronized with the speed of the R/C on-road/off-road models its best to stick your stock brushed motor setup on your model drivetrains with default factory gearing or low geared if using brushless motor. If you upgrade to fast setup or fast brushless motor the speed produced when driving in FPV and the engine sound RPM will not 'realistically' synchronized with each other or emulate driving realism. For me top end speed between 35~45km/h (common stock R/C speed) is the right one and plenty enough to drive sensibly in FPV...its almost the same 1:1 scale ratio when compared to driving speed in real automobile scale size and the sound of the engine will match up.
Videos/Medias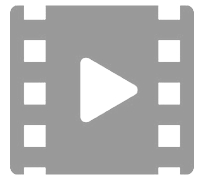 Here are sample of video of i posted on my Youtube channel contain test review on ESS-ONE.
Vendor/seller

Here are list of reputable vendor/seller which i bought from and also verified by community forum discussion groups. Also i've experienced buying from these places that have good support and services:

Alternative variant ESS sound unit by Sense Innovation:


Support group:

Places where you can find help and resources related to this product:
Topic: Rcgroups.com - ESS-One Engine Sound System Review
Topic: Rcuniverse.com - ESS-ONE car engine sound module REVIEW
Topic: Rctech.net - ESS-One Engine Sound System Review
Software download: http://www.sensehobby.com/products/essone/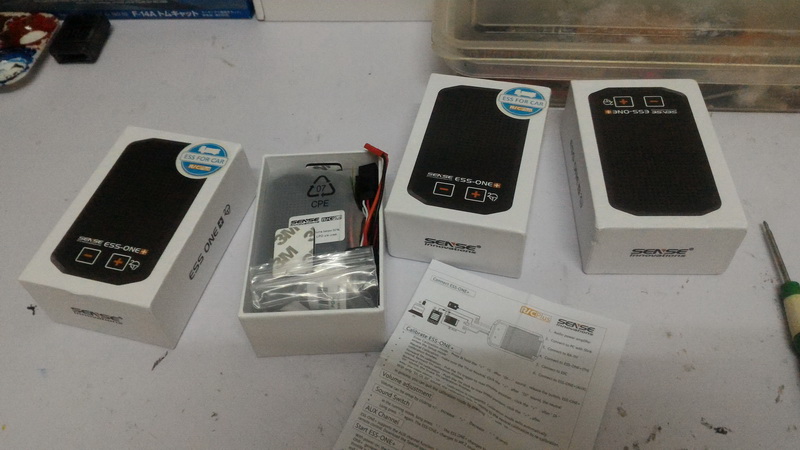 Summary
The Sense Innovation ESS-ONE sound unit module really transform my FPV driving at the point that it makes me feel like i really driving a real automobile than just miniature size model thus give a boost of addiction to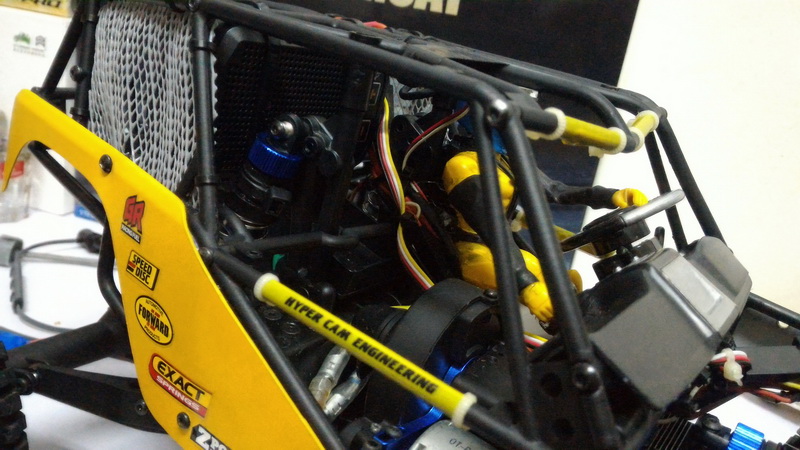 ground based FPV adventures especially for those engine junkies and tuners...it really attracted lots of crowds in the public too. Months have passed after using first ESS-ONE on my FPV 10428A 4WD truck now i've already owned 3x unit ESS-ONE installed on FPV K949 4WD truck and also Feiyue FY03 4WD truck.
In the market there's lot of alternative choice of sound module to choose from which differ various range of prices from brand such as BENEDINI, DASMIKRO to commonly use budget G.T POWER brand which all of them offer budget solution but when it comes to engine sound realism, turbo boost, customizable sound, easy tweaking, flexibility, the experience and vibe in FPV nothing beats the ESS-ONE because it delivers that kind of aura of fun, moody and driving realism. Currently at the time of writing this article (May 2018) the price of Sense Innovation ESS-ONE and its variants priced between USD$60~USD$80 depending on vendor or
how lucky you can find a good deal. Despite the price for me its worth it since there no equal rival that compete with its current simulate engine sound performance and quality in R/C market. I might be planning to get a 4th unit for touring car... just for the sake listening the "V-TEC is kickin yo!" or Lamborghini V12 rumbling around, lol.
To sum up everything; if you really wanted to experience realism of FPV driving inside the cockpit don't go all out mute, go out with some roar under the hood... the simulated sound of realistic engine firing up all the cylinders, gear shift and those turbo boost will definitely keep your adrenaline pumping this definitely put a huge smile on your face and get your itching throttle trigger finger pull out at max. When i reviewed my own video of my FPV truck in action the sounds keeps my heart pumping and a huge grin, can't wait for next day kicking for more turbo boost action. Go real or go home, get those thing rumbling under the hood....this ESS-ONE hardware definitely change the way we FPV our four wheeler and push it to next level of FPV driving realism to the max . Oh btw they have it on R/C plane too :) .