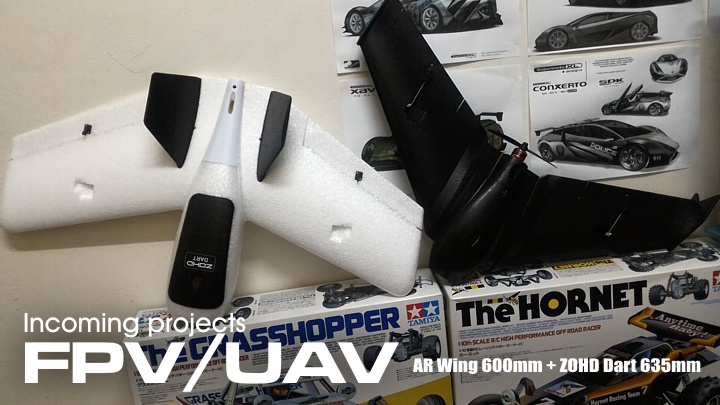 Some quickie news! We're almost reaching the end of 2018 and prepare to greet the 2019 for my next incoming projects, i decide to spill out the beans (not all) about my 'in progress' build which will be of interest to FPV and UAV community soon. SONIC MODELL company have been
reaching out to me again to 'make some miracle flight' again out of their products knowing i like to push stuff beyond its limit....at first i wanted to decline because in the past the sent me the 'hhmmm hmmm..can this thing float well?' plane to me both (re-born version) mini and micro size SKY HUNTER. The mini was a disaster (as confirmed by the community) but the micro was a success as short ranged FPV fun racer but none fit my tast for long range flyer...until they improved their latest production of micro wings of golden potential the AR Wing 600mm and the ZOHD DART 625mm. Finally they got it right and from my experience and saw these plane flown at the field i can huge potential in their respective category. **Btw would like to say thanks to Mr ARI from Sonic Modell company for sending this both great models.
First we'll start with AR WING so no rush going both. Due to budget constraints the AR Wing will be using some components that was once used by ex-long range (old prototype wing) UAV flight the Z-84 V1 which runs on classic Mini APM 3.1 while ZOHD DART have unknown fate either it should be an FPV or UAV but its special highlighted feature will be 'super portable' winged FPV/UAV platform due to its capable of detached its wings and fit inside tiny bag...almost you can say a "a pocket wing".
So those are what you're expect to see coming for the year 2019...its been 2 years since we saw the success of Z-84 being long range autonomous flight which holds it ground to today by community of Z-84 UAV and FPV enthusiast...still active till today as which you can check them out in the forum here (https://www.rcgroups.com/forums/showthread.php?2725674). I'm not sure if both SONIC MODELL micro platform can beat Z-84 yet but being smaller and compact than Z-84 should have its own interesting class of it own yet to discover. Oh btw did you know ES Drifter ultra light made a big come back in the market with new attributes?.........mmmmmm!!! yummy!!!