About
** Before proceed to read further about my UAV Drifter build first visit my my archive page on (2012) FPV-Drifter Ultralight first for some basic building tips because the one i explain here is just extension of archived tips.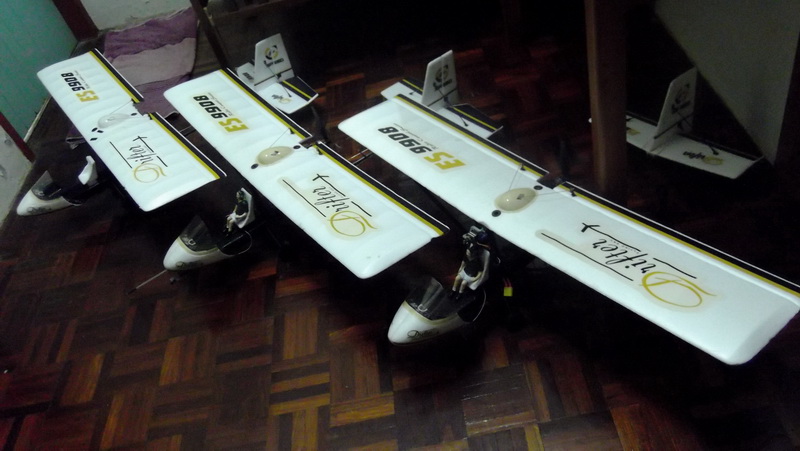 Its almost been 5 years since we had talk about Drifter Ultralight on FPV and throughout its lifespan it has garner lots of follower, fan based and most importantly epic amount of adventure in the skies flawlessly with videos of jaw dropping beautiful FPV flight not only from me but also from other enthusiast spawn all over the world, on Youtube and other online social media. On my side now i own 3x Drifters Ultralights that runs with different flight roles. Somewhere in mid 2015 my third Drifter Ultralight build seems to do the impossible unlike any other FPV setup in the past. Infact it was no longer an FPV, its now a full fledge UAV specification. So in this article we're talking about UAV specification on my 3rd ES Ultralight build (UAV Drifter Ultralight #3-V5). Its the only Drifter that can fly
autonomously from the start till the end of the flight without any user/pilot input along the way. Mission based flight feed into the plane and off it goes to explore the world autonomously or robotically at long range. Considering the fact its only at 950mm wingspan wait till you hear it actually carry almost 3x more lipo battery capacity than original FPV specification or almost 5x more capacity than manufacturer stock/default specification which is something impossible to carry for small size plane but yes i prove it it can!...it carries monster size 5200mah 3s lipo battery rated 40C! Despite being a UAV the Drifter come with a necessary companion the 3DR data radio telemetry ground station which needed as proxy between the aircraft and the ground pilot/crew as intermediately link between them to send in-flight live telemetry data to the user via handheld smartphone (Android) or computer for pilot/crew monitor the lane actual position/data and may send updated mission parameter to ES Drifter Ultralight. Drifter lives on with new leash of life in UAV world. Now lets read it all about it.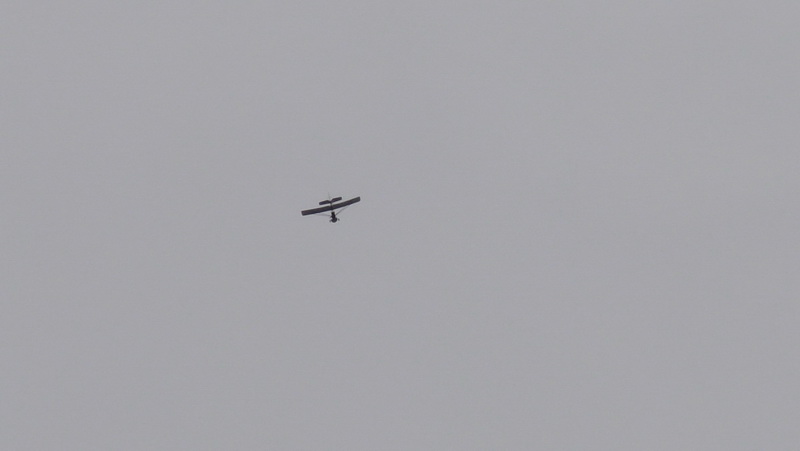 Model specification & setup
Airframe type: Ultralight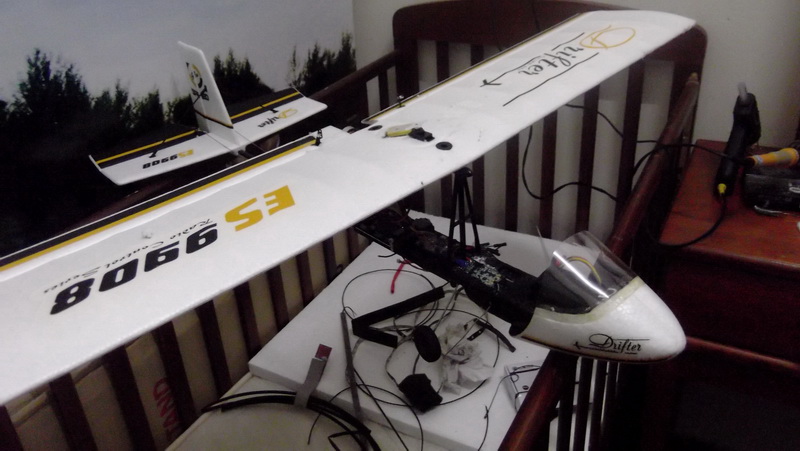 Branding/Manufacturer: Easy Sky
Model name variant: DRIFTER
Material build: EPO 60% + Plastic 20% + Carbon fibre 20%
Wingspan: 950mm
Length: 850mm
UAV airframe weight without battery: 439 gram
Full UAV flying weight: 850 gram (on 5200mah 3s 30C)
Aileron: 1x 5g servo
Elevator: 1x 5g servo
Rudder: 1x 5g servo
ESC: 18A Turnigy Plush
Motor: Stock 2300KV (2s) when using 3s lipo throttle control max limit at 85%
External BEC: 5A/5V
Propeller: Stock 2 blade 7x3.5"
Radio receiver: Frsky telemetry 8ch
Radio receiver antenna: diversified DIY di-pole antenna
Battery (with front seat removed): 1x 5000mah~5200mah 3s 30c (Old FPV specification: 1x 2200mah 2s~3s 25c)
Center Gravity: 1/3 from the front leading edge of the wing. Nose tilt down 8% from horizontal.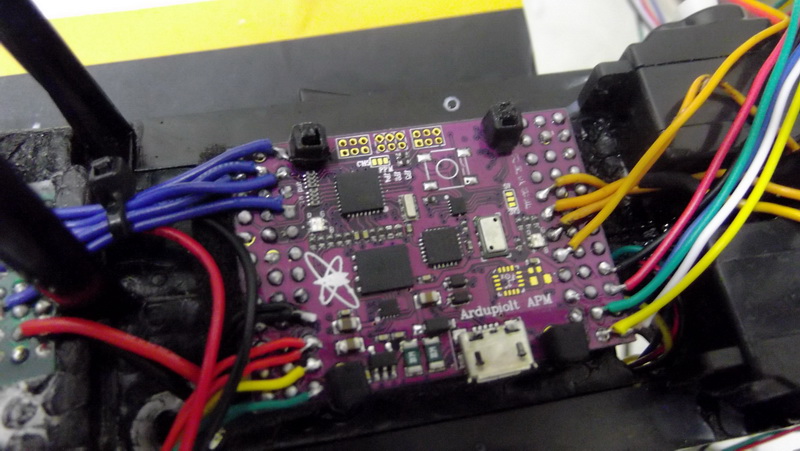 My DIY UAV specification
Camera main: 520TVL mini CMOS with 90 degree FOV (1gram)
Camera HD: RUNCAM HD F2.8
Flight Control board: 3D Robotics APM/APM MINI PRO + GPS Ublox 7N (Uses Arduplane Version 3.4 firmware)
OSD: MinimOSD (MinimOSD-Extra firmware)
APM radio telemetry: 3DR radio telemetry + di-pole antenna
Voltage + Current sensor: 3DR power module 2-6s
Video transmitter: SKYZONE 5.8ghz 600mw
Video antenna: DIY tun