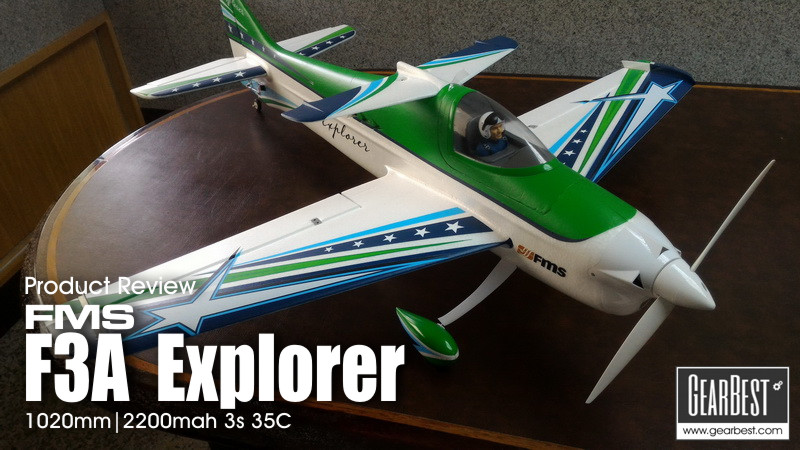 About
After long waiting for the right product for me to truly enjoy, test and review finally ou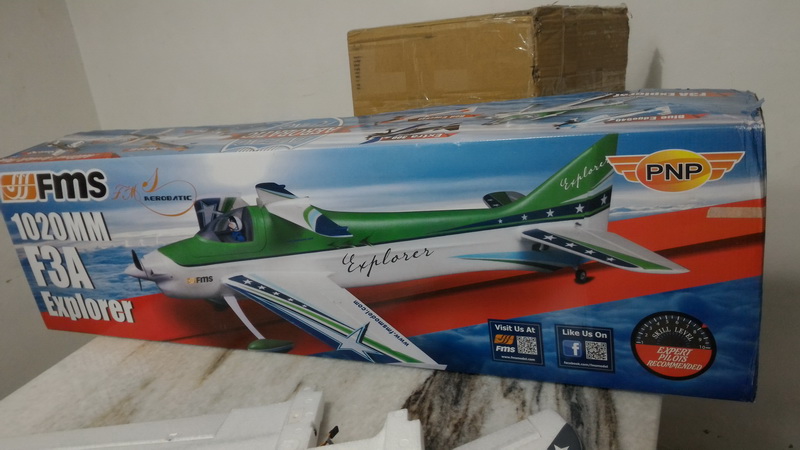 r sponsor sending me something that is worth reviewing, its an FMS F3A EXPLORER. Yes i love plane...multirotor?...meh not today maybe after my mood back on its feet. So this is a great piece of product to have for all R/C aircraft model especially stick banger aerobatic pilot that like more into precision like a swan flight. Coincidentally its a few weeks before my birthday so i think this is a perfect gift for me for this month. First of all like to say thanks to GEARBEST.COM for sending me the right moody model that i love to review. I have long been a fan of FMS and collected a bundant of scale warbirds models and jets from this brand not only because they are almost accurately detailed but also made out of tough and thick EPO foam compare to other 'scale like' models in the market. Unfortunately some model are expensive for special edition production model such their recent P-40 Warhawk 1.4m and their extinct P-51D Big Beautiful Doll (which i have it)...but not on this F3A, its a bag for buck. No doubt FMS is a 5 star in my wish list with all their good looking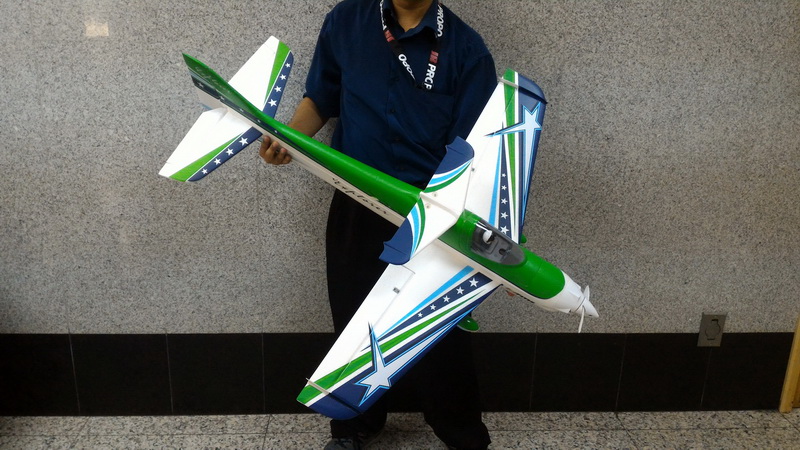 models...their constant rival was from the brand DYNAM which is catching up to FMS reputation So lets talk about my new FMS F3A EXPLORER plane: its 1020mm wingspan, stock 40A ESC with T-plug connector, 4x 9g quality servo, smooth EPO foam, detailed cockpits with pilots and runs on 2200mah 3s 35C lipo with CG stands on 100-110mm from the front leading edge of the wings. The battery perfectly fits nicely in its battery bay with slight room for battery cables to slip in nicely also enough to crammed in the battery voltage alarm without affecting the CG. Previously i own an older version of FMS models but when i received the 2015~2016 models it seems FMS have improve several things that makes assembly and tuning much easier which you can build without too much sticky glue on your finger or extra mod to cut-out from the airframe itself. Probably a good call to new generation R/C flying consumer who prefer PNP that spending all day gluing planes back in the balsa and Monokote film days. With this plane all you need is a screw driver and 20~30 minutes worth of assembly and you can almost assemble it without referring from the manual book...seriously. The only thing you need to glue with the supplied glue is gluing 2x small piece of vortex generator fins in just few seconds and that's it.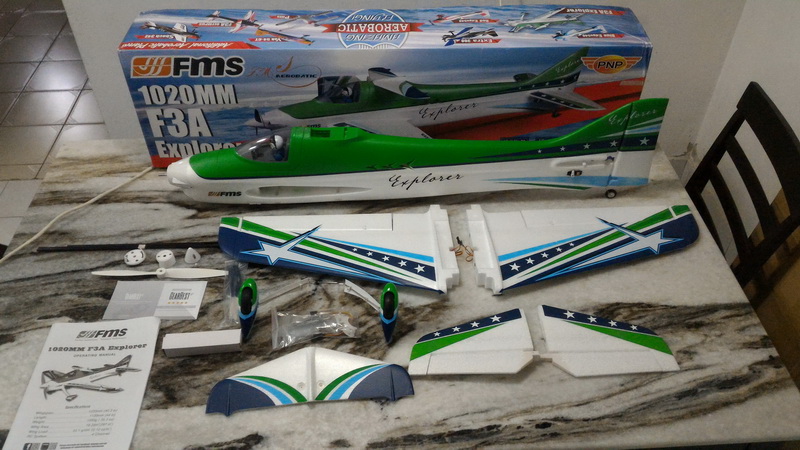 Specification (as describe by vendor/manufacturer)
Brand: FMS
Model: F3A EXPLORER
Wingspan: 1020mm (40.2in)
Flying weight: Approx. 1000gram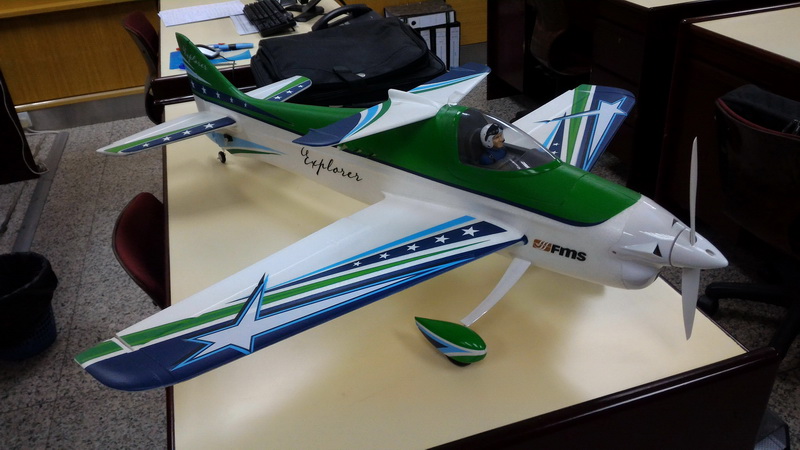 Motor size: 3536/KV1150
ESC: 40A with BEC
Servo: 9g servo x 4
Radio required: 4 channel
Center Gravity (CG): 100-110 mm (From Leading Edge) **(old CG setup was 95mm)
Prop size: 11 x 5.5 2 blade propeller
Recommended battery: 11.1V 2200mAh 3s 35C lipo
Approximate flight duration: 5 minutes
Minimum pilot age recommendation: +14
Flight experience level: Expert
Assembly required: Yes
Build material: EPO foam
Package option: PNP (Plug and Fly)
Requires: PNP requires Radio System, Battery and Charger
Recommended control surface setup on Turnigy 9X/FlySky 9x radio (based on my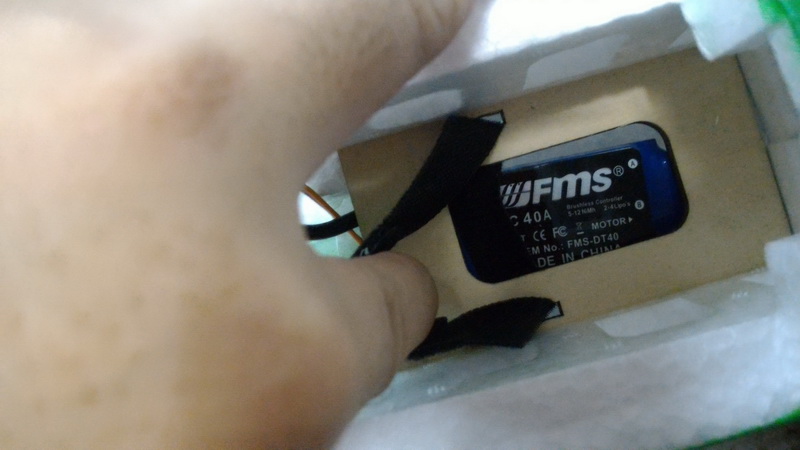 setup (very docile)/not in the book)
*I don't use dual rate because that's my style, you may want to refer back to manual.
*Make sure all the control surface are nicely straight (0 trim).
*FYI i hook the one end of the push rods to the middle hole of the servo horn (total there was 3 holes on the servo horn i choose the mid ones)

Aileron: 65 (EPA) + 55 (EXPO)
Elevator: 80 (EPA) + 55 (EXPO) ..during flight mine's require 3x click up trim during maiden, your's may varied.
Rudder: 100 (EPA) + 45 (EXPO)



Package included:


1 x set of F3A Explorer foamy kit with landing gear with ESC, brushless and servos pre-installed.
1 x a set of plastic bag with minor parts such as screws, plastic horns/hinges, pushrods.
1x set of propeller
1x propeller spinners in 3x parts assembly
1x a pair of vortex generator fins
1x Manual book
1x a white box of sticky glue
Pros:

Very easy to assemble and install the parts together. Almost you don't need to refer to manual.

Very beefy and also strong push rods. Uses ball linkages instead of hook like push rods. An improvement to older FMS models which uses thin hooky pushrods.

CG spot on with recommended 2200mah 3s 35C lipo, flew extremely well and straight with 3x clicks of elevator up trim.

The aerobatics are straight and solid, check check my videos attached.

Can handle stall very well, very docile and enough torque to pull vertical.

Cons:

Non.... serious i don't see any problem or and defect both on the plane nor during the flight. Its a well made and great to fly plane. .....well it depends on your flying skill set, i don't have problem on my part.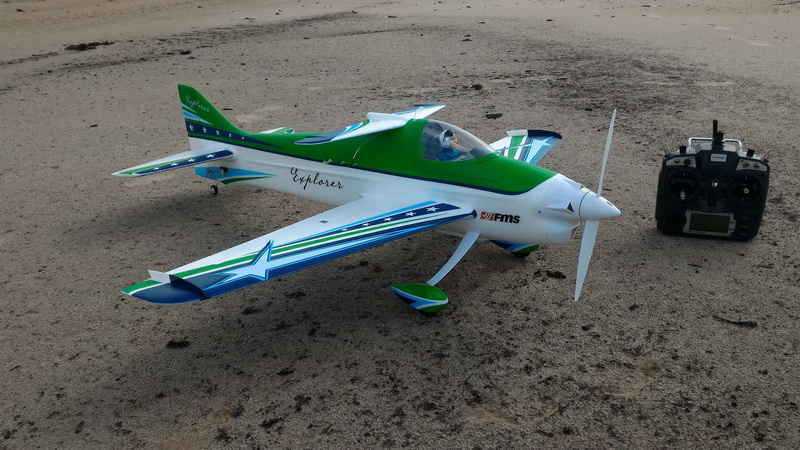 Quality, builds and flight performance.
I did mention it was easier to built right? why because its obvious you know where the wings goes this and that by looking at the picture plus its all about screwing in the right places via screw holes. Its a plane! how can you missed it?.
Good thing about the assembly it uses less amount of glue to stick it together, all bolt in via long screws for main front wings including top ones. (smaller screws are for elevator parts and the landing gears) so if you need to travel places and tug this plane along a simple unscrew everything, disassemble and put it into a long compact carton of box of hand carry by wrap it around with a string. Its the most portable plane around without permanent hot glue issues (like i used to). The biggest improvement i see on this plane is it uses beefier servo pushrods with ball linkages which commonly found on bigger planes or steering mechanism of an R/C car for solid and torquey push on the surface control such as ailerons, elevator and rudder. Pushrods link to the servo arms also fully lock in using a snap lock mechanism something i seen a lot on most 3D profile plane for extra security. 5 stars on that.
Honestly speaking before my first maiden i felt the plane is far heavier than normal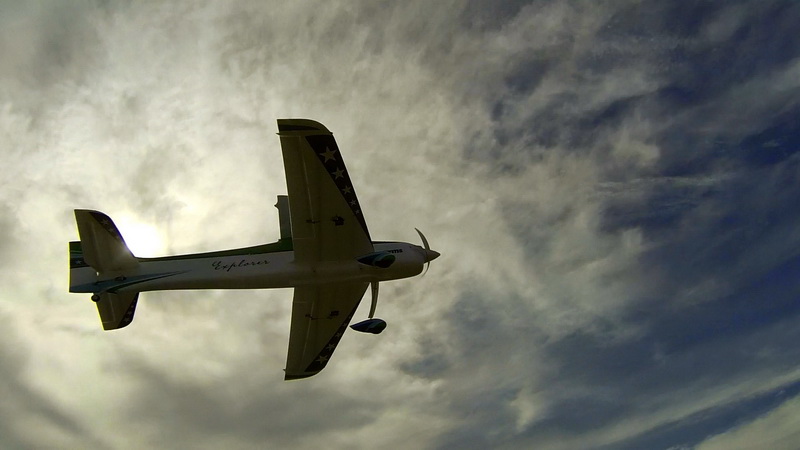 F3A or any aerobatic plane when i held it in my hands compare to the size and total mass of actual aerobatic planes based of on my flight experience but like old saying "do not judge the book by its cover"..the plane did flew extremely well and very docile. Took 20~30 minutes for the assembly, plug-in 4ch receiver to my TGY-9X transmitter, trim/adjust the control surface according to the manual book (servo end point EPA/EXPO), calibrate ESC throttle, slap in the 2200mah 3s 35C lipo and she is ready for its maiden flight.... and yes CG was exactly 100-110mm spot on with 2200mah 3s 35c lipo despite people ranting about it all over the internet forum (because the old spec CG was 95mm) .
The next day i drove 35 minutes out of town to a popular place where i flew my UAV/FPV drone (as shown in my Youtube) because it a good place to maiden since it has softer soil ground just incase i did any bad mistake during the flight, urban solid concrete tarmac isn't a good idea for my maiden flight on these beautiful F3A who know i might faceplant it. At 4.00pm, slightly wind from the east my hand slightly tremble because i don't know how this plane would react since its a F3A not F3P or 3D like i always did. My last F3A flight was 3 years a go..a fat planky TECHONE...i hope my hands still got its mojo. Minutes later whooooaaahhh!!! it flew like a cotton....that was probably me.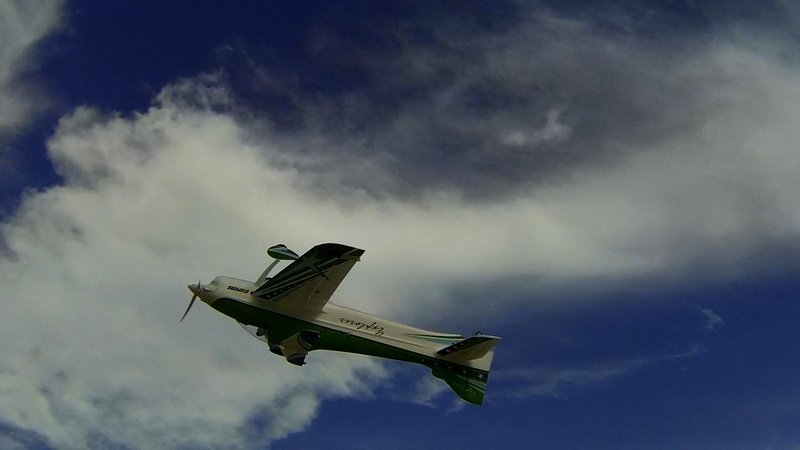 If you want it stall it will stall but if you don't want it stall it will never stall, the plane will react 1:1 ratio to the pilot stick that is because its an F3A plane build for precision flying, fast response yet it flew super straight line on demand. Unlike normal plane where its flying characteristic depended on the overall wind
y/airflow surrounding its wing which can cause bumpyness of flight or just hovering around this F3A EXPLORER seems to fly undeterred by wind or anything that pushes its way, it flew straight like a dart and obey stick command as predicted by pilot. Seems to me flying inverted almost effortless, lol. Awesome. In fact it was the long fuselage and almost slightly flat sidewall that give this plane a straight line flight characteristic which is common design attribute of F3A based plane... so does an F3P plane too (maybe you can google around for it for more info). Unfortunately this plane is not for beginners neither as a second plane after graduated from a basic glider plane. Just as stated in the box with big label on the corner "For Professional Level" you'll need to graduate from basic aerobatic flight such as doing some basic rolls, loops, knife edges, harrier moves which you can start with a 3D profile plane before you get your hands on this beautiful beefy long fuselage F3A models such as this one. Another caution i do need to remind you for your first maiden on EXPLORER is that it does need longer take-off runway to get it off from the ground. You'll need to let it roll first, then "gradually/slowly" pull the elevator as you increase the throttle for your first experience on F3A. ....then you can do what ever you want with it. The landing was uneventfull, it was smooth linear drop to land with enough bail out thrust incase anything goes wrong. The landing gear works well on rough soil where i fly, springy yet absorbs bumps. I like that. Most stock landing gear on normal plane would bend but this one seem to hand well. Thumbs up.
Videos/Medias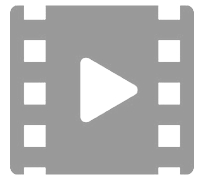 Here are sample of video of i posted on my Youtube channel contain test review on FMS F3A EXPLORER
Vendor/seller

Here are list of reputable vendor/seller which i bought from and also verified by community forum discussion groups. Also i've experienced buying from these places that have good support and services:


Support group:

Places where you can find help and resources related to this product:
Topic : Rcgroups blog - FMS / DIAMOND HOBBY F3A EXPLORER
Topic: Rcgroups forum - FMS F3A Explorer 1020mm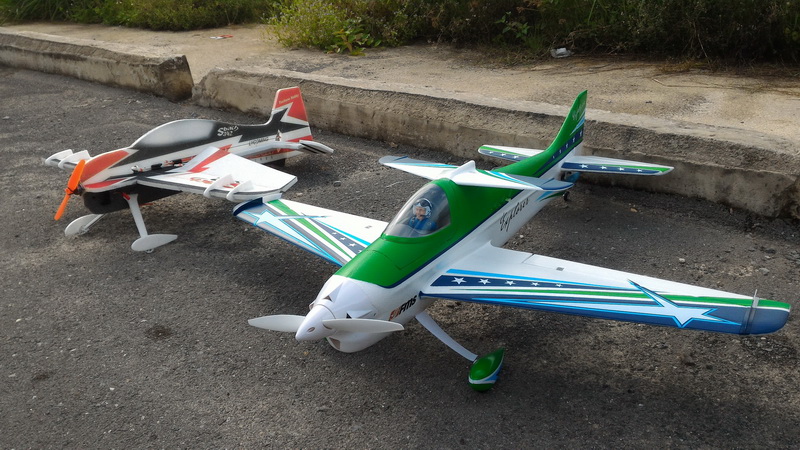 Summary
After initial maiden flight with two packs of lipo there was this thing running in my mind: "You know what maybe this plane is going to be my favorite everyday GO To plane...", my main GO TO plane was a stick banger the "Pitts Special" that like to flip out like a ninja but this F3A EXPLORER has its unique way of flying that challenges me into precision smooth straight line flyingc try to fly as grace as a swan... .. plane barellina? i hope i spelled it right. You know that snake game you used to play on old monochrome lcd NOKIA phones moving straight up down left and right thing try to eat as much apple without hitting your tail, that's what F3A flight should be flown a like, Check out F3A flight on youtube you might be interested to see how F3A flight much unique from ordinary flight. If you want me to place final verdict on this plane then i'd say for the overall product quality and ease assembly 10/10, flight characteristics 10/10 and that's because i know how to fly it. For the current price in the market its average at USD107/- a great deal consider the fact based on the size of the plane and quality electronics it has on it...plus scale like on EPO foam especially details on cockit figurine for this price is hard to come by. I don't know why such a low price i bet its because no one know how to fly it which is why not many people appreciate it or bought it, but don't put the blame on the plane put it on the pilot skills. As for me its a great plane to have....to tell you the truth i almost wanted to reject offer to test and review this plane from GEARBEST.com because it looks sucks base on first visual impression but once it have my hand and hold it and flew the FMS F3A EXPLORER it was an eye opening experience and fall in love with it...yeah yeah i know it does look like a fish but it feels great to fly it too..max level of enjoyment. Another master piece in my hangar.