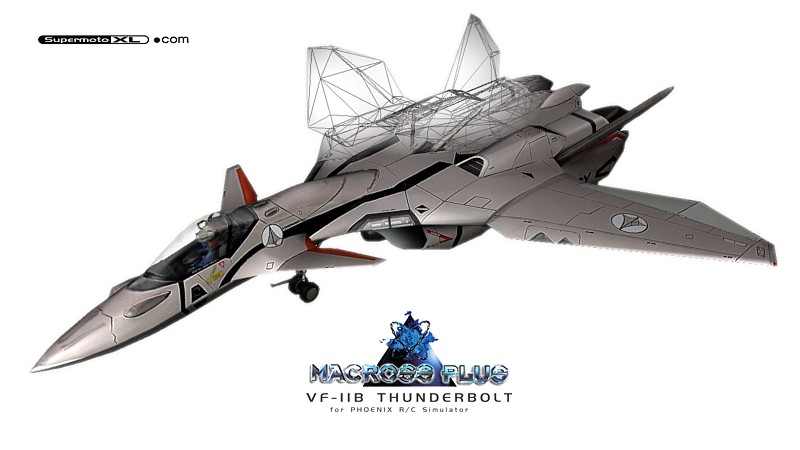 About
It took me lots of 'mental push' just to persuade myself to build this Macross valkrie fighter mode for Phoenix RC simulator because it not my cup of tea...actually not the most popular or best looking fighter around.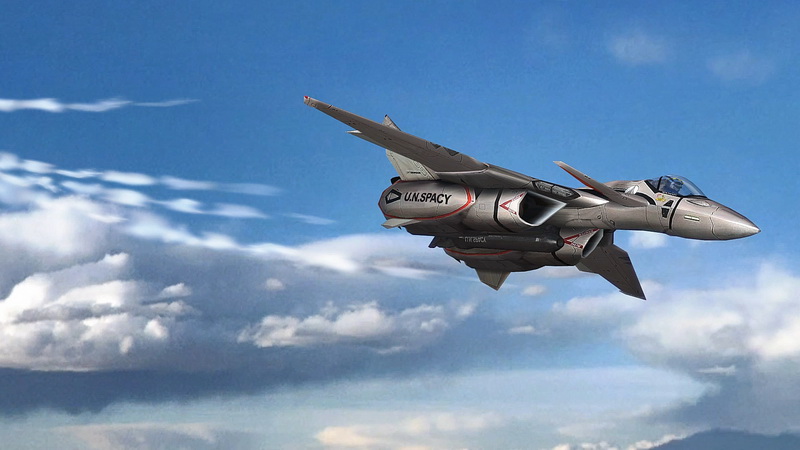 Yes its honestly even among Macross fan the VF-11B THUNDERBOLT is the most underrated valkyrie only had its prime time in MACROSS PLUS (OVA) episodes and few cameo in the MACROSS PLUS movie. The startling contrast about VF-11 compare to others popular valkries is that its not as aerodynamically looking aircraft, looks bulked, short nosed and pretty much sums up build as tank or bunker buster like the traditional real life FAIRCHILD REPUBLIC A-10 THUNDERBOLT II or much like my collection of R/C plane the WW2 P-47 THUNDERBOLT. Coincidently all of them share the same thin in common; their design very stubby, low flying and build for busting hard armored object hence tank buster. Despite not so handsome looking thing they are actually very docile and easy to file because their stubby big size wing root aero foil helps to provide great lifting performance while in the air when flying at low speed as tested in my Youtube video channel when i fly my A-10 Warthog/Thunderbolt and the Durafly P-47 Thunderbolt. So i decided to put some love on VF-11B and give the 3d modeling work a go so i can have one flying for real in simulator. The good news is the resources of VF-11B blueprint is easily available online and nice clean HD size texture give added bonus! Why not? the more Macross models the merrier!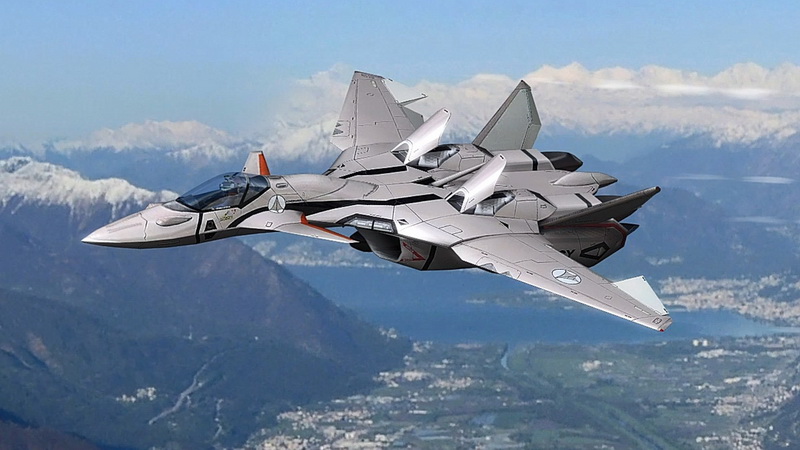 The build
I have to admit the task of 3d modeling the VF-11B is the most easiest and less 'brain strain' compare to other models i've dealt with because it there are not much hidden parts, complicated lines, corners and curves to work on overall aircraft 3d meshes...just trace the vertices into straight line, protrude/B-leveled and that's it. Only the rough part to work on was have to get the front nose fuselage right since its not generically identical to any Macross front fuselage design unlike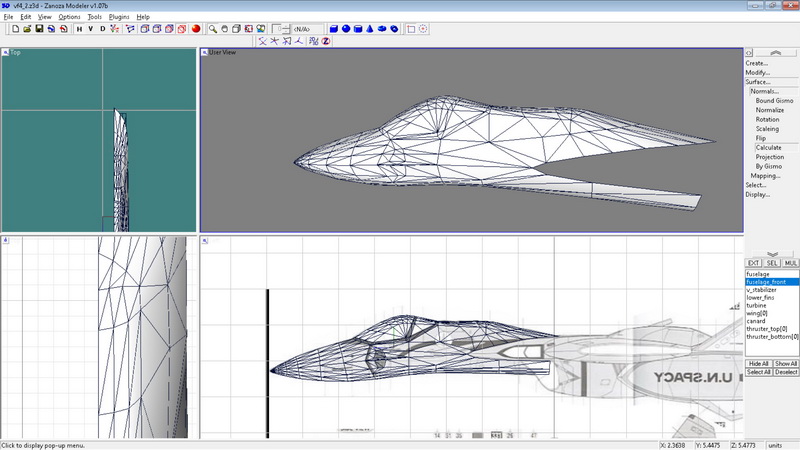 how you can use swap around between VF-1S with VF-4 or VF-31A and VF-31J. So its the first time i see a very short nosed Macross variants compared to others plus i almost forgot it has those 3 lines of vortex diffuser on front top side of the nose cone which i manage to touch up at last minutes. The second difficult part to work on is the twin airbrake panel which is part of the upper turbine intake cowling which seems to tease my brain a bit on how to get around design and there not much photo how the 'under panel' structure looks like. It does seems weird to use the cowling panel as airbrake but in fact on real life aircraft even vintage World War 2 like the F4U Corsair and other nose hose design have rear cowling panel retractable as airbrake or known as cowl flaps. Like other valkyries as usual i'll like to leave the front Canards (small wing on the front fuselage) as static wing even i knew its is a workable movable surface control but in Phoenix R/C codes it'll get things tangled in a mess...so i'll keep it simple and let the main wing Elevon control and thrust vector do the job. A complete 3D modeling completion the VF-11B model mesh value with the included "Collision" 3D meshes required for the simulator the total worth of 3d meshes are; Vertices: 6244 and Faces: 7322 which is more than twice less than previous modeling work on VF-4 Lightning which mean lighter CPU computing load to render the 3D models in the simulator.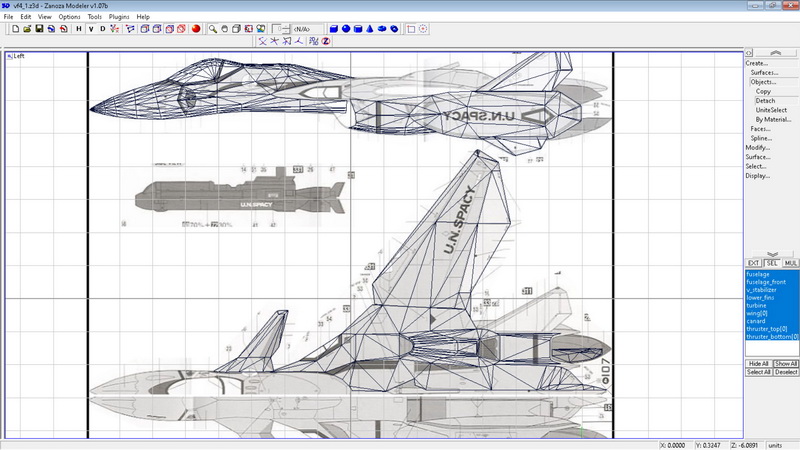 The texturing phase also seems to be easy with less 'patch work', manual stitching, re-shading or photo rendering before UV mapping into the model meshes. The texture of VF-II acquired from sample photo models from the internet was a clean HD quality and had the 'right angle' making the UV mapping process a simple and easy. The results output makes the VF-11 models looks stunningly realistic, clean and very much looked exact replica version of the released painted plastic models as displayed on the internet or on Macross community showcase models. Excelently awesome! they should continue post more great photos so i could make another Macross models too. The only minor textures that needs to be scratch build through Photo Paint program was the landing gear hatch panels, rear vector thruster and the internal airbrake panels.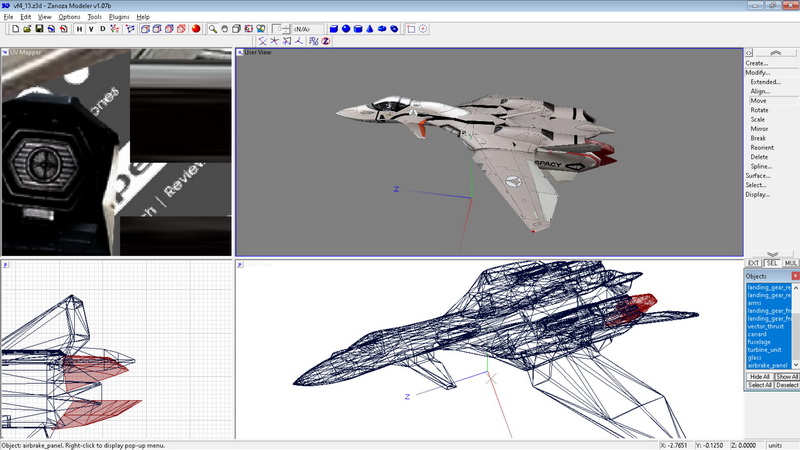 As for applying the VF-11B flight characteristic, control parameters and codes script on Phoenix R/C builder tools it borrow some VF-4 LIGHTNING parameters since both share the same mass and stubby fuselage airfoil design and dynamics for being a great 'floater' aircraft. Although both aircraft have similar handling and feeling the VF-11B have slight advantage being more faster than VF-4 having 1600000 rpm engine turbine rev in long run to compensate its fuselage aero disadvantages over its rival.
Fictional/model MACROSS VF-11B Thunderbolt: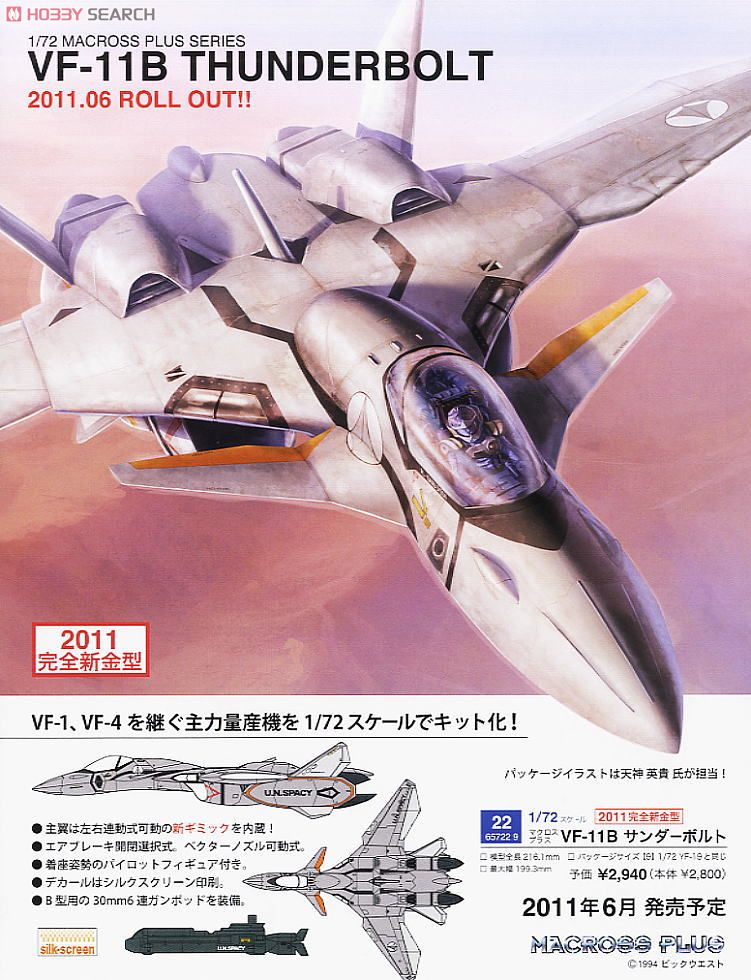 3D construction: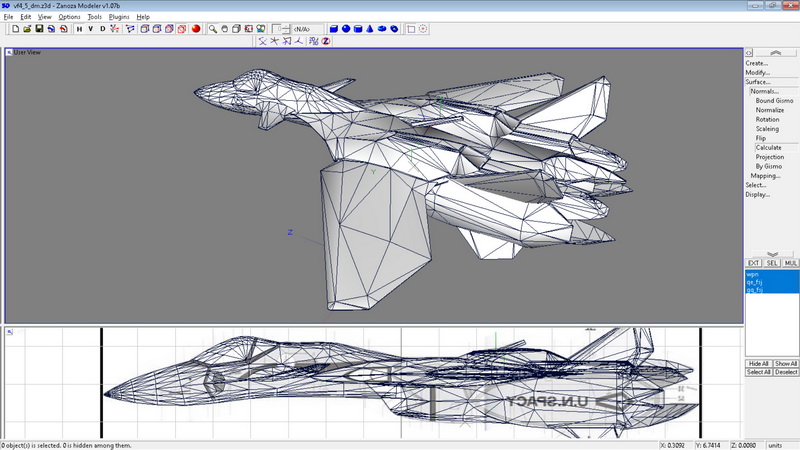 Texturing works and decaling: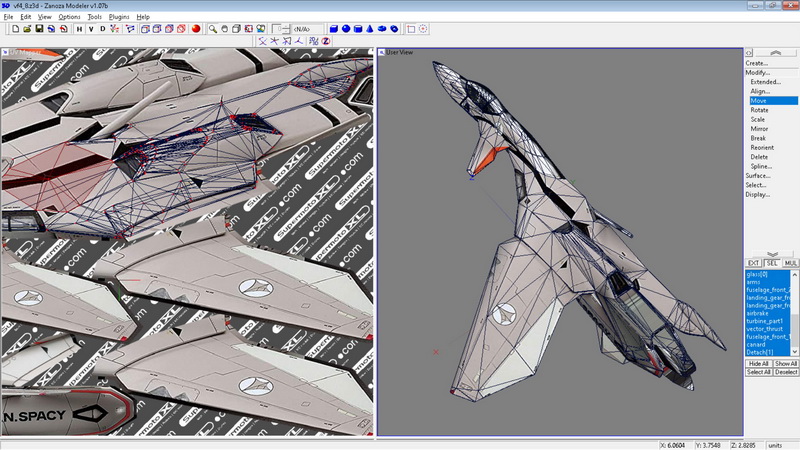 Applying control surface and parameters: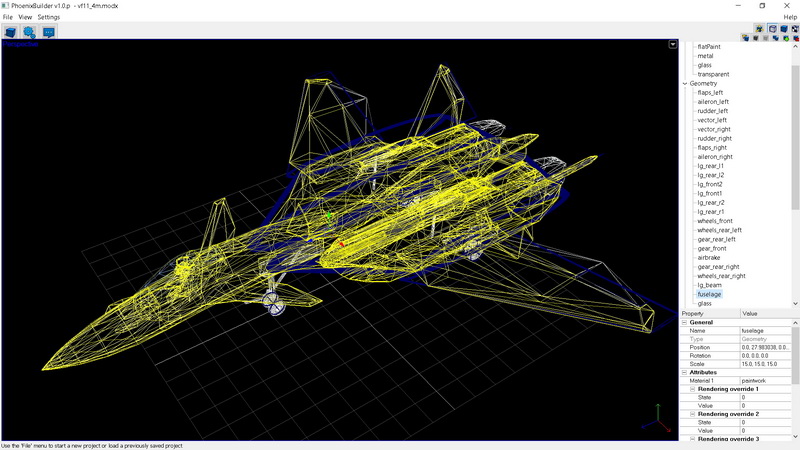 Final production in R/C Phoenix: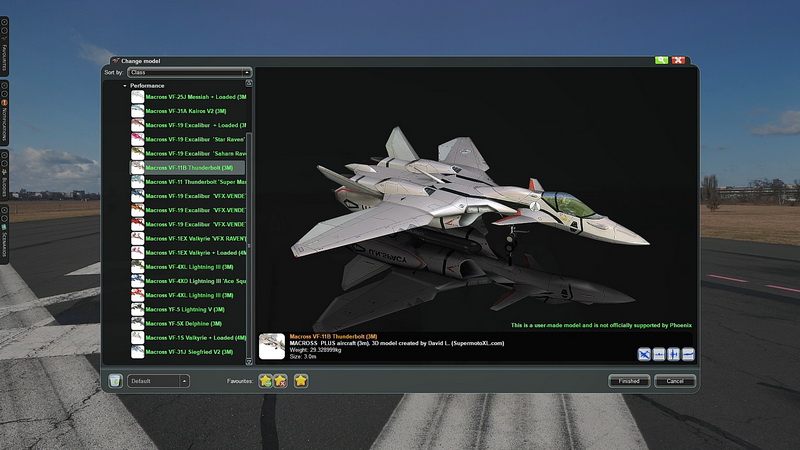 Below are the virtual stock attributes value on VF-11B that influence a lot on how it flies in Phoenix R/C, i setup the aircraft as 'Advance Level' flyer type handling specifications in simulator:
Wingspan: 2000mm (variant 1) and 3000mm (variant 2)
Flying weight: 15.43kg (variant 1) and 29.33kg (variant2)
Turbine unit: 2x Fuel turbine
Outer main wing airfoil type (flaps + elevon): MH32
Side fuselage airfoil type: NACA 0015
Airbrake: Retractable dual cowling panel
Vertical stabilizer airfoil type (rudder): Flat profile
2x Turbine idle rpm: 45000
2x Turbine max rpm: 1600000
2x Turbine thrust power (N): 530
3x wheeled landing gear: functional retracts + front guided + gear bay doors + suspension struts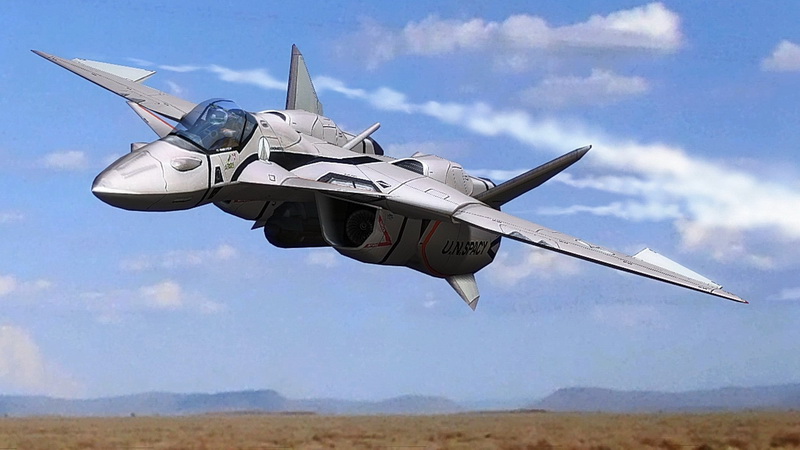 Flight characteristic
As expected based on its existing stubby airfoil design on it wing root all the way to the wing tip plus big surface area the VF-11 THUNDERBOLT flies like a kite but not as agile as you would expect in serious dog fight agility as shown in my Youtube video attached in this website as it flew along being competitive side with the YF-19 but as translated to real worlds it is indeed a Macross version compliments of real life fighter the A-10 and P-47 tank/ground buster.....exactly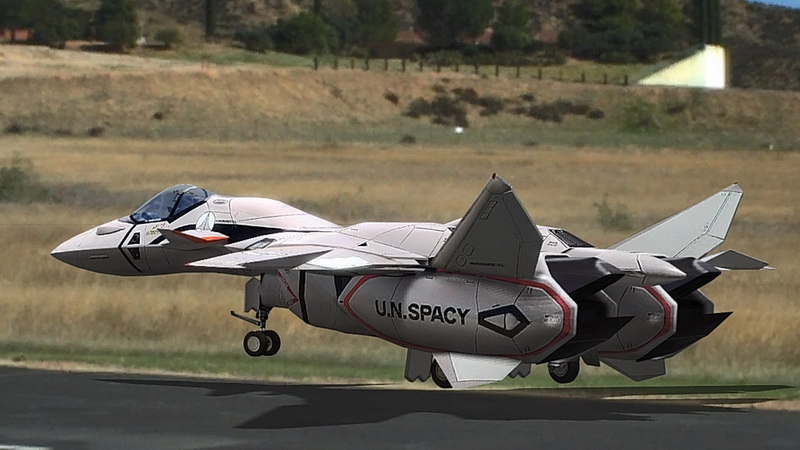 the same feeling when i fly my version of real version of R/C plane. As shown in videos the VF-11B does have extra amount of thrust power as demonstrated when running along side YF-19 pacing each other but when it comes to barrel roll, loops of sharp maneuverability it losses much to YF-19. However that doesn't mean the VF-11B can't do aerobatic but actually it can do those just that the rate of turning or flipping around in its axis through elevon and vector thrust control responses are slower by a second than YF-19 due to the sheer size of the fuselage width which means more air friction due not so aerodynamic and also being a heavy aircraft. Also i have to put a note that when the plane going towards the gravity you'll need to pull the elevator control up much early to avoid crashes; not because its stalling but as mentioned before its a very heavy aircraft. The good news about this plane that its a good low altitude aircraft, stable, easy to take off and land too due to its bigger airfoil size to produce lift. So if you're a rookie pilot that likes some relaxing free floating flight with lots of thermal and winds around the hill side the VF-11B is a 'go to' aircraft models to enjoy in the simulator. Oh btw you might notice in the gallery there are few variants of VF-11B THUNDERBOLT ranging from different livery scheme to variables payloads; that models will be released on separate or special occasion on new post updates soon...so stay tuned for more updates here at my website on my next special releases.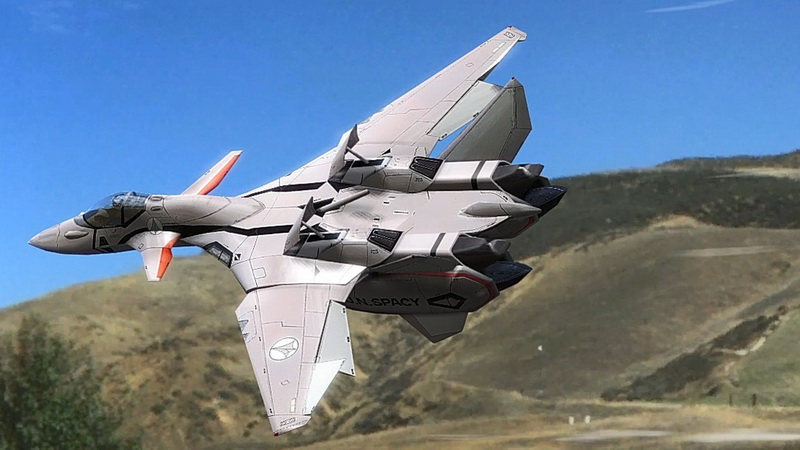 * Note - Variants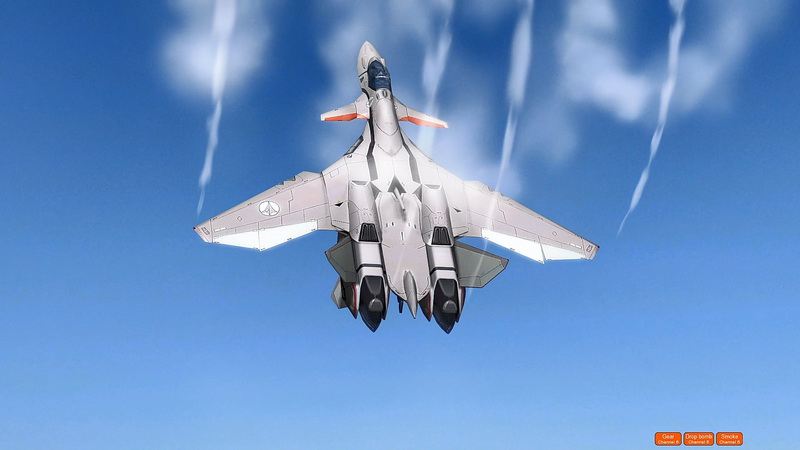 Do take note that for this model i've created two variant of VF-11B for Phoenix R/C simulator: 2 meter wing span + 15.43kg flying weight and 3 meter wing span + 29.33kg flying weight model variant all zipped into one download package. I made two type of models to cater various audience because its definitely some people wanted feel large presences of aircraft passes by in front of them especially for MACROSS fan while other like to retain as standard small size R/C models. So if you want a park flier R/C scale models install the 2 meter wing span size (xl_vf11b_thunderbolt_2m)and if you like the feeling of big and loud presence in the skies install the 3 meter wing span variant (xl_vf11b_thunderbolt_3m) all available inside the zip file. Obviously there are differences of handling and performance between two available planes, 2m version is very nimble, fast and more forward inertial force while the 3m version feels like flying like real plane so choose your models carefully.
Video

Tools used to create these custom model:
3D Modeler program: 3D Zmodeler v1.07 and v2.0 (*.OBJ support)
Compiler tools: Phoenix Builder v1.0.p
Texture editing program: Corel Photopaint
Related article & community
Here are list of article and links related to the above model.
General info | model: MACROSS VF-11B Thunderbolt | platform: PC | simulator version: Phoenix R/C v5.5 | type: Aircraft | class: Performance | style: Scale | level: Advance | power: Turbine | Manufacturer: Macross | avg ZIP file size: 11.9MB | date released: 6-Nov-2019 | Revision: v1.0



Full gallery preview |

Video preview |

Download this Phoenix R/C model
*Installation instruction: How to install custom models in Phoenix R/C

*Note: This models are available for free distribution and for non-commercial purposes.
*'MACROSS', 'The Super Dimension Fortress Macross', 'MACROSS PLUS' and ''VF-11B Thunderbolt" are trademarks and copyright of the following company © Big West, Studio Nue, Tatsunoko (www.macross.jp). All Rights Reserved