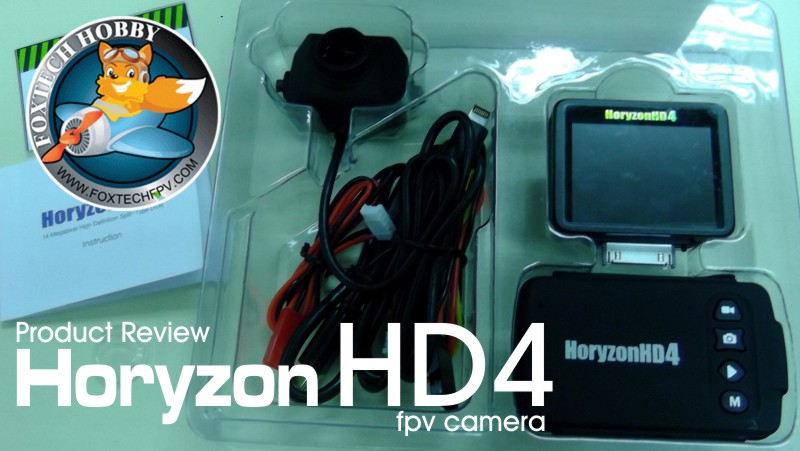 About
I almost forgot to put review on this camera which i had it early this year from our sponsor FOXTECHFPV.com which was most sought after FPV camera
since the releases of V1, V2 and V3 few years back in the era were 720p HD was much glorified. Back then when the first V1 releases online i was drooling a lot because it has coolest never seen serious FPV camera which has all convenient goodies such as extension wired camera, LCD and main board DVR first in the market and its true 1080p HD. It was a holy grail of FPV gadgets. For the HORYZON HD generation back then there's not much competition on 1080p running 60fps other than expensive GoPro HERO2....so both was very much rivalry before SJCAM, MOBIUS and RUNCAM came into the scene later years. Unfortunately the price held me back....hey i'm not that rich..still at that time USD$120 was too much for me but damn i like it soo much...720p 808 #16 V2 was everyone best affordable solution at that time when HORYZON HD was a Ferrari of cameras. I'm telling you the the early version of camera module was shiny super chrome coated in color instead current black. Years forward to 2015 finally got offered by FOXTECHFPV.COM to try it out....black matte in color. Originally i had this camera intended as wing camera to get a good external 'Selfie' footage during FPV which is why i acquired 80cm camera extension type sponsored by Foxtechfpv.com. However due to physical factor of the camera itself i had second thoughts about it for safety reason on all my mini size fixed wing FPV craft. This is the new HORYZON HD V4 camera set for
serious FPV pilot and UAV aerial flight enthusiast. Again said: Its the first modular type FPV camera that comes with main board DVR and LCD monitor which you can view your recorded flight and edit on the fly without bringing your notebook to preview along out in the flying field. The camera set is detached from main DVR board and connected by long extension cable so that you can easily fit through narrow pan-tilt camera or camera gimbal. Unlike the early version the V4 feature all electronic hardware encased in metal RF shielded casing both on Camera and DVR which avoid video RF interfering UHF system and on board video and radio transmission from glitching. Plus both casing are mildy waterproof or splash proof making it ideal for high humidity flight into the clouds, morning fogs and moderate drizzle rains. Some say you can dip it inside a pool of water completely because its waterproof but i haven't tried it....hey its eeeexxxxxpppeeeennnnnsssiiiiiveeeeeeeee!!! Mmmmmm....luxury! Don't to ruin it before the big show ya.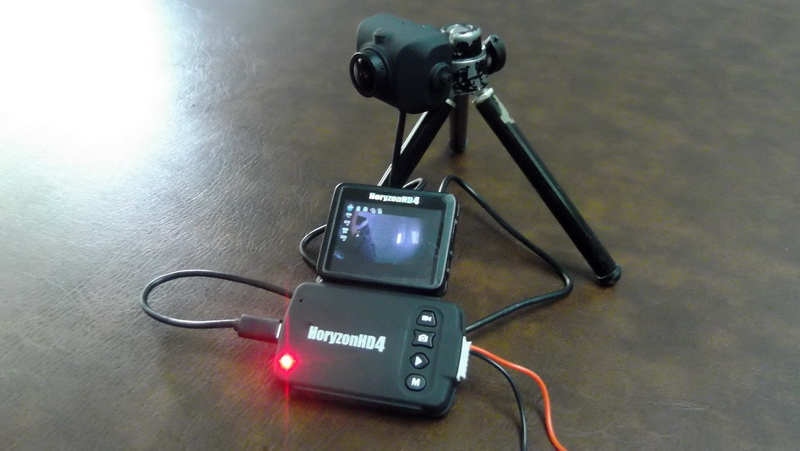 Specification (as describe by vendor/manufacturer)
Image sensor: 1/2.3 COMS 14 megapixel.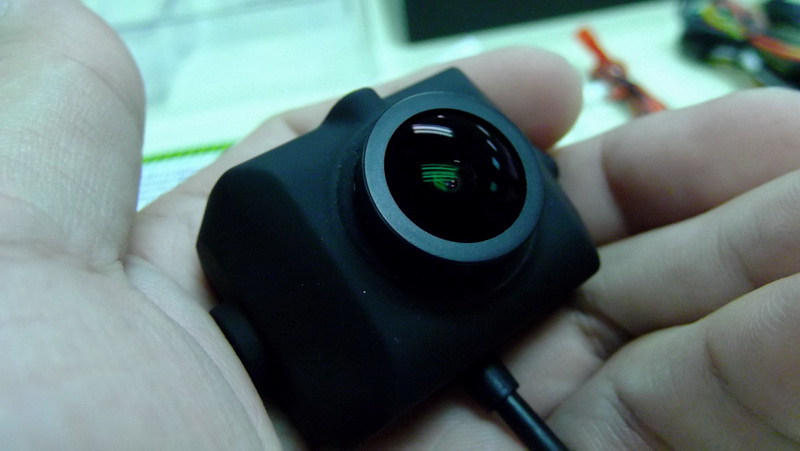 Prime lens: F+2.8 vision=150° pitch: 90°.
Exposure control: auto exposure.
White balance: auto white balance.
Image Format: JPEG pixel 14.4M(4384*3288 4:3)/16M(4608*3456 4:3).
Video Format: H.264 compressed format size 16:9 1920*1080 30 frame/second, 16:9 1280*720 60 frame/second, 16:9 1280*720 30 frame/second 16:9, 848*480 60 frame/second, 16:9 848*480 30 frame/second.
Max micro SD card: 32GB.
Weight: 100g(main control board, camera and cable).
Monitor: 30g.
Power: 2s~3s lipo (7.2v-12.6v just to be on the safe side).
Connection port: Multi-function USB port(compatible with mini USB Plug), mini HDMI port, 30P LCD pin port, 6P multi-function tail circuit port.
Camera module features:
+ Replaceable lens
+ Adjustable focal length+ 30/80cm optional wire
+ 14 megapixel
+ 1080p video resolution
+ Waterproof

Main board control (DVR module) features:
+ Time-lapse video recording
+ Timing photography
+ HDMI live output
+ Remote control video trigger
+ Continuous capture
+ Playback
+ Power-cut file protection

LCD monitor module:
+ 2.0 TFT LCD
+ 960x260 Pixel
+ Detachable
Package included:
1x CMOS camera
1x Main board DVR module
1x LCD monitor module
1x Power plug connectors
1x 6 pin multifunctional port connectors
1x USB cable
1x Manual book

Downloads:
+ Foxtech HORYZON HD4 software tools and manual



Pros:

True high quality 14MP CMOS sensor.

Modular components: Camera + DVR boards + LCD monitor.

Interchangeable and manually focus lens high humidity aerial flight.

RF blocking metal casing for camera and DVR module.

Video Analog and HDMI port.

Cable connection to radio servo port for manual triggered recording/snaphots.

Time-lapse video mode.

USD powered or external powered support between 7v~12v li-po pack.

Camera module comes with Apple I-phone USB type connection to AV port available in 30cm to 80cm cable extension

Highly recommended for Aerial Mapping (GIS) task due to high photo resolution/details and manual snapshots triggering from open source flight controller such as 3DR APM and PIXHAWK.

Cons:

Extremely heavy setup for common size aerial FPV platform. Only suitable for fixed plane that have 1.4 meter wingspan above or multirotors sized above 550.

Very bulky, hardly able to fit any standard size camera gimbal casing.

Plaque by firmware problem on earlier releases causes abnormal tinted color during video recording. May have fixes/patches in future releases.
Quality and performance.
First day doing some ground testing taking photos and videos the HORYZON HD4 took great HD shots at true 1080p 60fps. I'm using new fresh pack of 2s 2200mah 35c li-po to power it up and still gave me good pass 1 hour continuous recording which is good since the supplied JST power plug could fit any battery capacity you wish to use. The 150° lens was helpful for sport action mode wider view angle. Lens are replaceable and you can manually focus via barrel too which is great for serious video/photo fanatics. The video taken on slightly dusky sunlight at 5.00pm was very sharp when strapped on my car hood as i cruise down the road (Don't forget to watch the video below). The green and blue color was great more towards cold color ambient with slightly high contrast on stock setup/stock firmware. However when cruising at high speed above 70km/h when the environment moving faster through the lens it seems that some part of the video images was blocky as it tried to capture fast shifting images. Probably couldn't catch up with the fast recording bit rate, fortunately you're highly unlikely encounter such problem if you're FPV in the air since the environment your recording around you moved slower then being on the road at similar pace as you're very high up.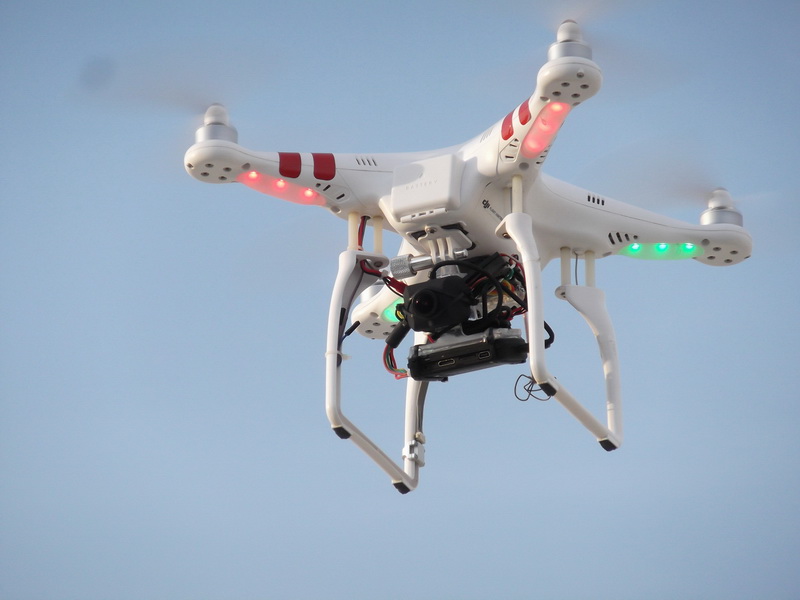 Next morning still strapped on my car before sunrise around 5.30am yet in the dark the HORYZON HD4 can still take good yet 'average' quality low light video better than my GOPRO HERO 2 but still below GORPO HERO 3 BLACK quality.....of course can't beat my HERO 4 BLACK. Unfortunately a month later RUNCAM HD arrived in my hand, after much comparison between them when perform at low light, the RUNCAM HD wins both price value and quality at 1080p. Another important note you might notice in my videos was a transparent laye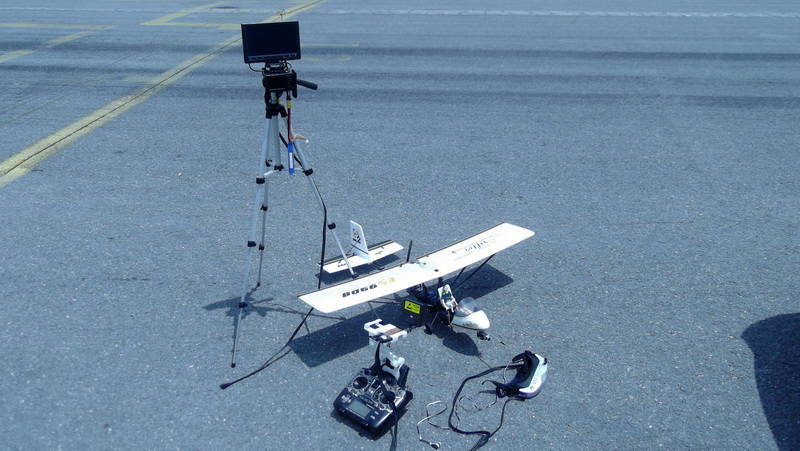 r what look like a door/window net like layer on the side of the video probably defect from camera sensor or firmware related, i did mentioned this issues to Foxtechfpv.com representative and they try to work out with new firmware releases which i yet still waiting for fixes. However in PHOTO mode where i took manual still shots the "door/windows netting" like layer doesn't show up on the photo output... suspected might have problem with the video decoder but i'll let the Foxtech people to sort it out.

A few weeks when doing FPV aerial flight with HORYZON HD4 yield mix results. If you watch the video you'd probably disappointed on the last part especially with high exposure to hot high noon sunlight above the clouds flown on my turstly FPV DRIFTER ULTRALIGHT #2. Take note that my DRIFTER ULTRALIGHT #2 was throttlely "screaming" like there's no tomorrow as it climb on its way up towards the clouds because for an extra load of 93.53gram on full HORYZON HD4 setup it was too heavy for a little guy which can only comfortable carry at 43 gram casually. Good thing it survive once it gets enough stable air up there. Spe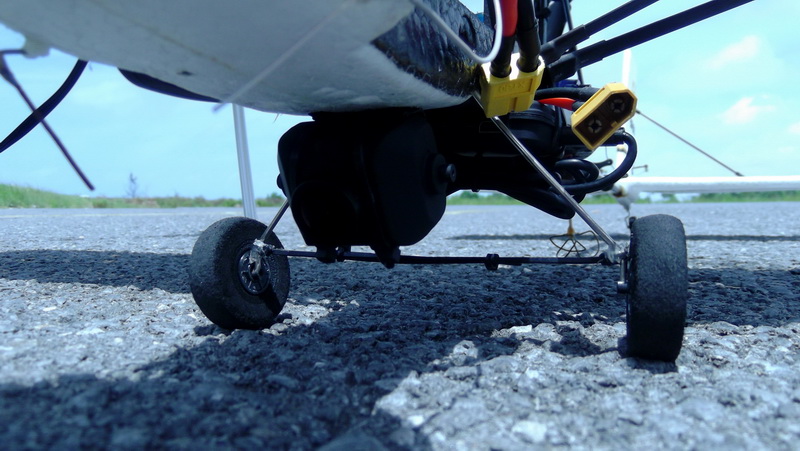 aking about the interference thing mention on the card inside the box so far i had no problem or issues of such during my long range flight, during the test i flown almost 4km horizontal far into the ocean and above the clouds on stock 2.4 and 5.8 with HD4 camera active with only 1cm away from FrSky rx diversity antenna and 2cm away of DVR main board from VTX module. On first startup at low altitude the video quality looks 'just' ok but as i get higher above the clouds on hot sunny day the 1080p video get a red like tint, the ambient color are more reddish than it should be. It caught much attention at our HORYZON HD4 rcgroups.com forum and the representative was on its way to fix the problem..but still the fix was at minimal but not 100% perfect after updated with latest firmware a month later as i flew on my DJI PHANTOM over marina beach. As comparison the 808 #16 V2 HD 720p keychain used as live FPV flown same time on high noon didn't suffer similar issues during the flight which narrow down the possibilities problem on HD4. (See the gallery session later). HORYZON HD4 was not alone with this one, the earlier release of RUNCAM tested on similar manner also suffer the same problem but RUNCAM representative immediately fix the problem permanently and remain great camera to this day. (**Hey i'm not trying to put down HORYZON, i'm trying to be honest and not biased with the review. I like HORYZON camera, its just that some improvement needed if they wanted to capture the FPV camera market).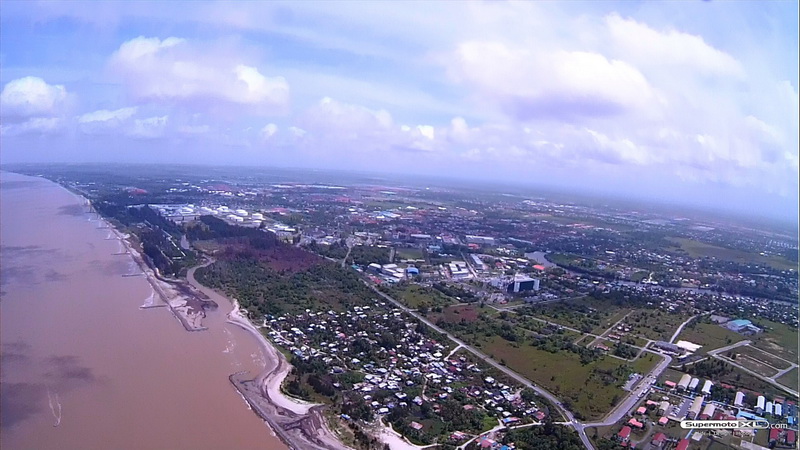 After much dilemma with the 1080p video results from aerial FPV flight on both platform taken on various light condition and type platform used the HORYZON HD4 wasn't giving me the satisfactory results. Beside i used top notch 32GB SANDISK Class 10 Ultra memory card to ensure quality video production and also used other memory card too for testing but something hinders the results and not the card problem either. Oddly if used for ground moving vehicles the video wasn't that much Reddish in color. I did open up the both camera module and the main board DVR to inspect what's inside to see if i could troubleshoot manually to spot some physical defect or probably soldering problem but none found, instead impress to see the hardware quality and solid build used for this camera. The sensors was right on 14MP. Mostl likely i had to say they need to improve the firmware consider the fact it is a USD$199 camera should be on par with cheaper version of latest GoPro HERO 3 white if where talking about value for money. Month later the HORYZON HD4 price was dropped to USD$149.99 (as at July 2015).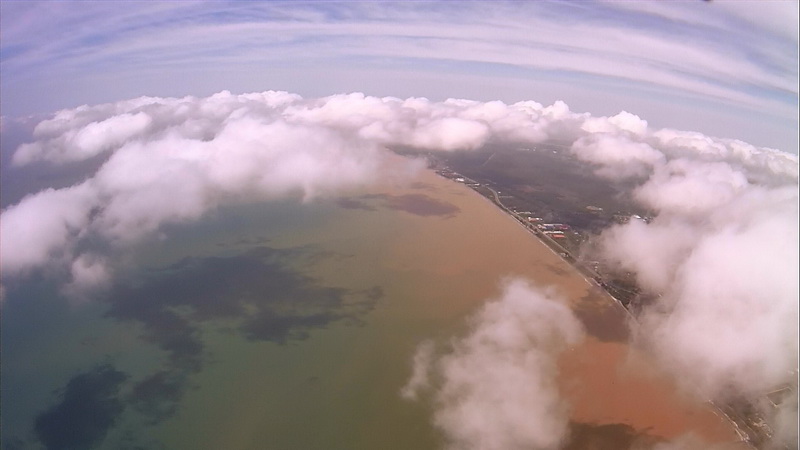 On the positive side, what i like the most about this camera compare to any camera i own is the "Time-Lapse" mode. Of course many action sport camera and keychain HD camera comes with Time-lapse as standard feature but what make HORYZON HD4 so special is the all time-lapse recorded was compiled in video as output rather than slide by slide stills/snapshots *.JPG images or other photo format which need to recompile into video again. The pre-compiled video format of Time-lapse in HORYZON HD4 make it less work to compile video on computer plus you can straight away view time-lapse video result through supplied LCD 2.0 "monitor attached to its main board DVR module. This feature give lots of advantage to Time-Lapse video enthusiast. Since the camera module and main board DVR separated from each other by long extension wire ranging from 30cm to 80cm it is more appealing to be used for action camera or general photography since photographer need to manually move the camera angle while not affecting the view finder (LCD monitor) which mostly very can annoying task with compact camera or action sport camera with integrated LCD view finder, for example strapping a camera on your bicycle helmet and strapping LCD monitor on your hand/wrist so you know where you camera is accurately pointing at since your can see your view finder (screen) on you hand/wrist. HORYZON HD 4 camera module is a Tripod ready camera which i can easily mount to a tripod since it has tripod bolt in sockets like standard camera place holder.

Despite bunch of unintentional (firmware defects) Cons, its seems there always Pros good side usage of HORYZON HD4 than just being FPV/UAV equipment.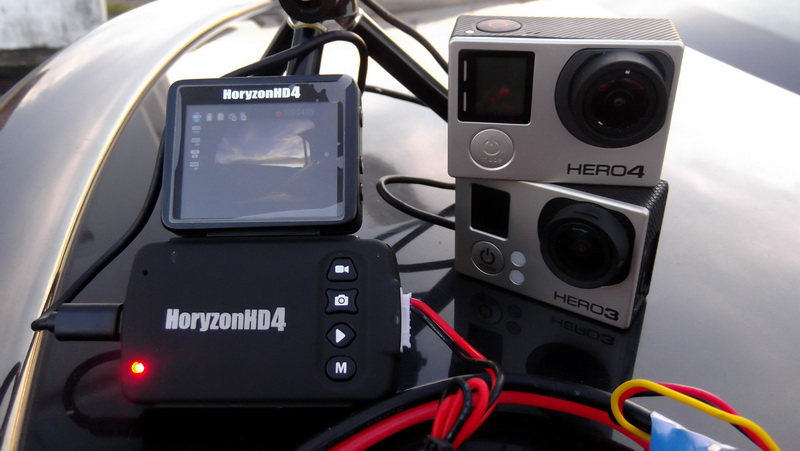 Below are few quick tips for your FPV/Aerial Drone pilot enthusiast.

1. Is it good for FPV racing like for FPV250 racer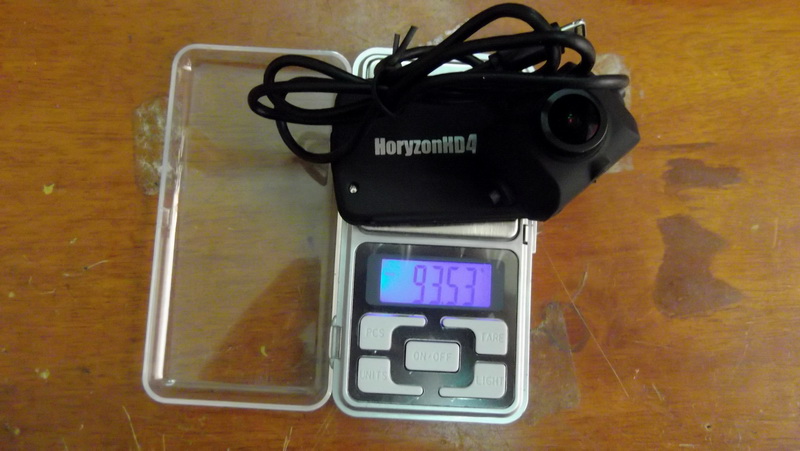 quadcopter?
Big nope, too bulky, too heavy and the video bit rate can be seen pixelated on some part of the video as it goes fast between 50km/h and beyond when recording very close to an object as it passes by such as trees, grounds and light pole. Best to use this as high altitude and slow moving environment to get a sharp footage.


2. Can it fit on my DJI PHANTOM?
350 size DJI Phantom can carry the HORYZON HD4 but slightly reduce runtime due to weight issue. But if are talking about fitting inside the stock gimbal designed to fit GOPRO HERO size camera holder then its a big no. The camera module itself impossible to fit in within the cage due to side thickness and overall mounting was a very hassle setup. Took me few Zip ties and double sticky tape to get it strapped underneath. Its just too much work to get it run on my DJI Phantom and the video quality deteriorated because the gimbal damping performance was overshadowed by vibration emitted from thick bulk wires connected from the quadcopter main body to the HD4 module.


3. What are the advantages of HORYZON when compete cheaper rival such as MOBIUS and RUNCAM?

Where? The answer is Photography and Time-Lapse! You can't beat a true 14MP sensors in photography/aerial snaphots. Good stuff. 1080p video? (not the time-lapse video)...you'll need constant check on firmware fixes.


4. Based on your opinion what HORYZON HD V4 optimally used for which other rival camera of same value couldn't do?
AERIAL MAPPING ....yes good for aerial mapping. Based on my on board flight experience with this camera and after lengthy tinkering it around some of its feature i can see which road the HORYZON HD4 could have perform well, it seem it should be fare better in area of Aerial Mapping rather than just being solely as FPV live camera doing 1080p recording. There lots of good cheap affordable 1080p HD with live video output you can chuck into your flying platform. However non come close with true 14MP camera snapshots with HORYZON HD4 which ideally use to take stills Aerial Imaging or GIS mapping on serious big UAV platform since it has many PPM port option to trigger manual snapshots connected to open source flight controller such as 3DR APM and 3DR PIXHAWK...an alternate solution to CANON (CHDK)camera.


Videos/Medias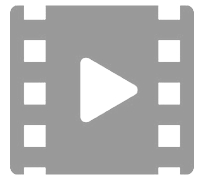 Here are sample of video of unboxing, testing and FPV flight on Foxtech HORYZON HD i posted on my Youtube channel, i will keep update on latest video on this product with every releases of latest firmware to improve the video quality: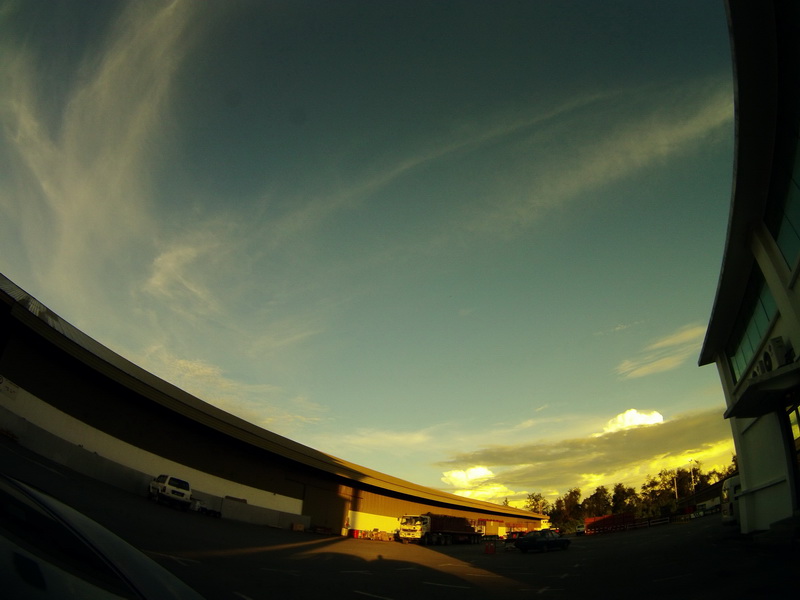 Vendor/seller

Here are list of reputable vendor/seller which i bought from and also verified by community forum discussion groups. Also i've experienced buying from these places that have good support and services:
Seller Foxtechfpv.com: Foxtech HORYZON HD4 product page.


Support group:

Places where you can find help and resources related to this product:
Topic: Foxtech HoryzonHD4 1080P FPV camera- revolutionary HD camera!!!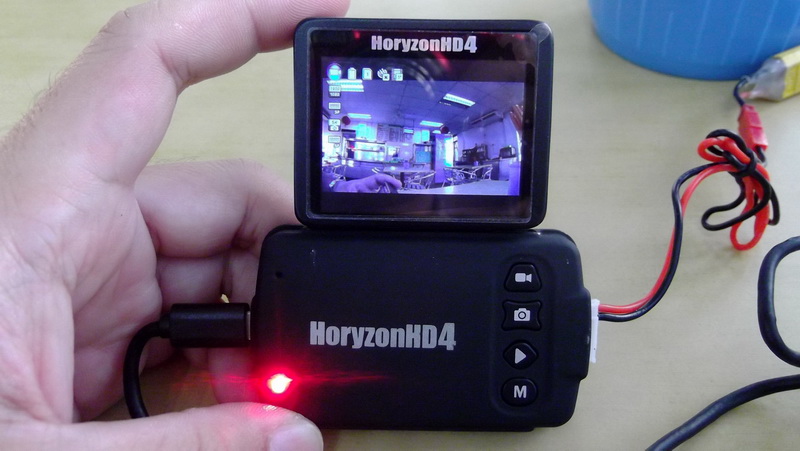 Troubleshooting and FAQ
Here are common things you need to know else if you do encounter problem with HORYZON HD4
Unable to turn on the camera back after un-plug and plug operation :
Answer: I have the same problem too after re-plugin back the battery connector. The solution; after you unplug the battery from the unit try again for another 30sec - 1 minutes then re-plug the battery into the camera board unit, it will turn on back as usual...works for me 100%. I'm not sure why but i think its minor issues on firmware problem.


Red layer of color dominating the images/video. Red layer of tint present:
Answer: I have such problem with my HORYZON HD4 camera too, which happens on random batch of production. Best solution is to update the firmware with latest release from Foxtech website: http://www.foxtechfpv.com
The HORYZON HD4 camera is heavy, can i remove the black case to reduce the weight:
Answer: Nope you shouldn't because each internal plastic casing have a think metallic coated paint design to encapsulate/trap electronic RF (Radio Frequency) interference leaking out from the camera device which possible affect/knock off near by FPV equipment especially onboard LRS (Long Range System) 433 UHF radio receiver and video transmitter onboard your FPV mode/flying drone.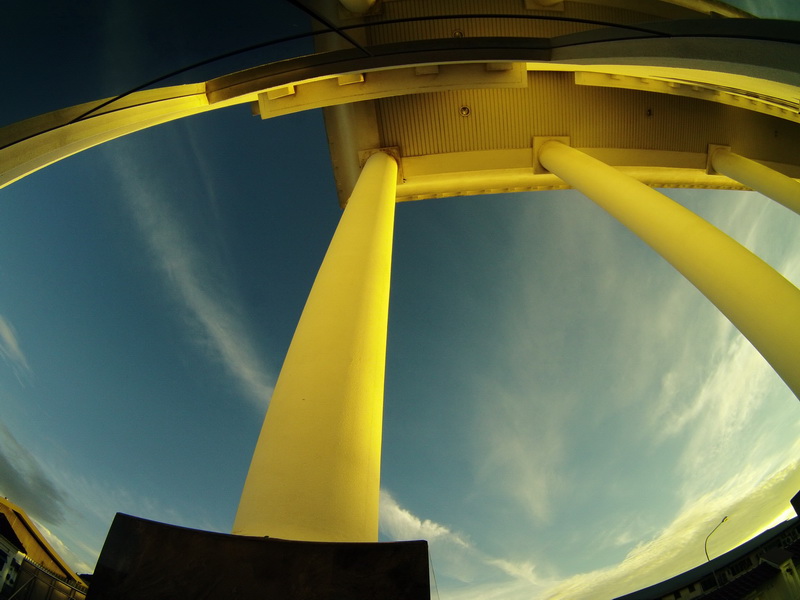 Summary
The HORYZON HD4 camera have huge amount of un-tap potential waiting to be discovered to firmware exploitation. The hardware itself have serious processing power and true 14MP CMOS sensor designed optimal for Aerial Mapping shots for GIS application. Unfortunately guys from FOXTECH still working to improve the firmware to get the camera video quality at highest level where the amount of money invested into this camera should have been there. Heads up to http://www.foxtechfpv.com to check for latest updates for their firmware releases. Unfortunately the V4 releases won't much an appeal for general medium size FPV flier due to the camera size, weight and bulkyness setup. The overall setup was much more appealing for bigger flying platform that can handle heavy weight such as 1.4 meters fixed wing SKYWALKER at 2~3kg load or multirotors atleast around 550 size and above that can carry more than 3kg. The price currently drop from USD$199.99 (February 2015) to USD$149.99 (July 2015) which consider good bargain for those seeking for high resolution photo capturing capability.
So to sum up everything the HORYZON HD V4 was intended to be used on bigger flying FPV platform and ideally for Aerial Mapping (GIS) which can be easily matted with open source flight controller for snapshots triggering, also a good alternative camera than CANON (CHDK) for aerial mapping. It is indeed a professional grade camera in its class for those who understand how to use it 'the right way'. The weight may hinder much for normal park FPV flyer, but for commercial use it a gold. If you're not having your days with FPV/UAV aerial flight, you can use it for other interesting video/photography on the ground as sports action camera, on Tripod photography and Time-Lapse project like what i'm doing best with HORYZON HD4 till today. Somewhere in coming few months, i will be using the HORYZON HD4 as FPV camera platform for ground/off-road truck FPV since it has better 150 degree angle plus its the only camera best for wet muddy condition thanks to its waterproofing feature. Awesome!