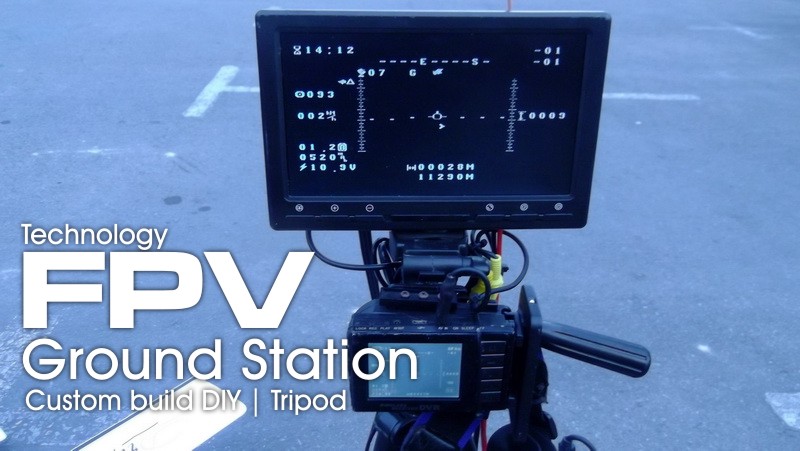 About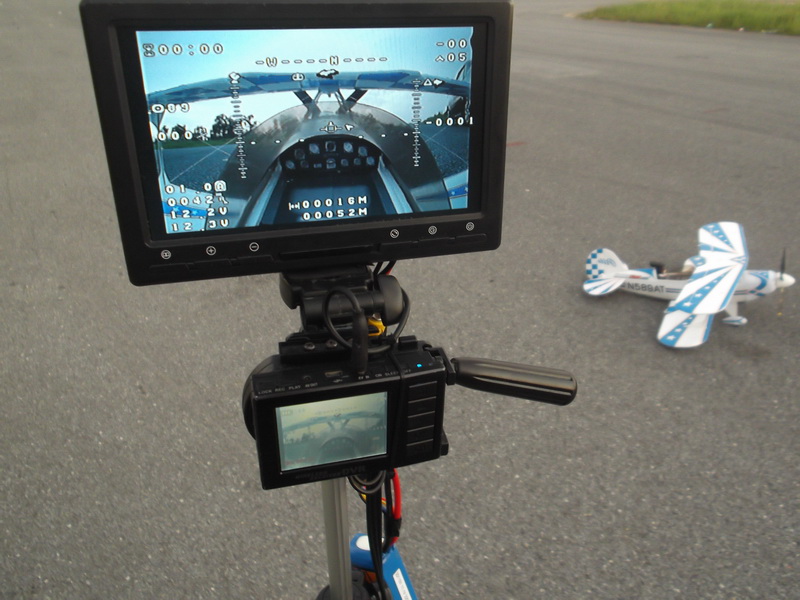 It's about time i like to share you most commonly used hardware that always tag along during every serious FPV flight, my "DIY Ground Station". Few month ago someone email me regarding my ground station built so i decided to share insight of what ground station do and how it works. Pretty much every serious FPV enthusiast must have a ground station which common use as a standalone device to monitor movement
of FPV flight platform and record all the telemetric information for diagnostic and reference. Today ground station mostly home build DIY by FPV enthusiast which they can hand pick selective hardware to suits their needs and requirement. Most ground station build are in a form of camera Tripod stand attached to analog signal LCD screen, diversified video receiver, antenna and DVR for recording. Some goes beyond having more sophisticated devices such as antenna tracker, tablet/computer for wireless data link for mission planning and secondary extended ground control such as joysticks. A ground station not only limited in a form of Tripod but also can be in a form of mobile cabin or FPV station inside an automobile. Below are list few type of ground station people are building for FPV use.
For main piloting and guest viewing:
Majority build for primary viewing and for guest live viewing. Consist of analog LCD screen and video receiver.

For DVR recording on OSD and one way telemetry (BLACK BOX):
This is the type of my ground station, build not only as secondary guest viewing but also act as a aircraft BLACK BOX to record movement telemetric data/OSD value live. This is most popular ground station setup for enthusiast and pro level flyer. Its main purpose to record the plane movement, GPS coordinates, health status and anything that is display on OSD live screen. Recording are done by feeding the AV out from video receiver to analog signal DVR recorder or so called FPV BLACK BOX. This setup useful for performance diagnostic or in worse case scenario tracking lost FPV platform/drone during crashes by analyzing last video transmission on telemetry or GPS coordinate value.

For antenna tracking:
Usually a tripod or higher base that holds at higher position with 2x axis servo controller antenna gimbal/tracker which tilt and pan Patch antenna or directional type antenna 360 degree towards the plane automatically to received narrow beam live video streaming/transmission. Usually built to received long range data or video transmission from FPV/drone which flown at very critical distance.

For mission planning, 2 way data download/upload transmission:
This setup is more advance and can be found on UAV grade drone that flown autonomously without ground pilot control. This type ground station received telemetry data from the FPV/drone and then transmit back to FPV/drone which contain flight instruction, way point or other mission planned parameters. The build consist of LRS antennas, data transmitter module and notebook/tablet. Data transmission between ground and flying platform is between 433Mhz (EU) ~933Mhz (US). This typical setup usually involve long range flight beyond video frequency transmission.
However not always any FPV flight required the use of Ground Station such as flying my little FPV bug V929 and sometimes unrecorded solo flight on P-51D and Pitts. I find it too bulky, not so portable and too many messy wiring to hooked up to my video goggle to get it working....so certain time its an optional. Crucially if there a heavy risk type flight such as flying over the ocean, jungle or long range flight bringing along a ground station is a must so i could track down its performance or if it lost/downed i could still tracked down based on last recorded transmission and GPS coordinates. As usually if flying in the public a ground station is a must setup to allow public, guest or curious people around to tag along with the flight by viewing on secondary LCD screen to see what i'm doing up there...this should reduce negative curiosity plus help to promote FPV flight among the public through ppsitive interraction... Ground Station is your PR agent.
My ground station specification & setup

Tripod type: Camera/photography type tri telescopic aluminum tripod
FPV DVR device: BOSCAM mini/pocket wireless DVR + 8GB Class 4 mini SD card
Video receiver: BOSCAM 5.8ghz
Antenna: DIY SPW tuned (Omni)
Monitor: 7" Analog LCD monitor (No Blue screen on signal lost)
Power source: 7.2v 1000-2200mah 20C 2S ~ 11.1v 1000-2200mah 20C 3S (for other depending on variable hardware requirements).



Building
Its not all difficult to setup my own ground station, just need to know where you need to plug the AV cables are and getting to know which devices require how much voltage/current. Most importantly the antenna such as SPW (Omni) should be located higher from object obstruction (eg: above LCD) to get a good direct L.O.S (Line of Sight) signal. A simple plug in and a minor soldering to the main power supply plug XT60/Dean is sufficient. On selecting proper LCD screen for GS one must buy "Analog" type AV signal into LCD screen which known best to capture CCTV video signal. An advance LCD that marked as "Digital" or HD/HDMI supported type is not suitable for screen for FPV because it will go into blue screen upon loosing slight video signal during flight.
Ground station building level difficulty/rating: Medium (5/10) Easy
FPV equipment setup grade: Basic
Building hours required: 2 hours
Skill required: Soldering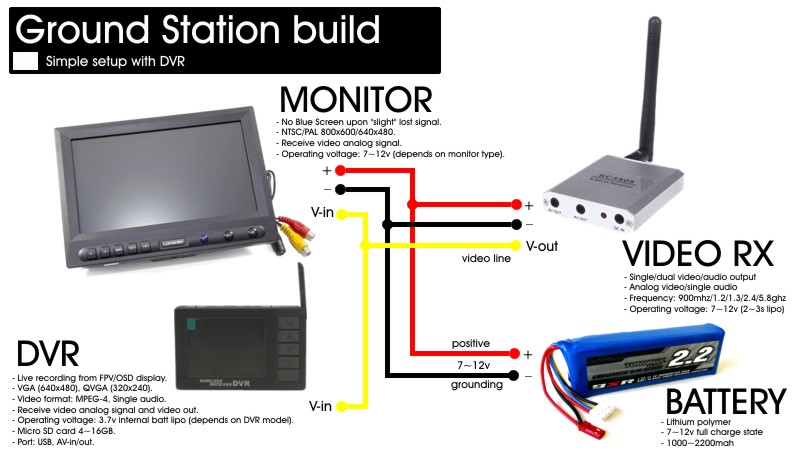 Current status & flight history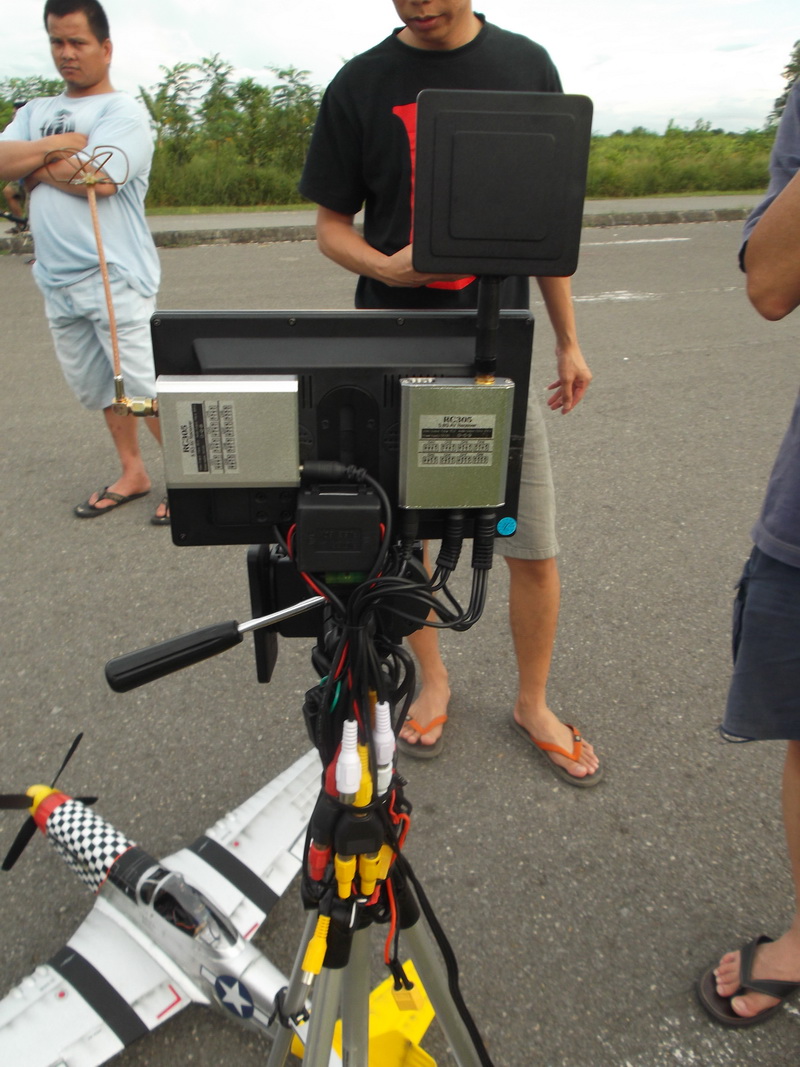 There not much story i can tell about my DIY Ground Station other than just recording all my flight event as it act as primary BLACK BOX but all i can say it is build for insurance against unwanted problem such as downed craft, flight reviews and tracking purposes. In my line of work doing review and test the GS helped me to do technical troubleshooting and LRS (Long Range System) flight test for manufacturer and vendor to test the product strength and reliable as shown from FPV OSD/telemetry indicator on the live feed view.
Lifespan operation: 4 years (updated: 4-3-2015)
Maintenance priority check: Battery connector soldering junction (wire will frayed/cut after multiple battery insertion)
Constant critical issue: Loose AV plug due to low quality manufacturing
Maintenance cost per-lifespan: None
Usage hours accumulated per-lifespan: 720>> hours
Best OSD/telemetry recorded distance record (on SPW antenna): 4~6km
Best OSD/telemetry recorded distance record (on Patch antenna): 5~12km (FrSky boosted)
Recording format: VGA 640x480/QVGA *.AVI (PAL/NTSC auto)
Ground station power stamina: 5 hours (2200mah 3s 20c)
Type of FPV model used on GS: All
Activity status: Active
Summary
So far my DIY ground station serve me well over years of FPV/UAV flight activity. Not only serve to record my flight activity as a ground based flight BLACK BOX but also serve as secondary fun viewing for curious public/people who come around me to see what up with FPV/UAV flight to avoid negative perception..you can say its a good FPV instrument for Public Relation task when i'm busy on my video goggle. For those seeking into serious long term FPV activity a ground station is a must to have not only as symbolic in FPV but also to safe guard any flight by recording flight and information to keep it track of plane health performance and safe flying path.
Videos/Medias
Here are some of my lists of my video recorded on my ground station, some include few cut of audience watching through my ground station as i fly nearby it: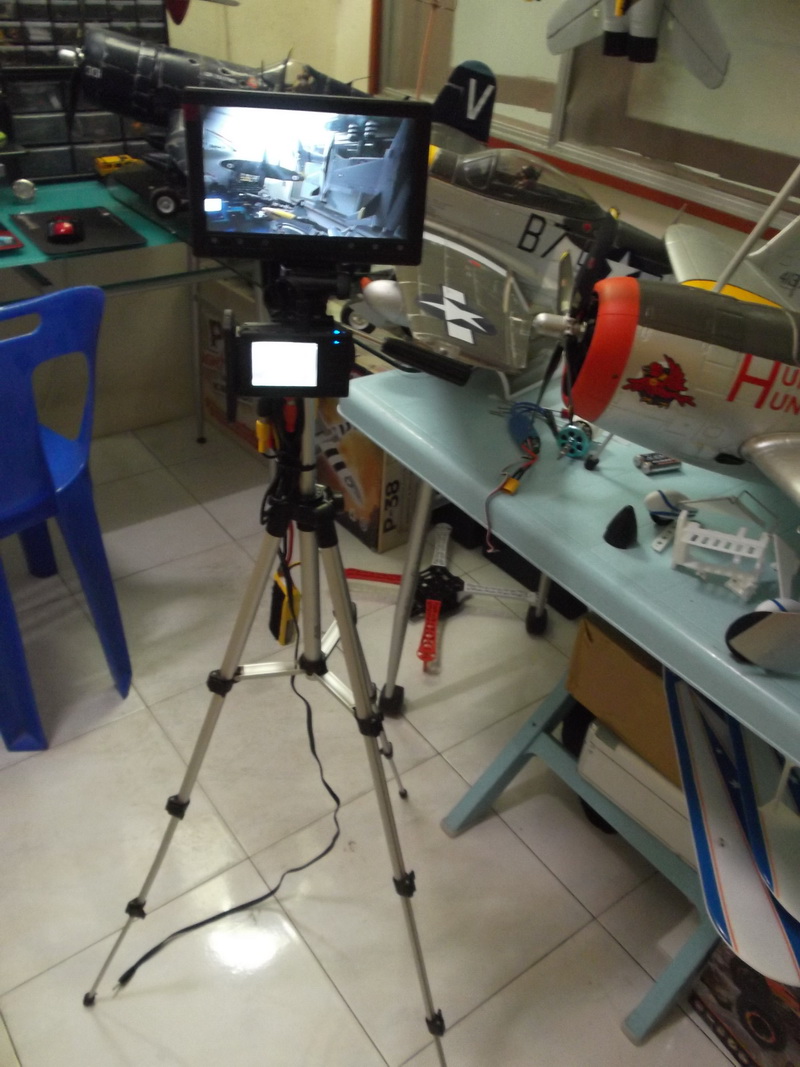 Shopping list
Building a ground station is relatively cheap depends what kind of FPV flight you're doing but if you follow my above setup it will cost only below USD$200 to safe guard your investment on safety of your FPV/drone flight models. There no written thumb rules about how to building your own ground station, its all about using your creativity to get your ground station connected to your flying model. Basically its always have been an LCD monitor, a video receiver, a good video receiving antenna and a DVR. Below i've listed few choices of raw hardware to give you some ideas how your ground station build will be:
Standard LCD monitor
LCD monitor with video receiver only:
LCD monitor with DVR and video receiver:
Video receiver:
Video antenna:
DVR:
Tripod:
Building threads/Referral/Support forum
If you don't know where to begin with i recommend you to start reading some guides, wikis and building tips from popular on-line resources as listed below. You might find me hanging around some popular R/C and FPV forum below.