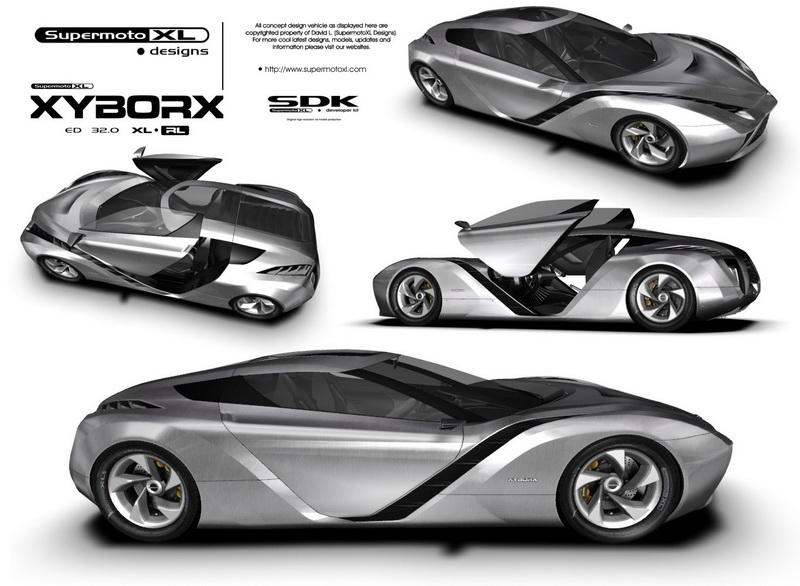 INTRODUCTION


XYBORX is an evolution from the first generation CYBORX from the year 2005. The first generation was the stepping stone for SupermotoXL Designs to start a new fresh ideas of unique supercars which lead to todays lines of SupermotoXL's models. 6 years later I decided its time to show what new generation XYBORX is all about. The new XYBORX carry attributes of both muscle and exotic import looks and feel giving best impression to various motor fans on both worlds.
Originally XYBORX was "backdoor" launched on mid 2013 for beta tester without internal cockpit...in fact i'm not all good designing interior cockpit so i left that one behind. First used on EVO2 for test drive then ported by other into other game such as GTA for unofficially to test polycount lag (FPS performance). The first releases didn't get much publicity because i didn't have time and resources to spent much on 3D design and gaming development. 2011-2013 was a bad year for me to public launched it due to time constraint and career thing. Then i was all out into real world activity leaving backdoor tester to do their open work and mods and almost forgot all about it. 2 years later after done pursuing other goals such as 3d Printing tech, R/C models and FPV/UAV flight development i've return to work on XYBORX for its final release after receiving few feed back from past backend user. Although the car by now is an ancient relic after years of abandonment in the dust it still was most long awaited car by fans who have rooted by first generation CYBORX most popularly used in gaming and social virtual world such as GTA and SECOND LIFE. The car itself still looks 'badass' in its own term and ought to have a place in virtual motoring world.
THE DESIGN

XYBORX intend
ed to replace the old 1st generation CYBORX which is by now on 2015 its already 10 years old but already had many fans all over the globe via virtual motor racing. The new XYBORX uses base chassis from CONXERTO morphed longer wheel base with muscular Hemispheric (HEMI) big block V12 engine mounted forward under the front hood which is why the font chassis are longer than any car i designed. XYBORX new body design and looks was aim to have both a classic muscle car feeling and a touch contour of an exotic import super car, so i bulk up each curve on it soutline have a muscular looks especially around the wheel fender body works and hatch back like imports rear appearance with a streamline frontend looks of a modern street racer. Just like other SUPERMOTOXL's generation of exotic design the headlights re-designed to show how it has evolve though time with more unique stream lined of fins integrated with engine vents all the way to the lower side of wheel fender,
Integrated headlight and side vented.
The left and right headlight fin that grooved from front tol the rear side have air intake duct integrated into headlight fins serve as engine carburetor and air coolant dually both left and right side of the hood event though existing ones included in the middle of the hood. Heat from the engine escape from the side vents before the door panel.

Long classic muscle dragster body
One most notable striking looks of the new XYBORX compare to all of my designs was a very long chassis design with long wheel base. Not only just to accommodate long inline Hemispheric V12 engine (XLE10-X12HH) but also to keep the car run stable at straight line without problem swerving around. Bigger front chassis not only to accommodate bigger engine but also helps to trap in more air into the engine via big and multiple ventilation from the front end to cool the engine and also to generate air hydraulic kinetic to power overall operation inside car. Surplus of air escape from side vent before the door and another air channel to the rear center duct to generate down force to keep the car rooted on the ground via Bernoulli effect. In addition to the drag design the stock tires are thicker and bigger profile for better drag racing grip in all corner.

Brushed stainless steel out body
Like NEMXIS XGT, the outer body shell of XYBORX are made out of brushed stainless steel finishing to give a exotic luxury looks. Unfortunately it doesn't use Composite Lexan OPLEC (Organic Passive Light Emitting Cell) shell like previous car do due in favor of exotic steel luxury 'bling' factor for XYBORX.
Other cool new creative innovation applied to this car other than ventilated headlights is a pair of 'Jack-up' doors. 'Jack-up' open vertically straight 45 degree up parallel to the chassis to allow maximum passenger exist clearance...plus it looks cool.



TECHNOLOGY

Other special feature built in XYBORX which also similarly applied to previous models includes:
OHID headlights and OCDLED rear lights "integrated vent fins" :

OHID (Organic Hi-Density headlights) and OHLED (Organic Controlled Density LED rear lights) is a new technology which uses flexible and low charged high luminance thin light panel made from organic cell structure (cob webbed cells). These panel are shock resistant and consume low electric current yet it produce high output of light just similarly used on LCD and Plasma panel.

Multi-channel Bernoulli Ventilation System:
Just like its brother XAVAGE and CONXERTO, XYBORX have built in "Air Buoyancy Chassis" which allow air to circulate full 360 degree range around the chassis for few cycle before exit out to rear end air exhaust port. This feature helps to cool the chassis and components in the car and also allow natural hydraulic cushion. The Multi-Channel Bernoulli Ventilation System which located 2x on the front to gulp massive air by force into the chassis and tunnel the air into several channel for above purpose. Other than "Air Buoyancy" feature other use of tunneled air includes auto deflation control of tire pressure, suspension shock pressure, engine turbo compression, pneumatic pressure discharge, force combustion discharge, inner down-force system between wheels, power regeneration via air turbine for power charging, air pressure refill for hybrid engine module for kinetic
propulsion, artificial cockpit, engine coolant coolant and pressure balance between inner and outer body wall.

XLE10-X12HH Engine:
XYBORX uses semi enhanced hybrid fused into Hemispheric engine technology that runs 60% propulsion from fossil fuel energy and 50% electric under single engine block yet modular in mechanism.
Fuel powered module:
As usual XYBORX share same "X12" engine spec as her parents the CONXERTO, XAVAGE, NEMIXIS and X3-SIXTY where piston configuration remain in "X" push layout for complete 360 degree equal torque for every drive shaft turns per- revolution. 4 lines of piston in partitioned in to 4 in every 360-degree distribution where each lines have each line consist of 3 piston (3 piston x 4 lines) = 12 piston. These configuration taking advantages over standard "V" overhead engine, Boxter engine horizontal push and Rotary engine layout. "X12" allow high acceleration and lower fuel injection to combust per-joule, But the difference in XYBORX is it has bigger block to accommodate bigger hemispheric header for extra 10% bigger combustion that previous engine model.


Electric module:
Consist of twin brushless motor powered by high capacity rechargeable lithium ferum (Li-Fe) battery. The motor controlled by computer programmed ESC (Electronic Speed Controller) to propel the motor according to required rpm. The motor connected to variable ratio gear case and then interfaced to main engine's main 1 way turn spur gear. As the spur gear turned by electric powered brushless motor the spur will auto disengage from fuel powered engine drive crank shaft to reduce mechanical load from the engine, which the electric powered system will take over the full transmission drives.


Kinectic module:
Kinetic module is a mechanism, which is powered by stored energy produced by kinetic output such as air pressure and heat source. XYBORX carries 2x150 liters of air tank which store compressed air collected from various vents around its chassis. These air tanks located under the rear hatch back. Each tanks can handle 80 bars of barometric air pressure, Collected air will be used as air compression source to push turn and propels 4x turbo-turbine units on X12 fuel engine, 2x turbine pinion gear on both electric motors and 1x twin turbine built-in main spur gear. To summarize that the air are mainly to boost all the cycle of the gear reducing the burden of acceleration thus save both fuel and electric cell. The heat kinetic are used to heat up the tank thus increasing the pressure of the air before gush into output mechanism. The heat source comes from fuel engine, electric motor and external environment via Radiator system.

GYRO system:
XYBORX is equipped with 6x axis MEMs GYRO system which allow the car to run stable during speeding, drift and cornering. The gyro components links to several components in the car to control the overall stability which includes:
Front and rear differential
Control the differential slips among 4 wheels by distribution proper traction needed during cornering, drift and an event when traction error and body instability detected. Note that XYBORX have 2WD to 4WD manual switching transmission.


Steering
Partially control the steering at micro level where as if GYRO needed to recover the car to proper lines if the driver swerve too much on the steering especially in wet condition and loose gripped surface such as sand, dirt, muddy trails and road full patches of holes. However in situation where the driver (dominant) control the steering the Gyro effort are only to control under steer and over steer error where it will try to synchronized the differential slips with the driver steering style to minimized stability error.


ABS
GYRO level of control is very much similar to "driver steering" detection protocol as mentioned before on steer part If any anomalies detected such as under steer/over steer braking or side ways braking the GYRO will engage ABS control plus will also control other components in the car which links to GYRO to synchronized with ABS system demand.

The GYRO however does not cater 100% desirable handling as driver wanted, it can actually be enabled and disabled manually by the driver. When GYRO is active it offer several option where the driver can select according to his or her driving preferences, these are:
Cruise/Normal mode (default): For normal car handling.


Expert Touring/Racing mode: Racing and high speed touring handling.


Drift mode: Drift handling. More differential gear control involve.


Drag mode: Straight line handling with high anti-sideway control. Very heavy use of down force mechanism.


Off-road: For off-road handling.


Preset/Learning mode: GYRO in learning mode (no control), feed and learning from drivers output, allow personalized handling from different driver's style of handling. When Learning mode is completed the GYRO will cater several familiar handling mode to specific or assigned driver.


FAIL SAFE mode: However if GYRO fail to function due to unknown distortion, damages or other accident which cause Gyro to shutdown a fail safe mechanism will be activated automatically and independently via mechanical system. The fail safe mode will reset all the configuration inside the car including differential, braking, engine, steering, suspension, hydraulic aerofoil and others back to normal mode without causing problem in driving ability.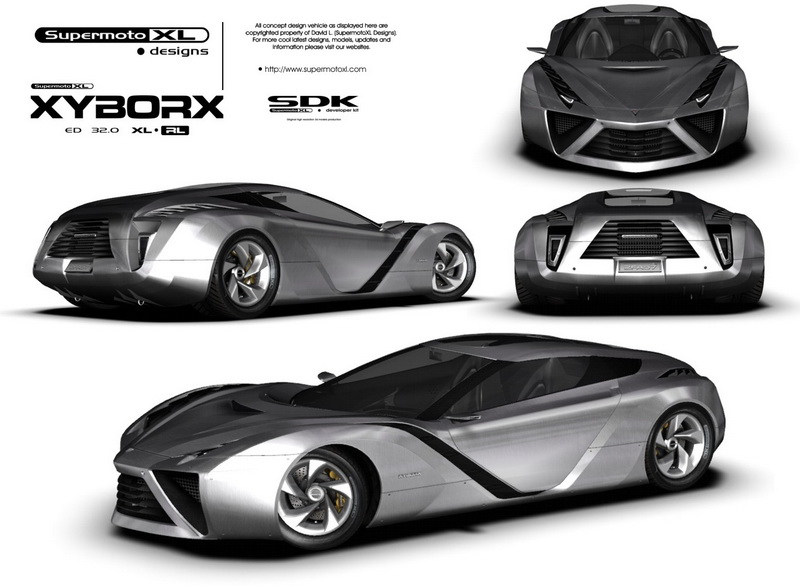 PERFORMANCE STATISTIC
Specification for XYBORX "RL":

Max power

3,512hp / 8300rpm

Max torque

2,520.31ft-lb / 6200rpm

Engine

Semi Hybrid X-12H
(XLE10-12HH/HEMI)

Displacement

10870cc

Drive train

2WD + 4WD manual switch

Weight

950kg

0-100km

2.0 sec

Max Speed

890kmh

0-300km

8.2 sec

Braking




(100-0km)

37.5m / 3.1sec


SUMMARY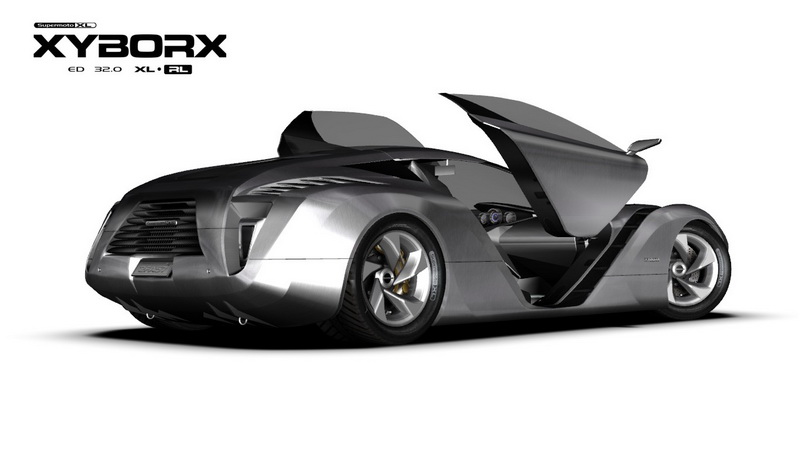 2015 is a head turning year for SupermotoXL Design, the new XYBORX pave way to a new generation raw power of muscle and exotic body art in automotive design for all auto enthusiast both virtual and reality. Despite been overall 10 years to produce next new off-spring from the 1st generation but the results shows true evolution and lots of story to tell to pass to next generation of motor enthusiast. To tell you the truth between 2011-2013 XYBORX development almost fall off the grid after too many problem related to my life especially lack of time & resources to continue the project and especially in 2012 where my beloved mother have departed from my family where i have to mourn for two year before i can get back to my feet again....which is why this project have longest development duration before its final releases. The year somehow 2014- 2015 seem to offer great luck and fortune on SupermotoXL Designs with the expansion of other project division such as 3D printing, home FPV/UAV open project and R/C model hobby have help to pool resources and funds to revive automotive designs, thus hereby revive back 'XYBORX ED 32.0 XL-RL' to its glorious days.

XYBORX was designed to have 'all-in-one' package to automotive enthusiast, these keys are: classic retro muscle looks, exotics, aerodynamic, 'badass', raw power and road fury looks. I designed this car to have a body outline that can talk non-verbally to competitors that says "i own the road" & eat others for lunch. For every angle on XYBORX designs its simply a classical version of Bruce Lee fused with Chuck Norris added rocket fuel. Other new variant of XYBORX will be released shortly so enjoy the current new 2015 - XYBORX Ed 32.0 XL-RL. Cheers.




General info | model: XYBORX ED 32.0 XL-RL | original release plan: race simulation | original release genre: simulator/game | 3d tool: Z-modeler | texture tools: Corel Photopaint | original date release: 23-4-2015 | last Updated: --

Specification | production code: 12072013 | original format: Z3d (Z-modeler) | optional format: --- | avg face count: 93077 | avg vertices count: 97850 | (unit) x max texture size: (1x) 4096x4096 "*.TGA" (model body) | (unit) x min texture size: (1x) 512x512 "*.TGA" (wheel textures) + (1x) 1024x1024 "*.TGA" (stage floor) | reflection texture size: (1x) 256x256 "chrome_shine.tga" | Optional alpha filter: - | optional parts: - | transparency parts: yes | reflection support: yes | showcase ready: yes | uncompress file size: 56.0 MB | recommended tools: Z-modeler v1.07 | model type: Supercar | texture theme pack: - | xby32de.tga (Default -Original)



Full gallery preview |

Download SDK model package